Andriivka liberation bolsters Ukraine's pressure on enemy: expert Zgurets on Bakhmut direction
Serhiy Zgurets, military expert and Defense Express CEO, has commented on the liberation of Andriivka by the Ukrainian Armed Forces and discussed the upcoming Russian defensive lines that await the Ukrainian military
He shared the information on Espreso TV.
"Yesterday there was some intrigue when first Deputy Defense Minister Maliar said that Andriivka was liberated, then there were some accusations from the 3rd separate assault brigade that it was a premature statement. But we see that in the morning the General Staff has already issued a report stating that Andriivka was liberated as a result of the assault operations, and there is also success in Klishchiivka, where Ukrainian forces are continuing to clear out Russian troops who are still holding certain areas near several houses," the expert noted.
Zgurets noted that the Russian defense line is currently behind the railroad, which extends beyond Andriivka to Kurdyumivka, and it is also known that this stretch around the railroad from the west is controlled by Ukrainian troops. This suggests that Russia will then try to defend the next line - the rocky road that runs from Bakhmut to the south.
"The Bakhmutka River begins behind this road, and the enemy has significant forces in front of the road that they will use to hold their positions. Access to this area now allows Ukrainian troops to increase pressure on the enemy and do the main job of grinding the enemy's defense forces," the expert added.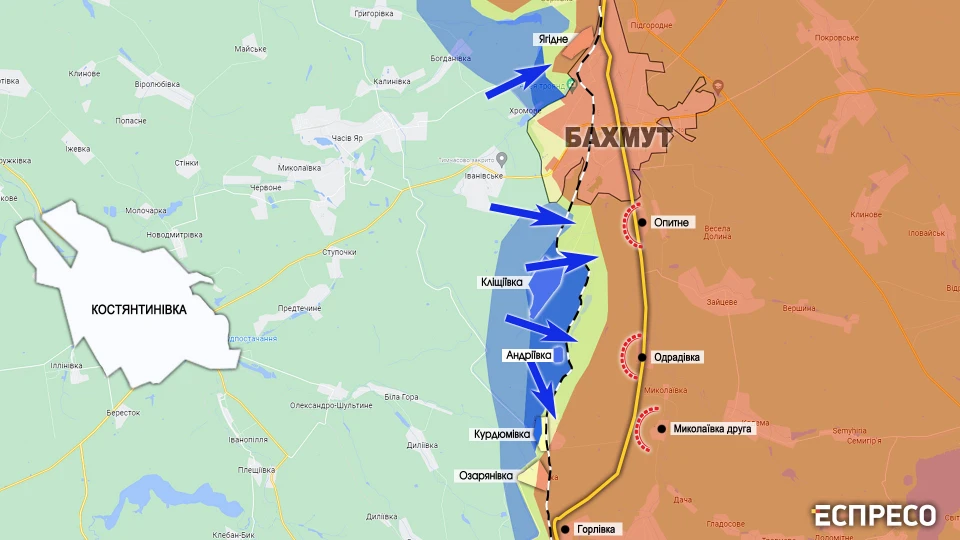 In addition, Zgurets noted that he does not think that the Ukrainian military will conduct active offensive actions now, but will consolidate these lines in the south and use artillery.
"At this time, the enemy was conducting counterattacks in the north of Bakhmut but failed. Therefore, we see that Bakhmut remains an important area where a significant number of Russian troops converge in the process of their destruction," he emphasized.
Background
On September 12, the General Staff reported that the Ukrainian Armed Forces had partial success in the areas of Klishchiivka, Donetsk region, and Robotyne, Zaporizhzhia region: they were pushing Russian troops out of their positions and consolidating their own positions.
On September 13, Ukrainian Armed Forces soldier Yevhen Iyevlyev told Espreso TV that the density of Russian mortar attacks had doubled over the past week.
Later, on September 14, Deputy Defense Minister Hanna Maliar said that the Ukrainian military had liberated the village of Andriivka near Bakhmut in the Donetsk region, but the 3rd Brigade denied the statement and called it false.
On September 14, the Ukrainian Defense Forces successfully advanced in the area of Klishchiivka, Donetsk region. According to the Ukrainian General Staff, on the morning of September 15, it became known that the Ukrainian Armed Forces had captured Andriivka.
Fire at factory in Moscow, drone attack, and explosion at oil depot in occupied Makiivka: This week's blasts in Russia
More news