Ukraine's main task on Kherson region's left bank is to keep Russia under pressure on wide frontline. Weekly military results
The military officially announced that Ukrainian forces secured several footholds on the left bank of the Dnipro River in Kherson region, so the main task is to keep the Russian army strained on a sufficiently wide front line
Ukraine uses drones for symmetrical response to Russia
I hope to see the implementation of the missile program, which has been going on for a considerable period of time and was intensified before the start of the full-scale Russian invasion. President Zelenskyy's attention is likely to speed up the work of those companies responsible for this. As for ammunition and drones, the money will be allocated for their purchase. I hope that Ukraine's industry can produce more of these much-needed items for the battlefield.
This week we have seen several examples of the active work of new attack drones, which are samples of Ukrainian defense industry. In particular, strikes on the Bryansk Chemical Plant, which manufactures systems and ammunition for MLRS, and the Kolomna Design Bureau, which develops Iskanders and Kinzhals. Let me remind you that on November 15, events took place near Volgograd, where drones struck gunpowder and small arms storage facilities in the village of Kotluban, which then caught fire. This is a reflection of the strategy that the Defense Intelligence of Ukraine announced earlier, i.e., strikes on Russia's defense industrial structure, on ammunition storage facilities in the rear on Russia's territory. This is actually the use of systems that have been developed for a long time. We can also talk about the Bober and Morok UAVs, which are already known for their characteristics, as their range is over 500-800 kilometers.
Drones are used to strike these targets. According to Ukraine's Intelligence Service, UAH 230 million from the secret Black Box project, which Ukrainians raised with the Come Back Alive Foundation and the Main Intelligence Directorate, was spent on drones that caused $900 million in damage to the Russian Federation. Actually, we see this asymmetrical approach based on the use of UAVs. Yesterday, the Minister for Strategic Industries Oleksandr Kamyshin said that they have already started manufacturing dozens of Shahed drones per month, but I think we need to manufacture hundreds of them, and then it will really be a worthy response to Russian attacks.
Missile threat from Crimea
At the same time, about 800 cruise missiles have been spotted in Crimea, which are used for Russian naval carriers. Russia is probably preparing for winter attacks, but in any case, we see that Ukrainian naval drones are forcing the Russian army to leave Sevastopol and relocate to Novorossiysk, but the main bases remain on the peninsula.
Still, there is a certain gap in Russia's capabilities, and then the question is not only about the stockpile of these weapons, but also whether they can use these missiles, that is, load them onto submarines, ships and launch them. I think that there is a constant duel between Ukraine's capabilities and Russia, who wants to use them, but we are trying to do everything to prevent this from happening.
Ukrainian Armed Forces gain foothold on Dnipro River's left bank
When we talk about the military operations in Kherson region, we see that the information ice has broken. On November 17, there have been many statements from the General Staff of the Armed Forces, the Marine Corps, and the Defense Intelligence of Ukraine about the actions of Ukrainian units on the left bank of the Dnipro River, as well as a statement from the president who recognized the marines for their courage and actions on the left bank. A number of photos of Ukrainian soldiers on the left bank of the Dnipro River were shown.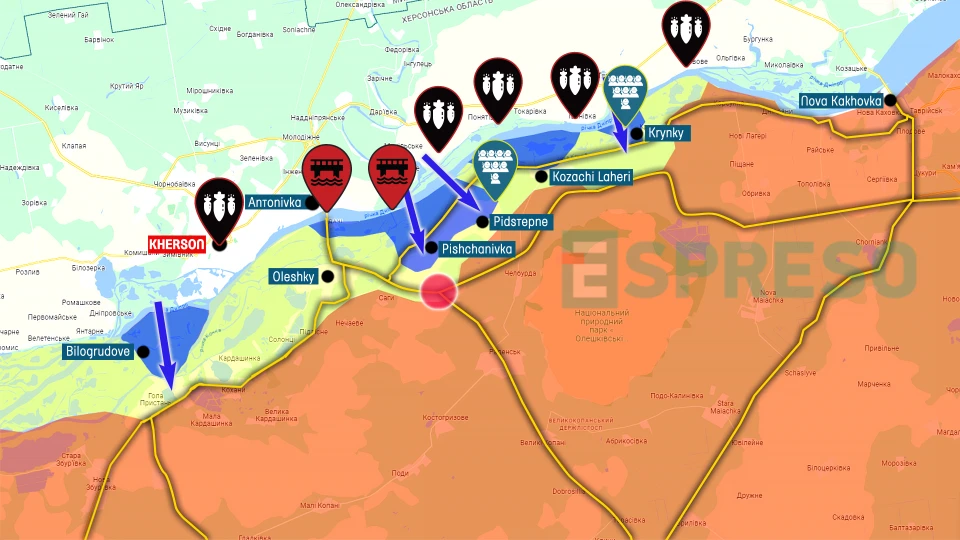 Map of hostilities in the Kherson region as of November 17
It is important to understand what is happening here, as it was mentioned about a significant number of personnel and equipment that was destroyed by the actions of Ukrainian units in the temporarily occupied territory of the Kherson region. In addition, sabotage, raid and reconnaissance activities are being conducted to identify ways to logistically supply ammunition, food and Russian artillery positions in order to destroy them, as the General Staff said. One of the main goals of this work is to push the Russian troops as far away from the right bank as possible to protect the civilian population from constant Russian shelling. The further the Russian artillery is away from Kherson, the safer it will be for the city and its residents. It is clear that this is only one part of the actions of Ukrainian Armed Forces, but I think it is a bit premature to say that Ukraine can expect a larger and more powerful force to push forward. The main task now is to keep the Russian troops in suspense on a sufficiently wide front line. On the left bank of the Dnipro River, Ukraine's troops will carry out such raid attacks with the support of artillery and FPV drones.
Read also Russian forces cannot stay in one position on Dnipro's left bank due to deadly danger
Although, Russia is aware of these risks and has reserves at a distance of 15 kilometers that can be used for more active actions by the Russian Federation. These forces are not enough to respond to the entire length of the front line and the presence of several bridgeheads where Ukraine's marines and defense forces operate. In any case, this area will remain quite nervous for the Russian forces. In addition, the Ukrainian side has countermeasures that will be aimed at ensuring that these areas, connected with the depletion of Russia's forces and its reserves, remain relevant. In my opinion, there will be no crossing. Although today there were photos of a regiment of support forces demonstrating crossing using pontoons in other areas, this is evidence that further pressure is being exerted on Russia to keep it uncertain about the future actions of the Ukrainian Armed Forces.
No significant changes in the Zaporizhzhia direction
We are not talking about a deadlock here, because this is not an entirely accurate interpretation of the situation. We now have a situation where the potential of the forces on the Russian and Ukrainian sides is proportional and there is a certain dynamic balance. That is, when Russia has more artillery, aircraft, or other means, we compensate for this with other things that, relatively speaking, allow Ukraine's army to hold the line of defense and advance.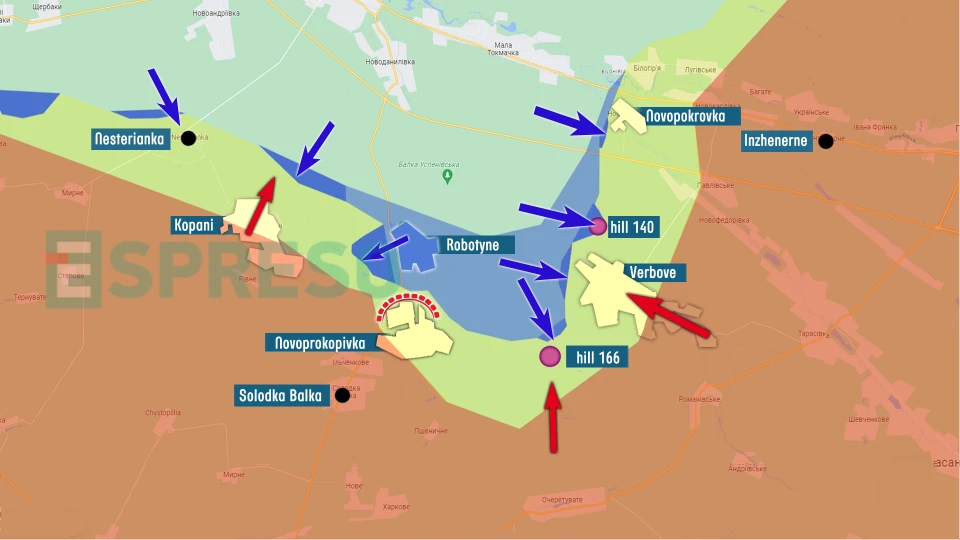 Map of hostilities in the Verbove area as of November 17
Speaking of the Zaporizhzhia direction, there were indeed some counter-attacks near Robotyne, Verbove, in the so-called Tokmak pocket. We haven't noticed any changes on the map yet, but there are some tactical updates. In particular, we said that to the northwest of Verbove there is an advance in areas where the Russian army has been pushed back and there is access to one of the dominant heights. There have been reports that this will make it easier for Ukrainian troops to destroy the enemy, but in any case, we should probably not expect any large-scale advances. And the main resource for the Ukrainian Armed Forces will remain artillery and infantry groups that will put pressure on the Russian enemy.
Will Russian infantry be able to encircle Avdiivka? 
I think it will be difficult, because we remember how effectively cluster munitions are now working against the Russian troops in all directions where Russia is trying to surround Avdiivka from the north and south. Indeed, there were several hostile strategies, starting with massive armored attacks, followed by infantry offensives and attacks with a small number of armored vehicles, but massive personnel.
Now everyone is talking about a third assault, but I think that there is actually such a constant pressure on Ukrainian defense forces in the north and south that Russia's advance, if we can talk about it, is only about the transition to the railroad in the north, which is a defense line of two kilometers.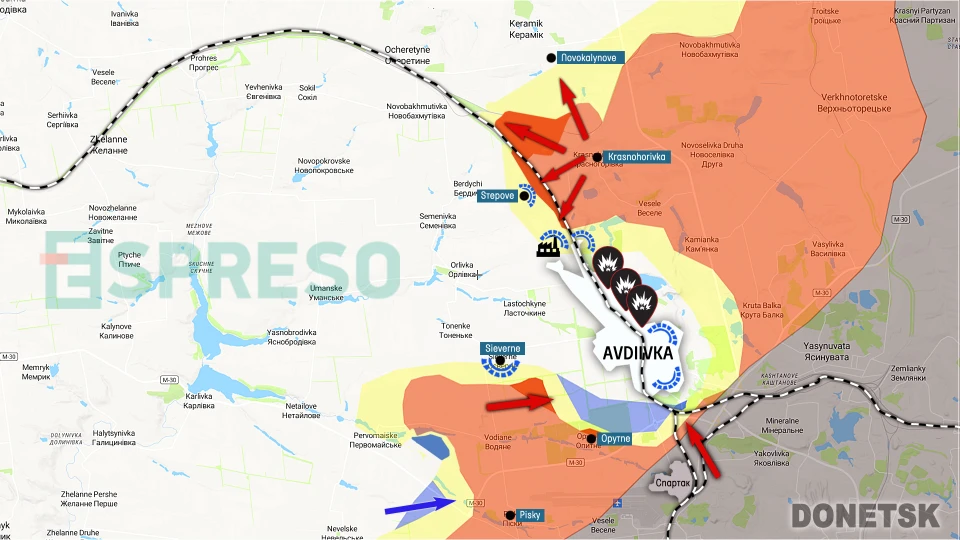 Map of hostilities in the Avdiivka direction as of November 17
Crossing the railroad is difficult for them, there is an open area near Stepove and Ukraine's artillery is actively working there. Although Russia will now indeed begin to accumulate forces in another circle to continue the offensive and try to surround the garrison. However, these plans are just plans, and the reality may be completely different. Russia's desire to capture Avdiivka makes not only political sense, but also military sense, as the city remains an important foothold to prevent the Russian forces from advancing in the directions leading to Kostiantynivka, Sloviansk and Kramatorsk.
That is, there are many areas that open up opportunities for the Russian Federation, and Ukraine's military leadership is fully aware of this. That is why Ukraine's reserves and additional artillery units are being deployed there. I think that with more forces and means, the process of destroying the Russian invaders will be easier, because we can see how many Russian troops are deployed in this area. It is up to 40 thousand personnel in this entire area around Avdiivka, although the area itself is smaller than what was near Bakhmut, where the Russian forces were equal.
Map of hostilities in the Bakhmut direction as of November 17
One of the reasons why it was necessary to hold Bakhmut was to prevent the Russian troops from advancing to these areas, where they could move into the so-called operational space. Now the Russians want to implement such a scenario in Avdiivka, because the encirclement there extends from north to south. The Russian army is now using any options to get closer, in particular to the villages of Orlivka and Berdychi, where the logistics connection is located.
This week we talked to the soldiers in the Avdiivka direction and they told us that it is very difficult, but all Russia's attempts to reach the city are not working.
In my opinion, FPV drones and artillery are needed to support Ukrainian troops in the Avdiivka direction.
'Results' of the war in the Black Sea
There are military and economic components. Regarding the first, we already know how many Russian ships have been destroyed, given that Ukraine does not have its own navy. During this period, 15 ships were destroyed and 12 were damaged, and new technologies were used for this purpose. We are talking about 'kamikaze' drones that drive the Russian forces away from Sevastopol and missile weapons. On the economic side, there is a grain and humanitarian corridor that ensures the movement of civilian and cargo ships to keep Ukraine's economy running. It is important that Ukraine controls the Black Sea in those areas that are related to Ukraine's economic needs.Ukraine has ordered three corvettes from Turkey. They are already completing one and have started work on the second. But haven't we made a mistake? There is a lot of money and a big goal. And if there are losses, then we should do other conceptual things related to the development of the Ukrainian Navy.
Ukraine's Constitutional Court still fails to cancel Black Sea Fleet Agreement — MP Ariev
More news