Latin American states condemn Russian aggression against Ukraine
According to Olena Kondratiuk, Deputy Speaker of  Ukraine's parliament, the Verkhovna Rada, said that Latin American states have, for the first time, voiced their condemnation of Russian aggression against Ukraine on Friday, October 27
This information is available on the official website of the Verkhovna Rada of Ukraine.
The Latin American countries collectively endorsed the final declaration of the Free America forum (Foro América Libre), marking the first instance of Christian Democratic parties uniting to unequivocally denounce Russian aggression against Ukraine.
Kondratiuk highlighted that a specific section was included in the declaration to express solidarity with Ukraine, endorse President Volodymyr Zelenskyy's Peace Formula, and condemn Russian aggression against the Ukrainian state.
The document reads, "We stand in solidarity with the people of Ukraine that are suffering from an unjustified, unprovoked Russian aggression and call on all countries of the Americas to join in the implementation of the Peace Formula to achieve a comprehensive, just and
lasting peace in Ukraine, consistent with the UN Charter."
The Deputy Head of the Verkhovna Rada emphasized that this marks the first time, since Russia's full-scale invasion of Ukraine, that Latin American countries have collectively condemned Russian aggression on such a broad scale. This significant inter-party coalition, uniting 34 parties from 21 Latin American nations, succeeded in drawing the attention of the public and politicians in the region to Ukraine's struggle against Russia.
She stated, "This is the excellent result of the concerted and persistent efforts of my team, together with the Ukrainian Embassy in Mexico, led by Ambassador Oksana Dramaretska. It is also a remarkable achievement of the Verkhovna Rada of Ukraine delegation, which I led as Vice-Speaker. We actively participated in the Free America forum and were met with a highly favorable attitude, genuine support, and understanding from our colleagues."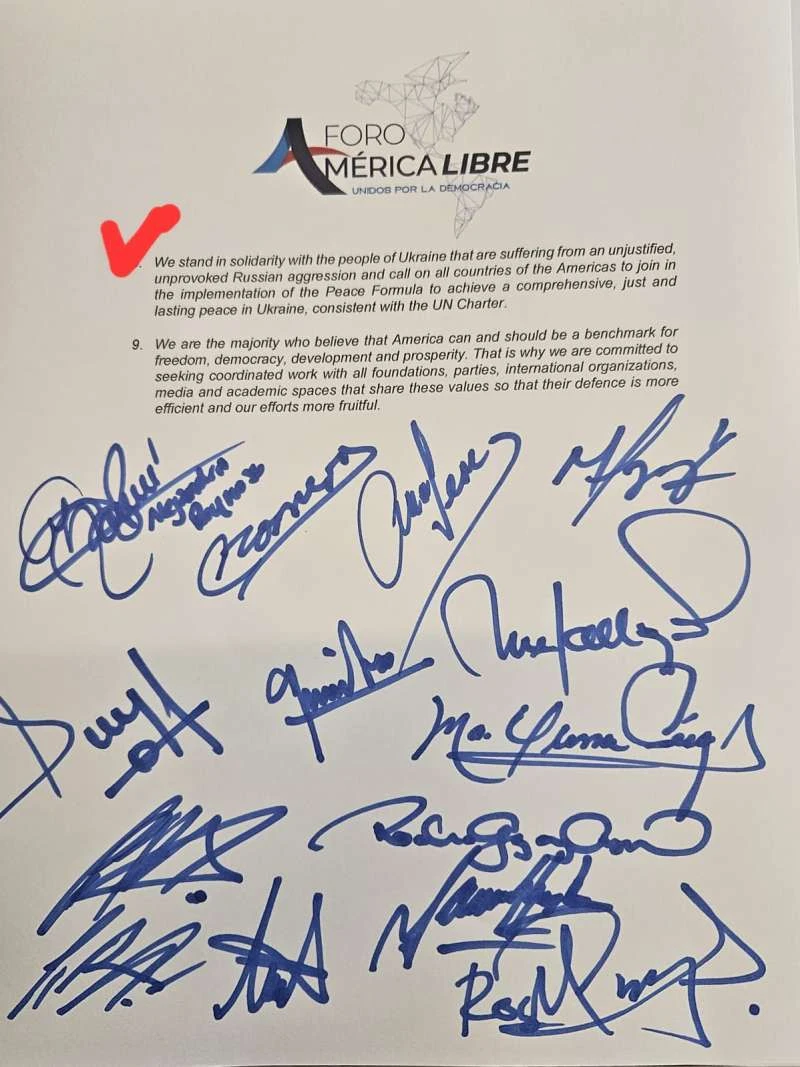 At the onset of Russia's full-scale invasion of Ukraine, Ukrainian Foreign Minister Dmytro Kuleba indicated that Latin American and Oceania partners had joined the resistance against Russian pressure on Ukraine. 

In February 2023, Guatemala became the first Latin American nation to participate in the establishment of the Special Tribunal to Prosecute Russian Aggression.
Russia loses 10 armored vehicles, 4 tanks, and 700 soldiers in one day of war in Ukraine – General Staff 
2023, Saturday
9 December
Defence of Avdiivka's heights prevents other parts of frontline from falling apart - military expert Svitan
More news