Investments as weapons: how Russia has been waging hybrid war on Ukrainian economy for 30 years
Russia has been waging a hybrid war in Ukraine's economy for decades. Russian entities made investments that had nothing to do with business. All in order to take over a strategic enterprise, destroy an entire industry, and supply their facilities with scarce raw materials
The Analytical Center for the Study and Counteraction of Hybrid Threats has published the second part of its report on how Russia destroyed various areas of Ukrainian metallurgy called Identifying and Analyzing Corrosive Investments into Ukraine's Economy as an Element of Hybrid Warfare. Espreso is the first Ukrainian media outlet to report on the results of the study.
The article covers the following topics:
How did Russia get its hands into Ukraine's titanium industry?
How did Russia's footprint manifest itself in the manganese industry?
How did Russia use the Kramatorsk Ferroalloy Plant to its advantage?
How to counter Russia's ongoing hybrid war in the Ukrainian domestic economy?
How did Russia get its hands into Ukraine's titanium industry?
Titanium is actively used by high-tech industries, such as aviation and astronautics, and the need for it is growing. At the current consumption rate, global reserves will last at most a hundred years, and this is an optimistic estimate.
Russia has long been dependent on Ukrainian titanium raw materials, although it has titanium deposits on its territory. However, the quality of Russian raw materials is worse, industrial production capacity is low, and no funding has been allocated for their expansion. But through Dmytro Firtash's titanium empire, the Kremlin gained access to the assets of Ukraine's titanium industry. And for decades, it has been using this sector of the Ukrainian economy as a raw material appendage.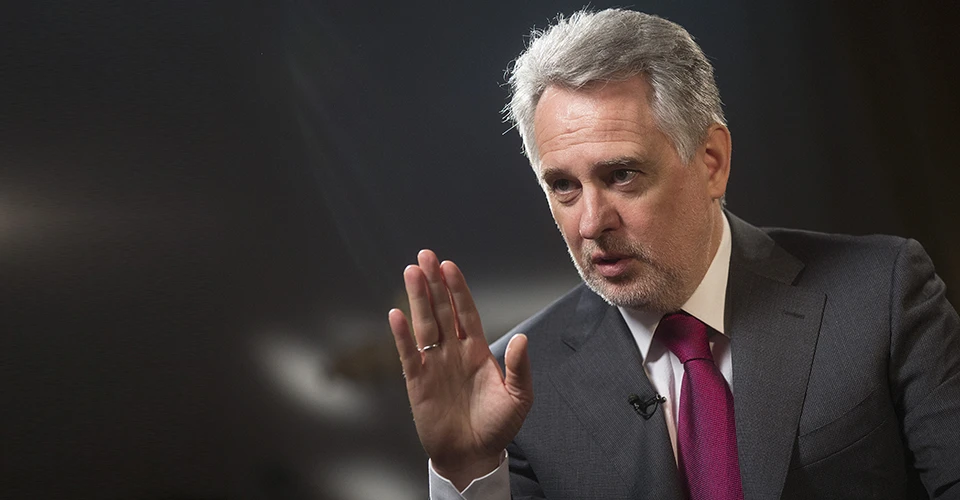 Dmytro Firtash. Photo: gettyimages
It was simple: raw materials were shipped from Ukraine to Russia, and there, processed and brought to the state of the final product, they were used for Russian needs or sold to the West.
Meanwhile, Ukrainian processing facilities were idle.
And now the most important thing: Ukraine not only has a strong raw material base of titanium but is also the only country in the world with a full cycle of titanium metal production.
Sponge titanium is essential for the titanium industry. Its production is the beginning of the chain of titanium metal products. But, firstly, sponge titanium production is harmful to the environment, and secondly, it is hazardous due to being explosive. Setting up such production is not only expensive but also extremely difficult given the trend toward environmental protection. Therefore, it seems possible only to expand existing production facilities.
In Ukraine, titanium production facilities include the Zaporizhzhia Titanium and Magnesium Plant. In 2016, the Security Service of Ukraine opened a criminal investigation against the plant's management for supplying sponge titanium to territories not controlled by Ukraine. It is easy to assume that the valuable raw material was being shipped from there to feed the Russian titanium industry.
And it is the sponge titanium that is the narrow neck of this entire industry. 
This gives Ukraine a chance to boost its economy by privatizing titanium enterprises to Western investors, even despite the war. This process is currently being planned. In addition to the aforementioned Zaporizhzhia Titanium and Magnesium Plant, the United Mining and Chemical Corporation and Demurinsky Mining and Processing Plant with the Vovchansk deposit, which was probably confiscated from Russian oligarch Mikhail Shelkov, may also be auctioned. In addition, the Zaporizhzhia Titanium Institute conducts special design and research work in the titanium industry.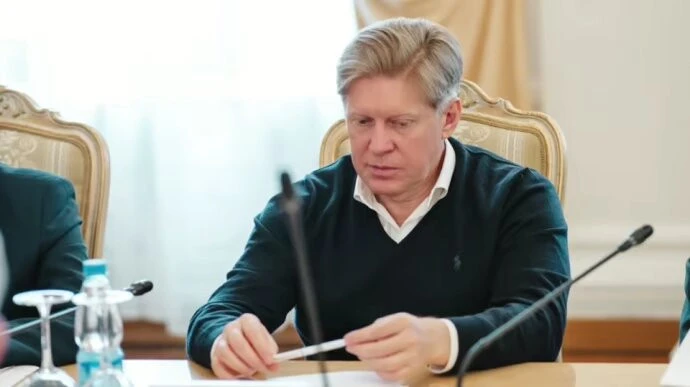 Mikhail Shelkov. Photo: RBC
The present moment should be dedicated to making legislative, legal, financial, and technical preparations for the revival of the titanium industry. The successful privatization of these facilities is of comparable importance to repelling overt Russian aggression. It will be a difficult process, but not an impossible one. 
What is the Russian footprint in the manganese industry?
Russia influenced Ukraine's manganese industry because it was interested in supplying Ukrainian raw materials. It did everything it could to provide its companies with raw materials, including destructive investments and corrupt influence.
Manganese is indispensable in metallurgical production. For example, manganese is used in the machine building and pipe industry, as well as in the manufacture of armored steel.
Russia is completely dependent on manganese ore imports. It still imports 1.1 million to 1.4 million tons of manganese ore annually.
In 2013-2020, Ukraine was one of the suppliers of manganese ore to Russia. And so, dependent on imported manganese supplies, Russia once re-exported it to Ukraine. 
In Ukraine, manganese ore deposits are controlled by the so-called Privat financial and industrial group, which is backed by Ihor Kolomoiskyi and Hennadiy Boholyubov. These deposits fully supply the ferroalloy plants under their control with raw materials.
However, the supply of Ukrainian manganese ore is not critical for the Russian industry. For the aggressor country, Ukrainian ferromanganese was the cornerstone issue.
In 2021, Ukrainian supplies accounted for 80% of Russia's imports of this raw material. And there was no one to replace these supplies in the same volumes.
Ferromanganese production is among the activities of the Zaporizhzhia Ferroalloy Plant. In Ukraine, there are three other enterprises involved in this sector, one of which is situated in the occupied territory (Stakhanov Ferroalloy Plant, Luhansk region). Notably, more than 13.7% of the plant's shares, valued at over UAH 1 billion, were held by Oksana Marchenko through four offshore companies. In essence, these shares were controlled by her husband, Viktor Medvedchuk, who is regarded as a Russian agent of influence.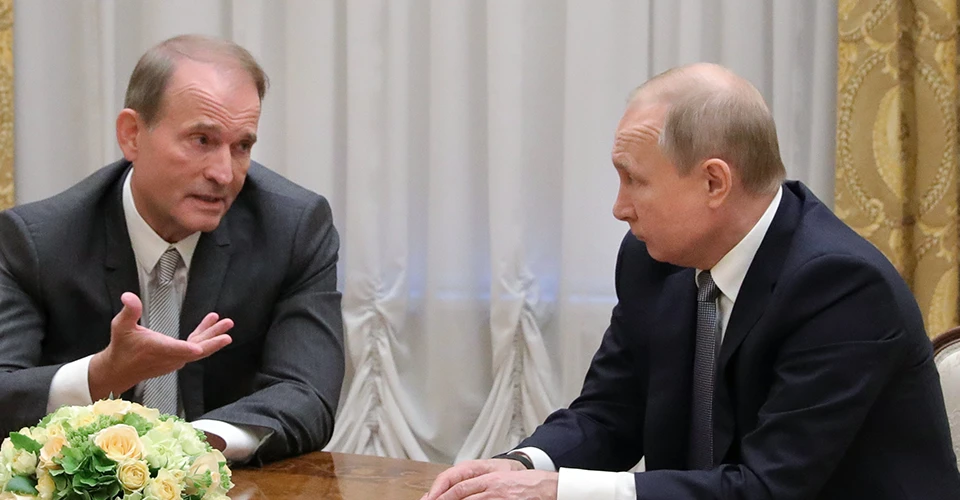 Viktor Medvedchuk and Russian President Vladimir Putin
Photo: gettyimages
Currently, Ukraine does not supply ferromanganese to Russia. In April 2023, a court seized 13.7% of the shares in the Zaporizhzhia Ferroalloy Plant owned by Marchenko.
How did Russia use the Kramatorsk Ferroalloy Plant to its advantage?
Russia's strategy of economic hybrid warfare was to take control of enterprises that are strategically important for Ukraine and bring them to a standstill. In fact, to destroy them. And it tried to reorient those enterprises that are important for its economy to work in its own interests. Their destruction is postponed until the issue of import substitution is resolved.
An example of such an enterprise is the Kramatorsk Ferroalloy Plant, which was created on the basis of the Kramatorsk Metallurgical Plant. 
A few touches. Kramatorsk Iron and Steel Works was liquidated in accordance with the plan of a hybrid operation to destroy the Ukrainian steel industry. The plant's ferroalloy shop was separated from the plant, and the Kramatorsk Ferroalloy Plant was established on its basis. Its work is being reoriented exclusively to meet the needs of the Russian economy with ferroalloys.
In 2012, the plant was acquired through a Cyprus offshore company by Yevgeny Ivanov (Russia, Kursk region). In fact, Ivanov and his family control a group of companies that produce and sell ferromanganese, including the Ukrainian Kramatorsk Ferroalloy Plant. Since then, the company has been reorienting itself toward Russian interests.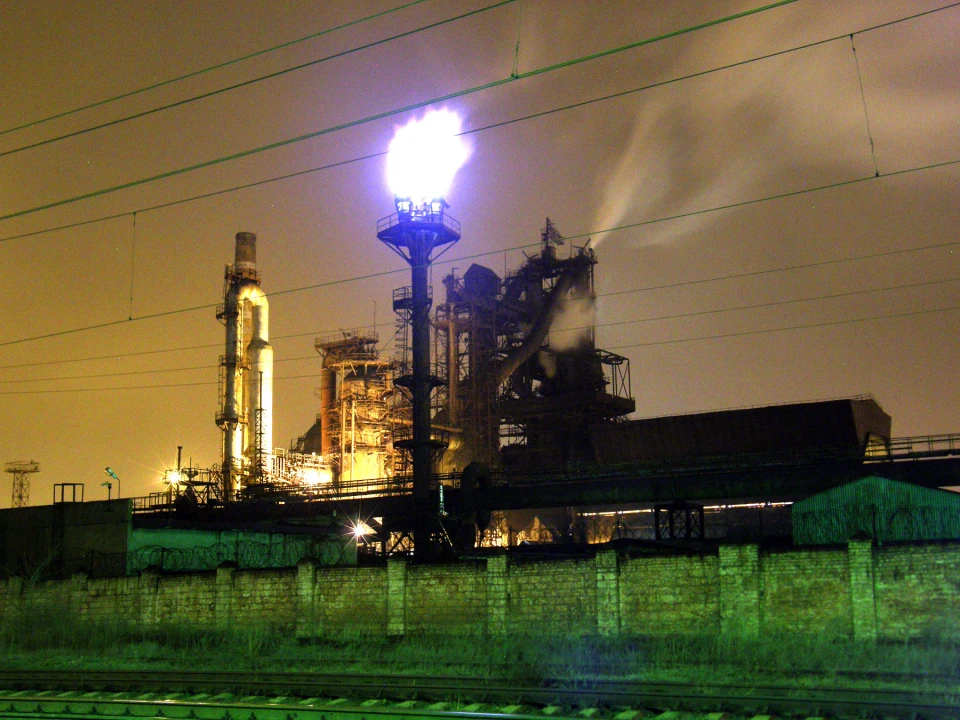 Kramatorsk Ferroalloy Plant at night, 2016.
Photo: Wikipedia
Funds are being withdrawn from the plant. For example, in 2015, Satka Iron Smelting Plant JSC (Russia) filed a lawsuit with the Kyiv Commercial Court against the Kramatorsk Ferroalloy Plant for USD 60.7 million in damages for allegedly breaching supply agreements.
Both the plaintiff and the defendant had the same owner, Yevgeny Ivanov. The plant agreed to all the charges very quickly. And voila - after the court ruled to satisfy the plaintiff's claims, there was a legal basis to withdraw USD 60.7 million from Ukraine.
Ukraine should closely monitor the actions of Yevhen Ivanov and consider the possibility of imposing sanctions against him, given his ownership of the offshore company that controls the Kramatorsk Ferroalloy Plant. Additionally, efforts should be made to pursue legal avenues to reclaim the plant and return it to state ownership as part of the Kramatorsk Steel Plant, which was seized by Russia during the course of the hybrid war.
How to counter Russia's ongoing hybrid war in the Ukrainian domestic economy?
Although today Russia is directly shelling Ukrainian cities and Ukrainian enterprises in particular, hybrid wars do not stop. Realizing this, Ukraine should cut off any economic contacts with companies involved in Russia's hybrid "special operations" and sanctions circumvention. The same methods used by Russia against the Ukrainian metallurgy were used in other sectors of the Ukrainian economy.
It is fundamental for Russia to destroy Ukraine's economic potential. That is why effective economic sanctions against Russia are so important along with military assistance.
Our task is to explain that Europe itself should be interested in the effectiveness of sanctions. After all, Russia is putting its hands into the European economy and trying to put pressure on European politics.
If earlier it acted through gas blackmail, now it is using dependence on the supply of non-ferrous metals and non-metallic raw materials, which are necessary for the development of innovative industries.