Russian army attacks Odesa, Poltava regions at night, causing casualties
On the night of October 7, Russian troops fired Oniks supersonic anti-ship missiles at Odesa region. As a result, a boarding house and a granary were hit, 4 people were injured. In addition, a missile exploded in Poltava region
The head of the Odesa Regional Military Administration, Oleh Kiper, reported this.
Four people were injured in the Russian attack by glass fragments. It is noted that they were provided with all necessary medical care.
"The terrorists' targets are civilian and port infrastructure," said Kiper. 
First, the Southern Defense Forces reported on the consequences of the night attack.
"The enemy attacked Odesa region with supersonic anti-ship missiles of the Oniks type, fired from the Bastion coastal missile system in the temporarily occupied Crimea," the statement reads.
The Russian missiles hit the building of a boarding house in the recreational area and the grain storage of the port infrastructure.
In addition, rocket fragments and a blast wave caused a fire in a garage cooperative and damaged several apartment buildings.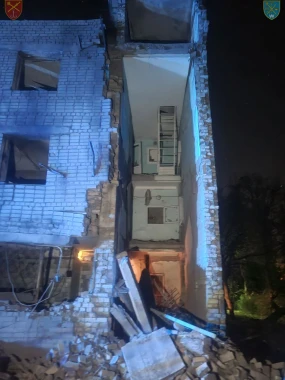 Russian attack on Poltava region
The missile attack was reported by the head of the Poltava Regional Military Administration, Dmytro Lunin.
It is noted that a Russian rocket exploded in the Myrhorod district. No one was injured, however, nine private houses were damaged.
2023, Wednesday
29 November
Victorious news of 644th day of war: Russian general killed, invading forces destroyed in Kherson region
Russian occupation authorities try 25-year-old Ukrainian who came to Mariupol to visit grandmother
More news