Blackouts await not only Ukrainians: Ukraine develops missiles with 750-1,000 km range. Weekly military results
Kyiv understands that Russia is stockpiling missiles to strike Ukraine's energy infrastructure. However, the situation has changed significantly since last winter – Ukraine has improved and continues to improve its air defense system
Liquidation of the Russian Black Sea Fleet continues
The Security Service of Ukraine reported that a small missile ship of the Buyan-M type was attacked using a new combat unit of Sea Baby marine drones. Yesterday, the Pavel Derzhavin patrol ship was attacked with the same drones. There is currently no information about the damage to the Russian ships. However, Russia continues to feel in danger. We also know that Russia has already moved most of the Black Sea Fleet from Sevastopol to Novorossiysk. I think that the hunt for Russian ships with the help of Ukrainian drones will continue. Therefore, we expect effective attacks on Russian ships in the Black Sea.
Russia is preparing to attack Ukraine's energy facilities
Today, it is very difficult to predict Russia's actions regarding missile attacks on Ukraine. We understand that Russia is stockpiling missiles to strike Ukraine's energy infrastructure. However, the situation has changed significantly since last winter. The situation with the air defense system in Ukraine has improved significantly. It is important that the process of improving Ukraine's air defense system continues. A number of measures have also been taken to restore the energy infrastructure as quickly as possible. After all, the Ministry of Energy talked about certain algorithms that have not been used before and will be used this winter if Russia continues to attack Ukraine's energy infrastructure.
Ukraine has missiles with a range of 750 and 1,000 km
The news that Ukraine is developing missiles with a range of 750 and 1,000 kilometers is very interesting, as former Defense Minister Oleksii Reznikov once spoke about it. He said that Ukraine already has such missiles. Ukraine has a state missile program, which includes a number of enterprises, including those that suffer from the actions of the State Audit Service of Ukraine. We also have some samples of missile weapons that have already been operating at similar distances. In particular, the redesigned Strizh unmanned aerial systems and S-200 missiles. However, I hope that there are other missile models that fit within the range mentioned by Presidential Advisor Mykhailo Podoliak.
Russian troops attack Avdiivka sector 
For the fifth day in a row, Russian occupation forces have been trying to attack Avdiivka. They are attacking using their classic scheme - with aviation, artillery and trained tank groups. The Russian army stormed Avdiivka from 12 different directions. They moved from Krasnohorivka towards Stepove. When we talk about the south and north of Avdiivka, we mean the movement from Vodiane and Opytne to Sieverne. Stepove and Sieverne are the key points of the vise grip where the Russians are trying to take Avdiivka. The distance between these settlements is over 8 kilometers. In fact, the Russian troops were indeed planning a powerful massive attack on Avdiivka to surround the city. However, I would like to remind you that since 2014 Avdiivka has been withstanding these attacks quite successfully. Because powerful fortifications have been built around the city. All Russian attacks have resulted in heavy losses for them. According to various estimates, Russia lost more than 30 tanks and infantry fighting vehicles in four days. This story is very similar to Vuhledar, when they lost the same amount of equipment while attacking the Ukrainian army's positions in columns. However, this story is not over yet. Because the Russians will continue their attempts to launch assault operations, and so everything will depend on the strength of Ukrainian defense and Russia's capabilities. However, I think that these futile attacks have already affected their ability to conduct further offensive operations in the Avdiivka direction. Unless their attempts to attack will be associated with even greater losses.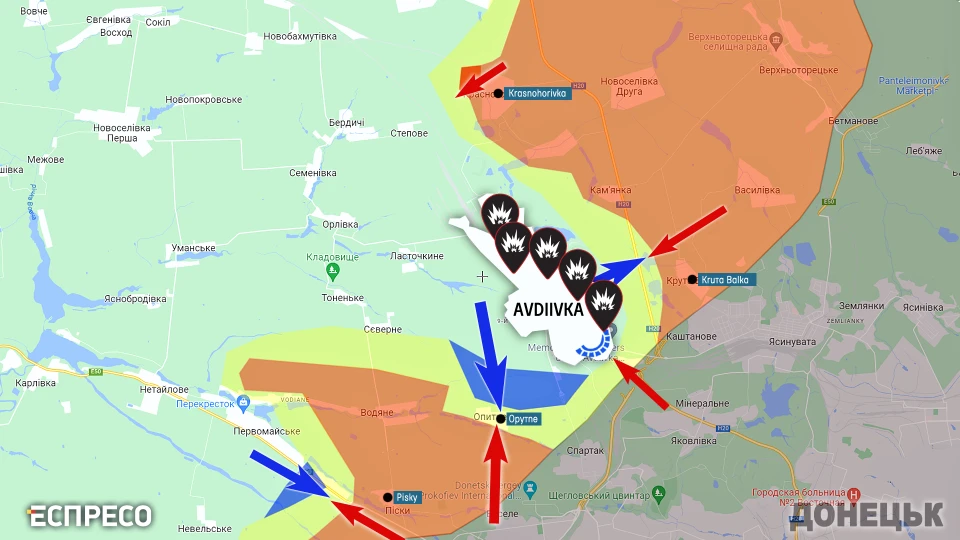 Photo: Espreso
Map of hostilities in the Avdiivka direction between October 4 and 10.
Situation in the Lyman-Kupyansk direction
All week, Ukraine's attention was focused on Avdiivka. Before that, and throughout the past week, it was said that the Russian troops were amassing forces and reserves in the Lyman-Kupyansk sector. Today, fighting in this area is underway. Indeed, Russia has amassed considerable reserves in this sector. In particular, at least 100,000 personnel. These forces are focused on three areas. In particular, on Kupyansk-Vuzlovyi, where the Russian enemy is attacking from Synkivka to Ivanivka to advance to Kupyansk and Kupyansk-Vuzlovyi. In other areas, they are trying to be active in the area of Makiivka and in the area of Kreminna. Yesterday we spoke to a spokesperson for the 21st Separate Mechanized Brigade. This brigade is currently operating in this area. According to him, the Russian forces are using their armored vehicles there, but they are afraid of Ukraine's Leopard tanks. Russian artillery, aviation and drones are also constantly operating. However, Russia's actions are not as effective, although they are moving new reserves there.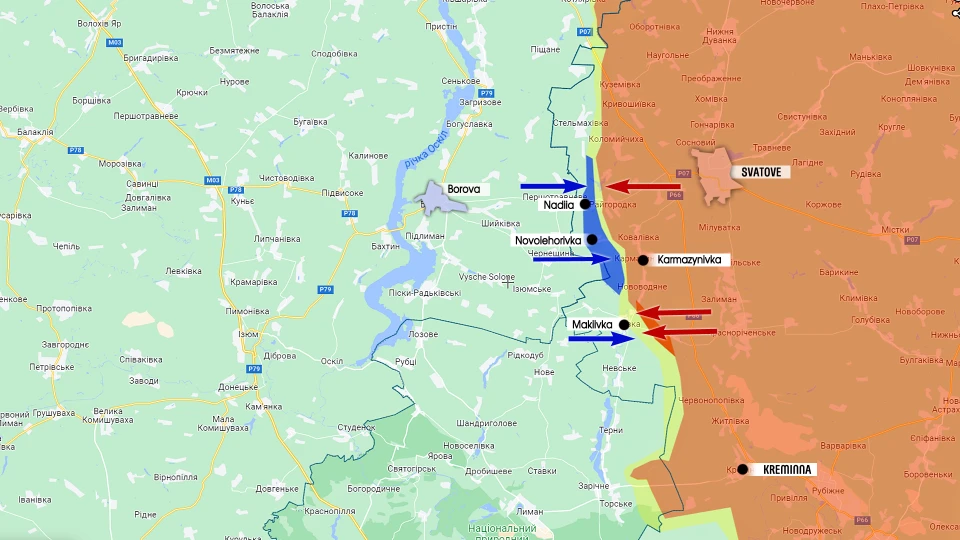 Photo: Espreso
Map of hostilities in the Lyman-Kupyansk sector as of October 13.
Russia continues to move reserves to the Bakhmut direction
The situation in the Bakhmut direction is somewhat similar and is developing according to a logical scenario, after the Russian invaders were driven out of Andriivka and Klishchiivka. Next, Ukraine's Armed Forces are trying to drive the Russians out of the settlements along this line - Kurdiumivka and Odradivka. These actions of the Armed Forces are aimed at preventing the Russian troops from holding the railroad and the road that starts behind this section and goes from Bakhmut to Horlivka. This road is now under the fire control of the Ukrainian Armed Forces, but the fighting in the area of the railroad is still ongoing. The logic of Russia's actions has not changed. The Russians are moving reserves to this area in order to recapture lost positions.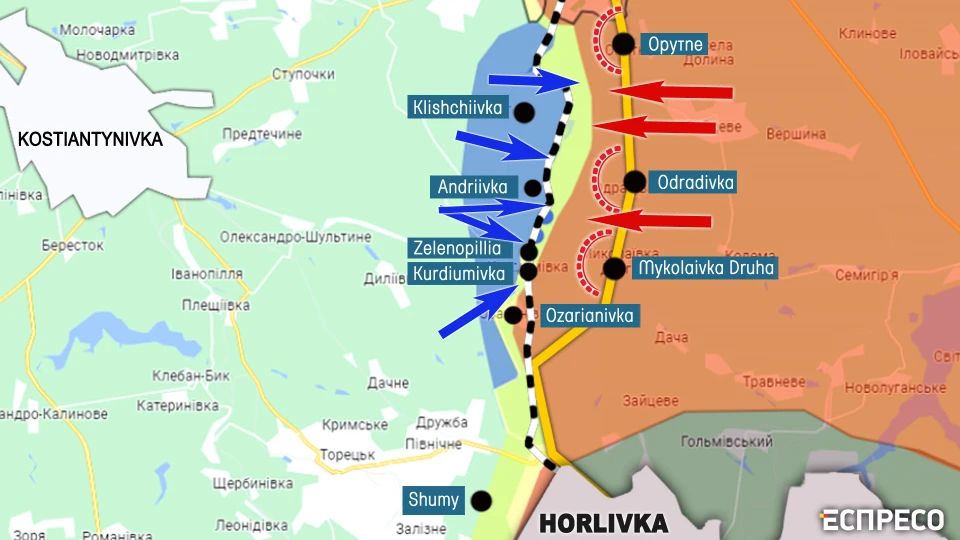 Photo: Espreso 
 Map of hostilities in the Bakhmut sector between October 4 and 10.
Ukrainian Armed Forces continue to expand the bridgehead from Robotyne and Verbove
In the Tavria direction, there seem to be no changes on the front line. However, something else is happening in this area. In particular, the expansion of the bridgehead for the Ukrainian Armed Forces. The front line from Robotyne to Verbove needs a flank expansion. The Ukrainian Armed Forces' insertion into Russia's defense is more than 10 km long and up to 12 km wide. Now the Ukrainian troops are working to destroy the Russian airborne units on the flanks of this bridgehead. Today, the Commander of the Tavria group of troops cited figures according to which 786 invaders out of 1,030 were destroyed in this area over the past day.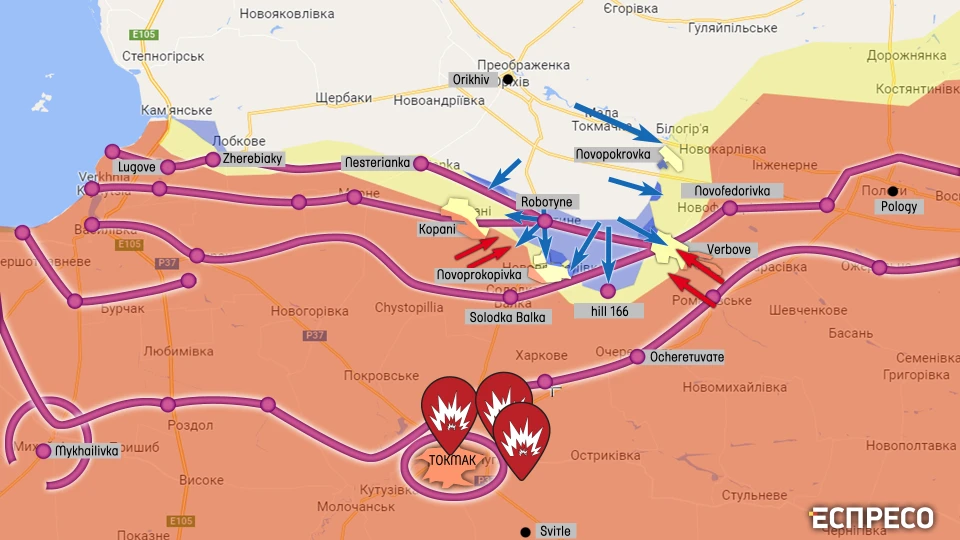 Photo: Espreso
Map of hostilities in the southern sector as of October 13.
2023, Wednesday
6 December
'Special military operation' aims to demilitarize US: Russian propaganda launches new narrative
More news