Victorious news of 582nd day of war: army consolidates near Verbove, Ukraine joins IAEA governing body
Ukrainian Defense Forces consolidate their positions near Verbove, Zaporizhzhia region, Ukraine joins IAEA governing body, and secret "birds" in the drone army
Five gas wells have been drilled in Ukraine
Naftogaz, an enterprise of Ukraine's fuel and energy complex, has reported the launch of five additional gas wells in Ukraine. Four of these wells were drilled in old fields that are between 45 and 55 years old, while one of the wells is completely new.
"To achieve our goals of increasing production, we combine using modern technologies to discover new deposits in already depleted fields and increasing investments in research and development of new areas," said Oleh Tolmachev, Acting General Director of Ukrgasvydobuvannya JSC. 
As a result, daily gas production at one of the old fields has increased by 35% over the past two years, and at the other – by almost 50%. 
Ukraine joins the IAEA Board of Governors 
Ukraine has joined the Board of Governors of the International Atomic Energy Agency for 2023-2025. This is one of the two governing bodies of the IAEA.
This was announced by President Volodymyr Zelenskyy.
"Ukraine has been elected to the IAEA Board of Governors for 2023–2025. I thank every country that supported our bid," he wrote. According to him, Ukraine sets itself the task of strengthening the role of the IAEA and working to strengthen nuclear safety and security.
"We must all work together, all of us in the world who value security, to put an end to all types of nuclear blackmail that Russia attempts to normalize. Nuclear safety and security must be guaranteed," Zelenskyy added.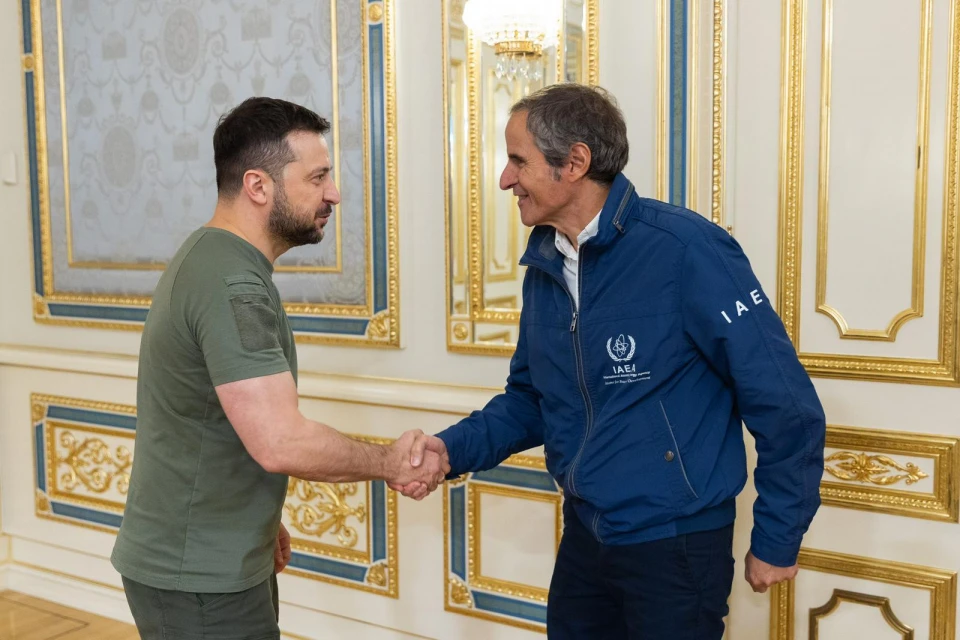 Ukrainian Defense Forces consolidate their positions near Verbove, Zaporizhzhia region
Ukrainian defenders are consolidating their positions near Verbove, Zaporizhzhia region. This was reported by the spokesman for the joint press center of the Tavria Defense Forces, Oleksandr Shtupun, on Radio Liberty.
"As for the last day, we are consolidating our positions at the respective frontiers. In order for us to move forward, we need to be well entrenched so that, God forbid, the enemy does not strike us in the flank somewhere, or break through our defense and come in from the other side, so that there are no problems for our advancing troops," he said and added that Russian troops are is constantly trying to recapture the positions. Russian troops are on the defensive, but are constantly making small group attacks.
The Army of Drones has been replenished with over 1,700 drones
Ukraine's Ministry of Digital Transformation has transferred another 1700+ drones from the Army of Drones project to the front, as announced by Minister Mykhailo Fedorov.
Among the drones transferred are both Ukrainian-made and foreign drones in service with NATO countries. They include Vampires, Phoenix FPV drones, Penguins, Avenger, Mavic and Matrice high-speed drones. 
"We are also sending secret birds that have already shown results on the battlefield. Soon the occupiers will experience their work, and you will learn about it from the news," said Mykhailo Fedorov. "Drones will help the Ukrainian Defense Forces conduct reconnaissance, destroy enemy equipment and save the most valuable thing – the lives of our soldiers. Last month alone, operators hit 780 pieces of equipment. More to come."
Russia loses 10 armored vehicles, 4 tanks, and 700 soldiers in one day of war in Ukraine – General Staff 
2023, Saturday
9 December
Defence of Avdiivka's heights prevents other parts of frontline from falling apart - military expert Svitan
More articles