Ukraine's army's actions around Bakhmut are extremely important and powerful – military expert Zgurets
Military expert and Defense Express CEO, Serhiy Zgurets, explains the significance of the actions undertaken by the Ukrainian Armed Forces in the Bakhmut direction of the Donetsk region
He shared his opinions with Espreso TV.
"The actions around Bakhmut and in particular in the southern direction are extremely important and powerful, given the tactics and strategy chosen by the Ukrainian side to act on this front line. In general, we can say that our troops, having driven the enemy out of Klishchiivka and Andriivka, are continuing to put pressure on them. The defense line has moved to the railroad, and in some areas beyond the railroad, which the enemy intends to hold," the analyst said.
Zgurets added that the fact that Ukrainian troops crossed the railroad in several areas and continued to exert pressure means that the potential of Ukraine's offensive assault units and artillery is extremely effective.
"What is its impact? First of all, on the one hand, having cleared Andriivka, it creates opportunities for further actions from the north to Kurdyumivka, which is a larger settlement compared to Klishchiivka and Andriivka. This settlement of Kurdyumivka remains under pressure from 2 directions. Then there is this rocky road from Bakhmut to Horlivka, which supplies the Russian group and where the enemy has deployed part of its forces behind this rocky road," he noted.
Zgurets believes that in any case, the actions of the Ukrainian army in this area are quite powerful, as evidenced by stories in Russian media.
"Well, this also creates conditions for the enemy to continue to throw its reserves here so that our artillery destroys them and the enemy cannot move it to other areas where it needs to be reinforced with manpower," he emphasized.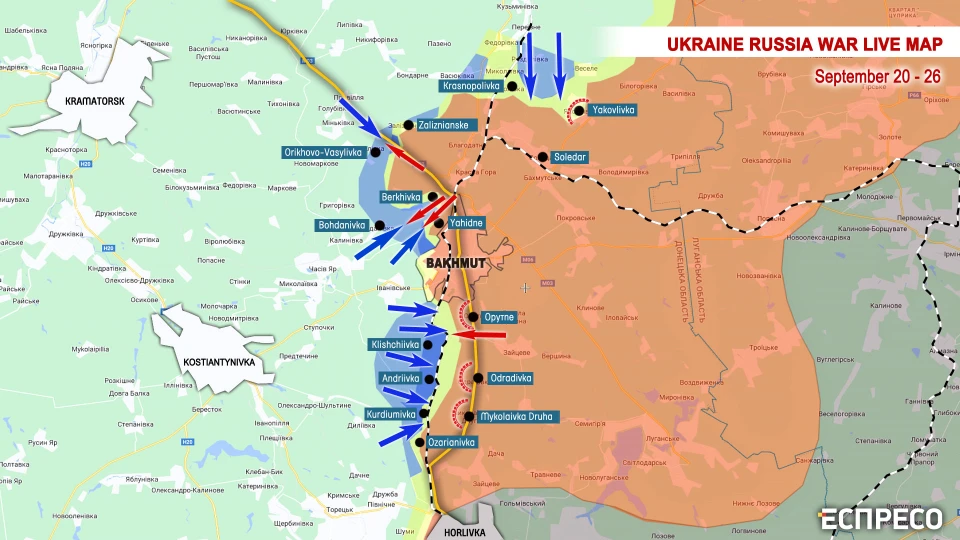 On September 15, Ukrainian troops took control of the villages of Klishchiivka and Andriivka south of Bakhmut.
On September 24, Eastern sector spokesman Illya Yevlash said that the Ukrainian Armed Forces had taken fire control of the Bakhmut-Horlivka road, which Russian forces use for logistics.
Later, Oleh Kalashnikov, a spokesman for the 26th Artillery Brigade, explained Russia's logistics shift in the Bakhmut sector.
Fire at factory in Moscow, drone attack, and explosion at oil depot in occupied Makiivka: This week's blasts in Russia
More news