Shahed killers: what are British Terrahawk Paladin systems, and how will they counter Russian drones?
Ukrainian military analysts estimate that in September, Russia launched a record number of unmanned aerial vehicles into Ukrainian territory. 503 Shahed-136 drones in a month is an unprecedented number, and such massive use indicates that the country has no shortage of UAVs
Under such circumstances, Ukrainian air defense must shoot down enemy drones more often and more thoroughly, and allied equipment helps the defenders. Espreso talks about the Terrahawk Paladin, a British system for fighting the Shahed drones, and its features.
Brief summary of what we're going to cover:
Terrahawk - the weapon Zelenskyy asked for
What is Terrahawk Paladin?
How does the Terrahawk Paladin work?
Terrahawk Paladin – an effective Shahed drones fighter
Terrahawk – the weapon that Zelenskyy asked for
On October 11, the UK Ministry of Defense announced that it would provide Ukraine with additional weapons and air defense equipment as part of a new £100 million military aid package. The list includes demining equipment, spare parts for repairing weapons already transferred, and critical infrastructure protection equipment. 
The only specific weapon named by the British is the MSI-DS Terrahawk Paladin system, manufactured by the British company MSI Defense Systems Ltd. The number of such systems to be transferred to the Ukrainian Armed Forces is not disclosed, but they were ordered under a £70 million (about $86 million) contract.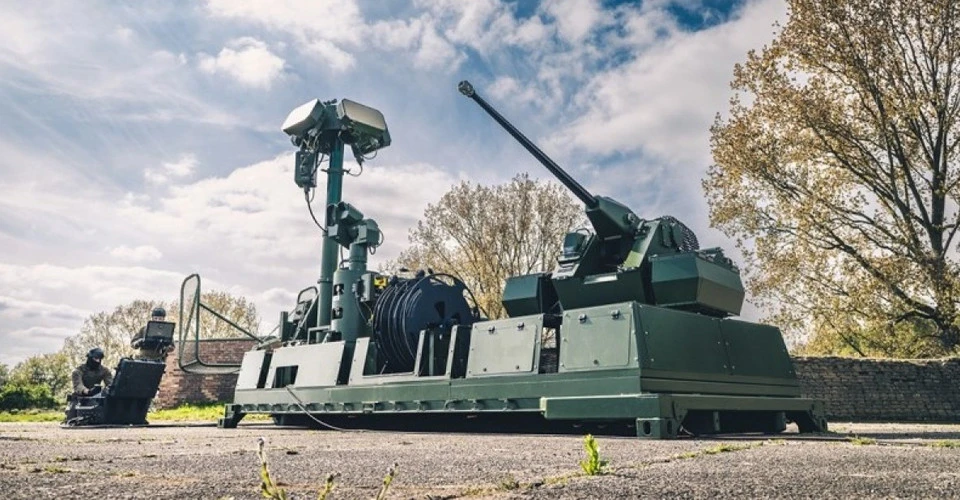 Photo: msi-dsl.com
At a meeting of Ukraine's allies at Ramstein, UK Defense Secretary Grant Shapps stressed that Volodymyr Zelenskyy had personally requested mobile air defense systems capable of protecting infrastructure ahead of winter.
"The Ukrainian President has said that air defence is Ukraine's most critical capability need, and the Terrahawk Paladin will help deliver what Ukraine needs to protect its citizens from Putin's indiscriminate campaign of missile strikes against civilian targets," the UK government said in a statement.
MSI-Defence Systems was founded in the 19th century and is a world leader in the supply of small and medium calibre weapons systems. MSI-Defence Systems is also a pioneer in the development of remote-controlled systems, Militarnyi notes. The company's gun systems are actively used on surface ships around the world, providing them with protection against surface and air threats.
What is Terrahawk Paladin?
The Terrahawk Paladin is a short-range air defense and artillery system designed to combat airborne targets, including UAVs. The manufacturer also notes that the Paladin is suitable for use against land and sea targets.
"It is modular, remotely controlled and re-deployable to protect against ground, air and sea threats at close range (proven capabilities of the system to counter unmanned aerial vehicles and counter fast coastal vessels)," MSI-Defense Systems said in a statement.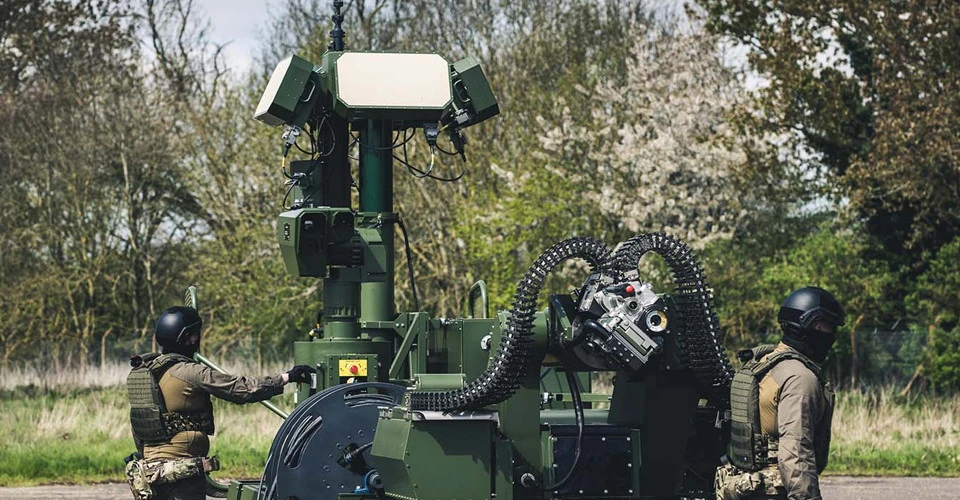 Photo: msi-dsl.com
The Terrahawk Paladin is a state-of-the-art development that will be used in combat for the first time in Ukraine. The anti-aircraft system was first demonstrated in September 2022. The Terrahawk RWS was designed to be mounted on military armored vehicles. An updated version of this weapon, the Terrahawk Paladin, was introduced only in September 2023. Defense Express calls it "an extremely effective answer to the question of how to shoot down Shahed drones at low cost".
The complex consists of three parts: a radar system responsible for detecting targets in any conditions, an automatic gun for destroying targets, combined with a digital fire control system. 
"The peculiarity of the system is its complete autonomy, as well as the availability of appropriate sensors and systems for searching, detecting, capturing and destroying air, land and sea targets at short range," writes Militarnyi portal about Terrahawk Paladin.
How does Terrahawk Paladin work?
The complex has 4 own radar locators (radars) located on one mast with active phased array antennas. This allows the system to search for targets, including low-visibility ones, in a full 360° direction. In addition to the radar, an optical target acquisition system with a day and night channel is installed. This ensures the destruction of enemy targets in all weather conditions.
The SATOS optical sighting station, which is an in-house development of MSI-Defense Systems, is responsible for the accuracy of fire. It is equipped with a thermal imager and a laser rangefinder. The fire control system automatically follows the detected targets.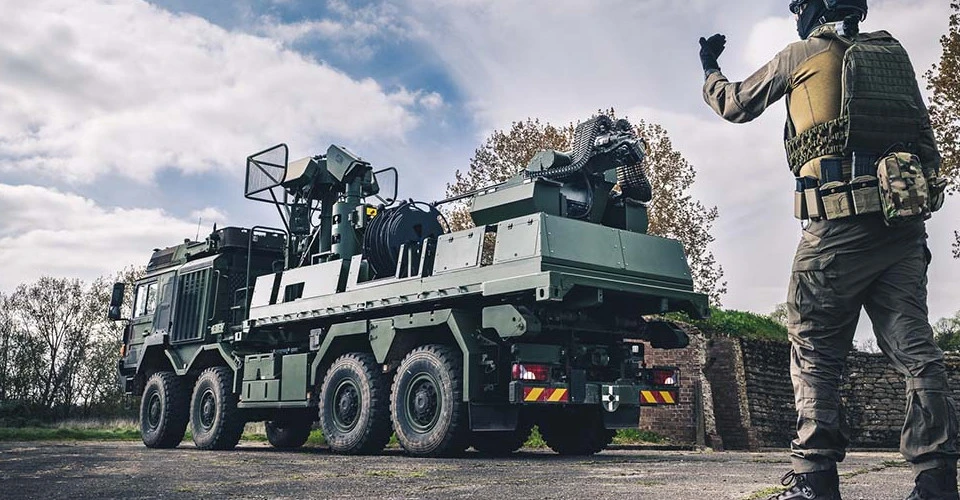 Photo: msi-dsl.com
A 30 mm Mk 44 Bushmaster II chain gun is used to destroy targets, the caliber of which can be changed at the request of the customer. The 30mm Bushmaster II, which is standard equipment, can use programmable explosive ammunition.  The developers declare that if used, the range of destruction of an air target is up to 2 km from 600-800 meters.
In addition, the MSI-DS Terrahawk Paladin system allows for the integration of additional destruction means, such as semi-active laser-guided missiles such as APKWS.
The system is designed as a platform that can be either stationary or transported on a truck. Remote control panels control the system. Two people are enough for this purpose: one is responsible for searching for targets, and the other is responsible for their destruction.
Paladin also has a target tracking function using artificial intelligence (AI). The system is powered by a generator that provides power for the system and the control kit. 
Terrahawk Paladin is an effective Shahed drones' killer
The developers point out the multifunctionality of the new modern complex, which will be used by the Armed Forces of Ukraine. The Terrahawk Paladin can be deployed as a single system for point defense or as part of an air defense network to protect a larger area. 
"This allows the Terrahawk Paladin to effectively perform a wide range of field missions, such as protecting high-value targets, critical infrastructure, vulnerable points, and reinforcing coastal and border defense forces," MSI-Defense Systems said in a release.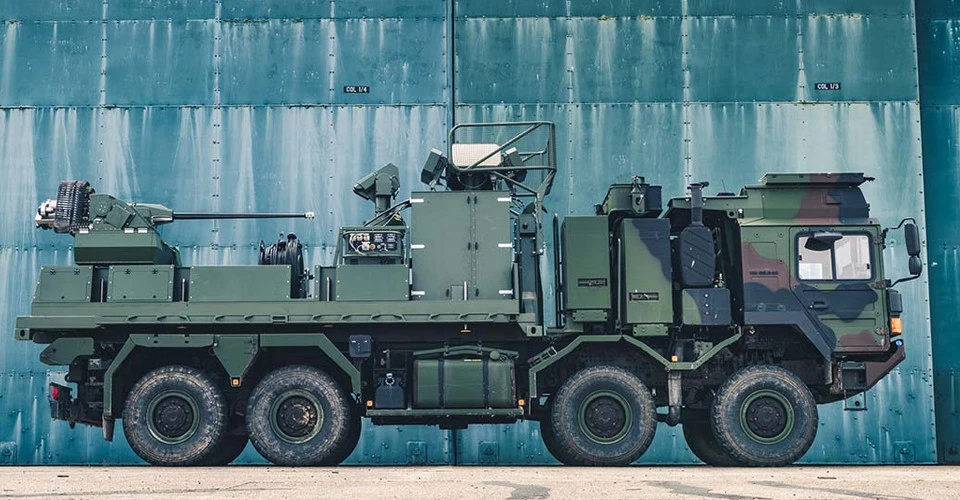 Photo: msi-dsl.com
The BBC calls the Terrahawk an improved version of the solution that Ukraine is currently using most widely to fight Russian Shahed drones. We are talking about the so-called Shahed catchers – mobile groups of Ukrainian military moving in specially equipped pick-up trucks with a turret-mounted machine gun in the back.
According to Defense Express, the British system, especially when combined with programmable munitions, is a fairly effective answer to the issue of cost-effective destruction of threats such as the Shahed-136 drone. This is very important to be able to protect Ukrainians from Russian UAVs without spending expensive Western munitions to counter them. In its article, Defense Express calls the Paladins "Shahed killers". 
German bank will provide over EUR 24 million to create energy-efficient housing for internally displaced Ukrainians
Scandalous and dangerous decision: Ukrainian MP comments on Poland's investigation into Operation Vistula 
More news