Musk vs. Ukraine. What does tech genius really want?
Why does Elon Musk dislike Ukraine and Volodymyr Zelenskyy so much? Is it a political game or something personal?
The American businessman, owner of SpaceX and Twitter, has once again taken a swipe at Ukraine. He posted a caricature of President Volodymyr Zelenskyy on his social media about helping Ukraine fight Russian aggression. The following appeared on his X social media feed:
"When it's been 5 minutes and you haven't asked for a billion dollars in aid."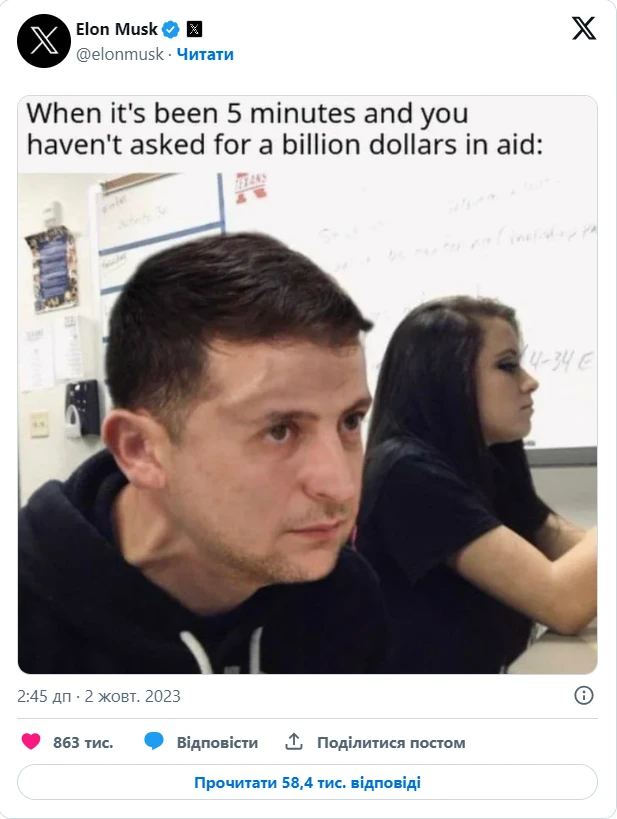 Fortunately, despite the ongoing debate in the United States about whether to support Ukraine at the same financial level or perhaps reduce it somehow, Musk mostly got a pass in his comments.
However, such an attack on Zelenskyy again raises the question of why Musk is so biased against Ukraine.
Elon Musk is a technological genius, and before the full-scale invasion, he was loved in Ukraine. What could have gone wrong that his Ukrainian fans are forced to throw their idol's books and posters in the trash?
First of all, it's worth remembering that Musk has always been exclusively interested in himself and his ambitious projects in the spotlight. Perhaps the best year of the last decade for the businessman was 2018, when the whole world was discussing the successful launch of SpaceX's Falcon Heavy rocket for a year. Back then, the rocket launched the company's founder's personal car, a Tesla Roadster, into space as a cargo. And a mannequin in a spacesuit was put in the passenger seat.
However, then the world was immersed in the global fight against the coronavirus for a couple of years, which suddenly turned to helping Ukraine, which was in the midst of the bloodiest confrontation since World War II. And obviously, the major donors to Musk's projects were more concerned about their fate. And governments started counting money for defense and new contractors. It was clearly not time for Tesla, Mars colonization, and ambitious projects.
It is worth noting here that Musk has long relied on the Chinese market and Chinese money. And the coronavirus pandemic, and then the Russian-Ukrainian war, brought him down to earth. Because both the first and second problems have China's ears striking out, and thus it is more difficult for an American to get something from a country that is fundamentally hostile to the United States.
Shortly before all these events, Tesla built a large factory in Shanghai, where electric cars were supposed to be assembled. However, problems with batteries, wires, and the transfer of production of all these things to neighboring countries - as of October 2022 - have made it so that Musk is burning money in these plants rather than earning it.
Therefore, in an effort to keep the Chinese market and Chinese money, Musk became a backing vocalist for China's so-called 'peace plan'. That's why, and not for any other reason, a very specific 'peace plan' appeared on Musk's Twitter a year ago. It offered Ukraine to hold referendums in the occupied territories, give Crimea to Russia and provide it with water, as well as Ukraine's neutral status. These are purely Sino-Russian narratives, and they obviously could not have appeared on the private page of a person who was previously interested in robots and space.
The desire to somehow settle the Ukrainian problem and continue to make money and take investments ruined Musk. He increasingly began to make ambiguous statements and specific actions. Needless to say, Musk is simply working against Ukraine to the delight of the radical wing of the Republican Party. If we analyze the private relationship between Musk and Donald Trump, everything rests on the permission to accept Chinese money for Musk.
So it came as a bolt from the blue when CNN reported on Musk's new biography by writer Walter Isaacson, who wrote that the businessman allegedly secretly shut down Starlink off the coast of Crimea, which thwarted a Ukrainian attack with underwater drones on the peninsula for fear of Russia's retaliatory nuclear strike. Later, Isaacson and Musk clarified that he refused to activate satellite Internet there at the "urgent request of the (Ukrainian) government authorities" because of fears of "escalation of the conflict."
Later, when the corporation's showdown with the US government and the Pentagon was about to begin, Musk tried to explain that he had not betrayed the United States by his actions because "the United States did not declare war on Russia."
However, Musk's interference in defense affairs, as well as the publication of private correspondence with the Minister of Digital Transformation (of Ukraine - ed.) Mykhailo Fedorov, still became the subject of a major showdown in the United States.
The fact is that in the US, politics and big business corporations are separated from each other. However, now, after the incident with the Internet in Crimea, the Pentagon has shifted its relations with private contractors. Here's what the US media wrote in September 2023: "As of now, the Pentagon is relying on SpaceX for much more than just assistance to Ukraine, and uncertainty that Musk or any other commercial supplier could refuse to provide services in a future conflict has forced military space system planners to rethink what should be clearly spelled out in future agreements."
Otherwise, as US military experts note, "there is no certainty that commercial structures will not let us down during a war." For example, when the US and China are at war with each other. Can we then rely on Musk, who dreams of Chinese money? 
In addition, US Senator Elizabeth Warren, a Democratic Party member, called for a review of government relations with Musk. Warren, who is a member of the Senate Armed Services Committee, also said that lawmakers should investigate the episode when Musk allegedly thwarted an attack by the Ukrainian military in Crimea.
"Congress needs to investigate what's happened here, and whether we have adequate tools to make sure foreign policy is conducted by the government and not by one billionaire," Bloomberg quotes the US Senator as saying. Thus, Musk has attracted not only a wave of hate and well-deserved criticism, but also the scrutiny of American politics and intelligence agencies.
What's next for Musk?
Many people have seen the sensational movie 'Don't Look Up!' with its surprisingly successful analogies to Ukraine.
Musk is the movie Peter Isherwell, the owner of the BASH corporation and the sponsor of the president, played brilliantly by Meryl Streep.
This is a man who is not interested in earthly life or the feelings of others. He is interested in spaceships and distant planets. And it doesn't matter if a person from Earth can become food for the natives there.
Specially for Espreso
About the author: Maryna Daniluk-Yarmolaeva, Ukrainian journalist. 
The editors do not always share the opinions expressed by the blog authors.
2023, Saturday
9 December
Defence of Avdiivka's heights prevents other parts of frontline from falling apart - military expert Svitan
More news