Medics successfully remove mine fragment from Ukrainian soldier's heart
Military medical surgeons have successfully operated on a serviceman who had a mine fragment stuck in his heart during combat operations in the Donetsk region
The Medical Forces Command of Ukraine's Armed Forces reports.
Surgeons saved a 33-year-old serviceman after a mine-blast injury he sustained on October 24 during hostilities in the Donetsk region. A foreign body of metallic density measuring 7X6X5.5 mm was detected in the area of his heart.
The military surgeons stabilized the patient's condition and sent him to the clinic of the Amosov Institute of Cardiovascular Surgery, where he was prepared for surgery for three days.
The doctors say the shrapnel was in the interventricular membrane, topographically very close to the valves, so it had to be removed immediately. The surgery was performed under conditions of artificial blood circulation, meaning the heart had to be completely stopped. The metal fragment was removed thanks to an innovative technique - a neodymium magnet.
"We developed this methodology together with civilian doctors and have already saved the lives of 96 soldiers," the doctors emphasized.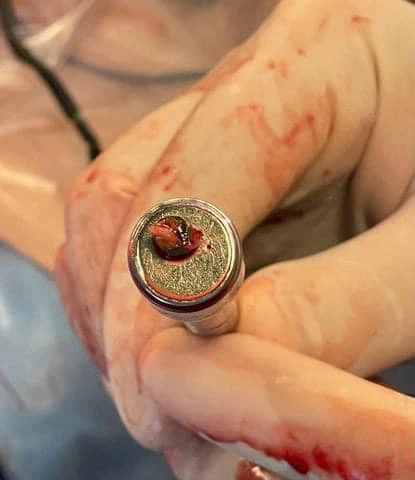 Photo: https://www.facebook.com/Ukrmilitarymedic/
On October 13, doctors at a frontline hospital performed a highly complex operation to remove a mine shank from the leg of a soldier wounded at the front. They managed to save his leg.
2023, Wednesday
29 November
Victorious news of 644th day of war: Russian general killed, invading forces destroyed in Kherson region
Russian occupation authorities try 25-year-old Ukrainian who came to Mariupol to visit grandmother
More news