How Russia zombifies Ukrainian children in occupied territories
When Russia occupies territories, the first thing it does, after destroying and killing civilians, is changing the educational program and rewriting history. This is what Russian imperialism did in 2014 in Luhansk, Donetsk, and Crimea. It is the same thing the Russian forces are doing now, during the full-scale invasion, in Mariupol and other occupied cities and villages
Espreso will delve into Russian propaganda in schools in the temporarily occupied territories and the threats such "education" poses in the future.
What's in the text:
What narratives does Russia produce in its textbooks for Ukrainian children?
What is the situation in Mariupol and other territories temporarily occupied by Russia?
What should we fear in the future as a result of Russia's influence on children?
What narratives does Russia produce in its textbooks for Ukrainian children?
On September 1, students of grades 10-11 living in the temporarily occupied territories of Ukraine received an updated "unified state textbook on the history of the Russian Federation". The co-author of the textbook was the ideologue of the "Russian world" Vladimir Medinsky.
This so-called textbook rewrites the well-known facts of the last 50 years of history. Ukrainian children under occupation are told about the alleged falsity of our independence, the "Kyiv regime" and ultranationalists in power who do not tolerate dissent. At the same time, Russia is portrayed as a "dove of peace" and its occupying military as national heroes.
The Russian authorities have long developed a system of propaganda in education in the temporarily occupied territories and have published more than one textbook similar to the one mentioned above.
On September 1, Ukrainian experts presented their study of 23 Russian textbooks and identified at least 20 narratives that influence the loss of connection between Ukrainian children under occupation and Ukraine. This applies not only to history but also to other subjects, such as geography. This also applies to primary school. Ukraine is not presented in Russian education as an independent entity, but only as part of other countries.
Overall, experts identified three main clusters of Russian narratives:
Formation of an all-Russian identity. Although Russia is a multinational country, textbooks refer to only the "Russian people". With a "great and powerful" language, Russian culture, etc. In other words, everything is broadcast to make children forget their homeland and believe that their new "homeland" is Russia. The narrative "to live is to serve the homeland" is also used from the first grade.
Militarization. As the researchers explain, almost all textbooks are permeated with war. This theme prevails even in the subject of literature and geography.
Power is sacred. This group of narratives is responsible for the unconditional and positive perception of power. So to speak, "all power is from God" and is not subject to criticism.
'Special military operation' and the Ukrainian language
The new Russian textbook also mentions Russia's full-scale invasion of Ukraine. Only there it is called a "special military operation." A total of 17 paragraphs are devoted to this war. Ukrainian high school students, who had to see the results of this so-called "special military operation," are told that a "Nazi regime" allegedly prevails in Ukraine, which is why Russia was allegedly forced to launch the "operation" - Ukraine did not comply with the agreements (meaning the Minsk agreements), so Russia had to conduct the special military operation to protect the population of Ukraine, and the occupied territories are now part of Russia, which was the result of the will of the people "saved" from the "Kyiv regime.
Separate chapters talk about Russian soldiers as messengers of peace in 2014 and Western sanctions that are "worse than even Napoleon's attack on Moscow."
All of this propaganda is repeated in the "conversations about important things" that are mandatory.
In fact, everything that is broadcast on Russian TV channels is broadcast in education, creating a kind of information bubble amid total control of the Internet.
On March 1, 2023, Russia was going to publish Ukrainian language textbooks in the temporarily occupied territories.
The so-called textbook is supposed to "form traditional Russian values in students, reflecting the original spiritual, historical and cultural development of the multinational people of Russia, historical memory and continuity of generations, the unity of the peoples of Russia, higher moral feelings, the priority of the spiritual over the material, and family traditions."
"They will be exactly the same as Ukrainian language textbooks in Soviet times, where there was no Ukrainian language, but Russian terminology with some interspersed censored Ukrainian texts and exercises that will bring Russian and Ukrainian closer together as much as possible. This is an intermediate step in the destruction of the Ukrainian language in the occupied territories," commented Taras Kremin, the language ombudsman, to Suspilne.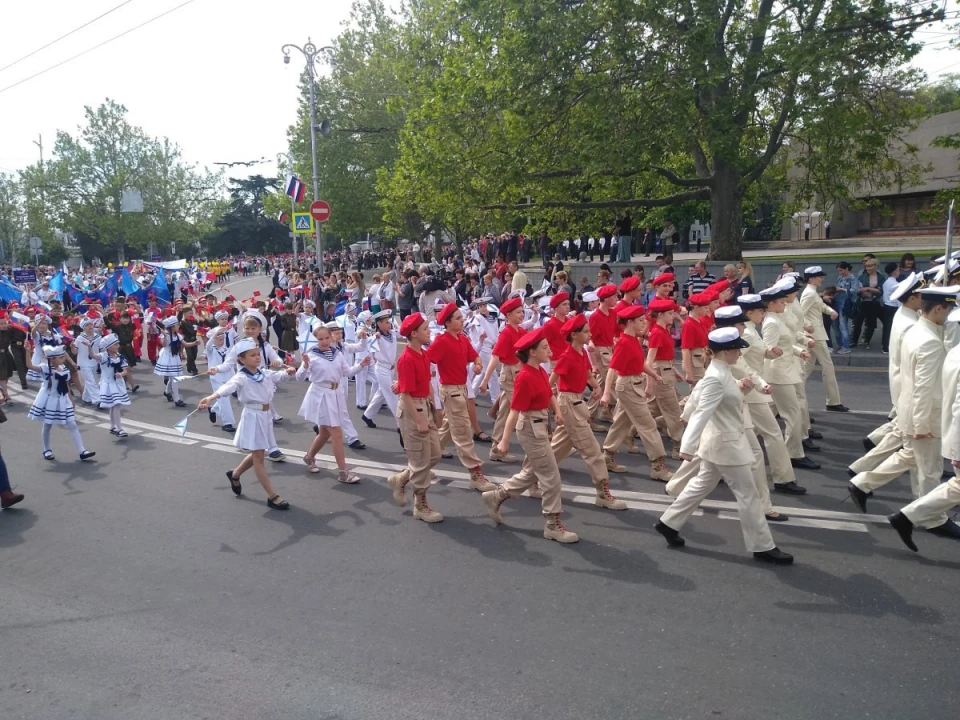 Photo: Sevastopol, celebration of the Border Guard Day in 2019 / photo by the Crimean Human Rights Group
Children of Mariupol as an object of propaganda and militarization of Crimeans
According to Petro Andriushchenko, an advisor to the mayor of Mariupol, there are currently 14,783 students in the occupied city. Of these, 3,629 are children of migrants from Russia. There is a catastrophic shortage of teachers in schools. On average, there are 7-12 vacancies for teachers in each school. Most of all, there is a shortage of historians, mathematicians, and English teachers. Ukrainian is officially optional. Unofficially, schools are ordered to do everything possible to ensure that Ukrainian is not taught in classrooms.
He also said in a commentary for Radio Liberty that Russians are actively using children in Mariupol as objects of propaganda and pressure on their parents:
"A child comes to class and is told: "Crimea has always been Russian". Then the child comes home and says: "Crimea has always been Russian". The parents say: "Come on, that's a little bit wrong". And they say how it was. The child goes back to school and says, "I don't know: "I don't know, Mariya Ivanovna, I don't agree, my parents said it was like this." Then the FSB comes to the parents and says: "One more time and you will not see your child." And the parents shut their mouths. And imagine where it all comes from. It doesn't come from school or teachers until a certain age. Everything comes from the family. Then the child comes home from school and says: "Crimea has always been Russian." And what do parents say after being warned? At best, they are silent. What does the child think? It was true."
Crimea has become not only a military base for the occupying forces, but also a platform for the militarization of the civilian population, especially children.
According to Olha Skrypnyk, head of the Crimean Human Rights Group, in an interview with The Village, Russia is actually trying to create a future without alternatives for children in Crimea - service in the Russian army. This applies both to the study of the history of the world rewritten by Russian propaganda, where Ukraine is referred to as a "fringe" that has always been Russian, and to various events, such as open lessons to which those who took part in hostilities against Ukraine are invited. They are presented, of course, as heroes. Any extracurricular activities also include military elements: children are taught how to throw a grenade, hold a weapon, and so on. Even the church promotes war.
We already know about projects such as the Youth Army or the Crimean Patriot Center, which are funded by the Russian government and openly declare that children are being trained for military operations. According to Olha Skrypnyk, about 200,000 children in Crimea are under such influence of Russian education and propaganda.
Something similar is happening in the temporarily occupied Zaporizhzhia and Kherson regions, but with greater brutality.
What should we fear in the future as a result of Russia's influence on children?
Amid all these actions of the Russian forces, the alternative is being destroyed - any Ukrainian educational literature, even that which does not cover Ukraine's relations with Russia, is being banned by the Russians.
According to Iryna Zhdanova, an expert on specialized education with a scientific profile and a PhD in history, Russian propaganda in schools can influence terrorism on the part of the younger generation on a global scale.
"Russian propaganda influences their value orientation, and this has nothing to do with our values of democracy, human rights, and European integration. I predict an increase in terrorism among children and youth. This will be a global problem not only for Ukraine but for the whole world. It is children and young people who are extremely susceptible to extremism," the education expert explains in a commentary to the Eastern Option.
Crimean historian Serhiy Hromenko also expressed his fears. In his commentary to Krym.Realii, he noted that real problems could begin in a few years:
"The problem will arise when textbooks for primary school begin to appear in Russia, where history is taught from the first grade. That's when the percentage of "zombies" will increase, because a child will not be able to adequately resist eleven-year-old propaganda. So this is a delayed effect. Nothing will change right now, but in a few years we will have difficulties."