Ukraine negotiates return of minor kidnapped from Mariupol by Russia
Ukrainian Parliamentary Commissioner for Human Rights Dmytro Lubinets says that Ukraine has managed to negotiate the return of Bohdan Yermokhin, a minor from Mariupol, from Russia: Russian forces kidnapped him and drafted him into the army
Lubinets wrote this on Telegram.
According to him, there are currently arrangements to return the young man to Ukraine so that he can be reunited with his sister.
"I ask everyone to calm down and, most importantly, not to spread unverified information. Such publicity harms the return process," the Ombudsman emphasized.
Lubinets also published a statement written by the minor.
"I, Bohdan Ruslanovich Yermokhin, refuse to provide me with a special rented apartment as an orphan at the address: (...) in connection with my departure to Ukraine," the statement, dated November 8, says.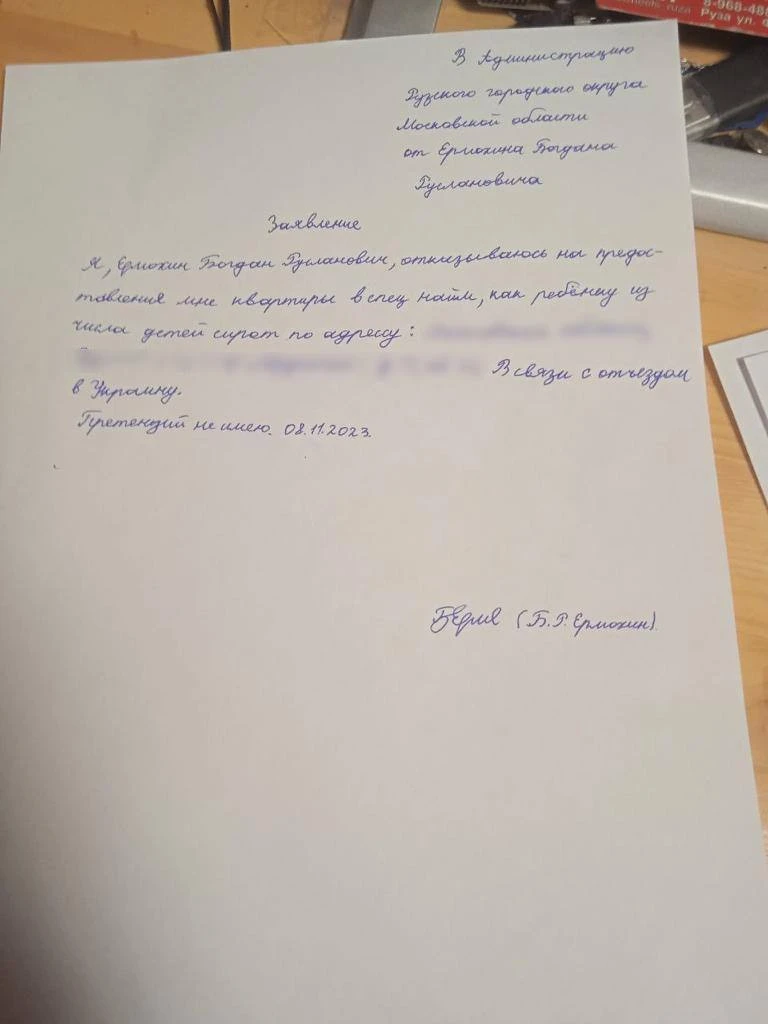 Photo: t.me/dmytro_lubinetzs/4244
Lubinets added that the details of the work on the guy's return will be made public when he is on the territory of Ukraine.
Bohdan Yermokhin's story
Russia is abducting Ukrainian children from the temporarily occupied territories through the humanitarian mission Children in Hands founded by Russian Children's Commissioner Maria Lvova-Belova.
During the occupation of Mariupol, Russians illegally took 30 children to Moscow, including 17-year-old Bohdan Yermokhin. From there, they were sent to a children's "sanatorium" called Polyana.
In July 2022, despite having a legal guardian, the minor was illegally transferred to a Russian family. According to Bohdan, he was issued a Russian passport and enrolled in a university.
In April 2023, the boy tried to return to Ukraine, but was detained at the border with Belarus and forcibly returned to his foster family.
On Wednesday, November 8, it became known that Russian terrorists drafted a minor from Mariupol into the army.
Later, the boy recorded a video message to President Volodymyr Zelenskyy. He asked for help in returning him to Ukraine. 
"I, Bohdan Yermokhin, am on the territory of Russia and I ask you, Volodymyr Oleksandrovych, to help me return home," said the abducted 17-year-old.
Lawyer Bobrovska asked the president for personal control over the guy's return to Ukraine.
First time leading Polish politician admits Ukrainian-Polish border blockade is national security issue
How many missiles can Russia use in one attack? Aviation expert names maximum number
More news