Strikes on airfields in Berdyansk and Luhansk are first use of ATACMS missiles. Column by Serhiy Zgurets
On the night of October 17, the Ukrainian Defense Forces struck two Russian airfields in the temporarily occupied territories, destroying 9 helicopters of various modifications and an unspecified number of special equipment
Strikes on Russian airfields in Berdyansk and Luhansk
On the night of October 17, the Ukrainian Defense Forces struck two Russian airfields in the temporarily occupied territories. According to the Special Operations Forces, in the course of the operation called DRAGONFLY, 9 helicopters of various modifications and an unspecified number of special equipment were destroyed at Russian airfields in Berdyansk and Luhansk. The air defense system, either Buk or Pantsir, was also damaged. The runways were damaged, and there were significant Russian losses in manpower. In addition, ammunition depots in Berdyansk and Luhansk, which were also located near these airports, were destroyed. At the same time, Russian propagandists were actively complaining that this was the most serious strike ever against their aircraft with ATACMS missiles.
The ATACMS missiles were designed to destroy such targets. In particular, through the use of cluster warheads, these missiles were designed to destroy air defense systems or the airfields themselves, where these aircraft could be stationed at different parts of the airfield. It seems that this is exactly what happened at the airports where the invaders were temporarily stationed.
By the way, cluster munitions were found at the site of the strike on Russian airfields. And this warhead is more typical for ATACMS. It seems that this time, the Russians were really not mistaken about their losses and about the first use of ATACMS missiles.
Just a few hours ago, a number of American publications reported that the United States had secretly transferred long-range ATACMS missiles to Ukraine and that Ukraine had already used these missiles. Some versions of these missiles have a range of up to 300 kilometers.
On October 17, photos from Russian military commanders appeared, showing the numbered parts of these missiles. It is noted there that these are M-39 block 1 MGM-140A missiles. These missiles are the first versions of ATACMS cluster missiles, which have a range of 165 km. Each of these missiles has a warhead of about 560 kg, and the warhead has 950 spherical cluster submunitions that are dispersed at a considerable range.
However, the United States also has other versions of ATACMS in its inventory. In particular, the M-39 A-1 has a range of up to 300 km. We can say that the appearance of these missiles in the arsenal of Ukraine's army will be of great importance, but everything will depend on the number and modifications of such missiles that will be transferred to the Ukrainian army.
The Wall Street Journal wrote that a small number of these missiles have been transferred, but Ukrainians hope to continue with higher numbers and longer ranges. Finally, the Ukrainian army has started using these long-awaited ATACMS.
On the front line - Kupyansk direction
Ukraine's Armed Forces are currently conducting both offensive and defensive actions, depending on the direction. The Defense Forces are holding back Russia's attempts to advance on the Kupyansk-Svatove-Kreminna line. This is one of the hot spots on the frontline.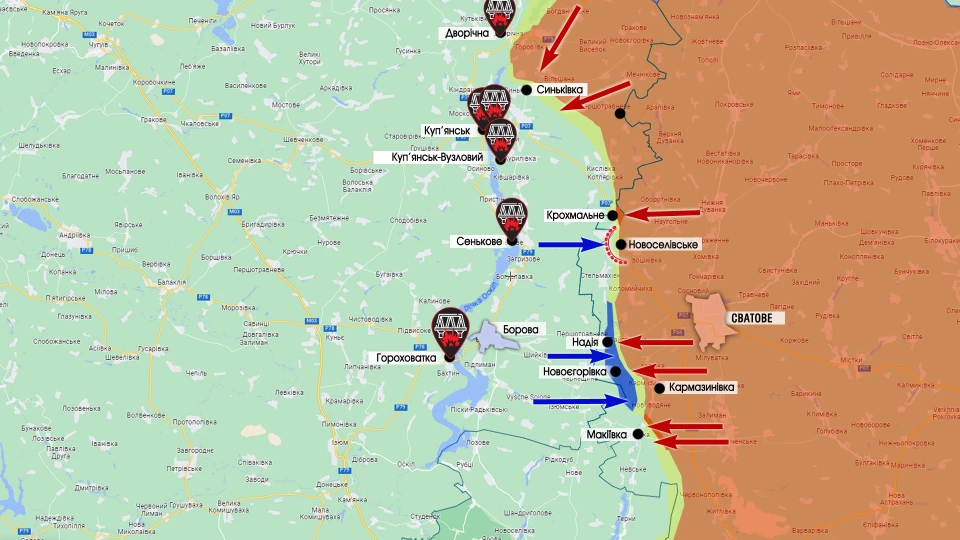 Over the previous day, 20 clashes took place in this area out of 72, as reported by Ukraine's General Staff. And 20 of them were around Kupyansk. It seems that the Russian troops want to gain advantageous positions before the cold weather comes and try to advance to Kupyansk.
There were active hostilities in the Kupyansk-Svatove-Kreminna area two months ago. Back then, the Russian army tried to break through Ukrainian defense lines. They suffered significant losses and went to reformatting. The 41st Army of the Russian Federation left for restoration, and the 25th Army came in instead. We are currently in a period when Russia is trying to conduct offensive actions with new forces, using armored vehicles, aviation, and assault units. A significant number of Russian personnel have been amassed in this area. About 110 thousand Russian personnel are concentrated along the entire line. Russia is focused on breaking through to Kupyansk and Kupyansk-Vuzlovyi, which is an important logistics hub. This hub supplies Ukraine's entire group, which is located on the left bank of the Oskil River. And the Russian troops are focused on pushing Ukrainian units out.
Nadya Zamriga, major, spokesperson for the 14th separate mechanized brigade, said that the situation in the Kupyansk sector has escalated compared to the previous month. The Russian forces spent September regrouping, and replenishing personnel and equipment. During this time, the Ukrainian Armed Forces inflicted certain losses on the Russian invaders. Ukrainians understand that Russia's human resources are more powerful, and their intentions are to occupy the territories that have already been liberated. We are actively repelling Russia's attempts to advance. They are still using artillery, mortars, and anti-aircraft guns. They have also added a ground component to their plans.
The situation along the entire front line 
Next, let's take a look at what's happening along the entire frontline. In addition to the fighting near Kupyansk, the Russian troops continue their attempts to advance toward Avdiivka. They prepared massive attacks this week, tried to surround Avdiivka from the north and south. They suffered significant losses, despite having carefully prepared for this assault, using artillery, aviation and a significant number of personnel.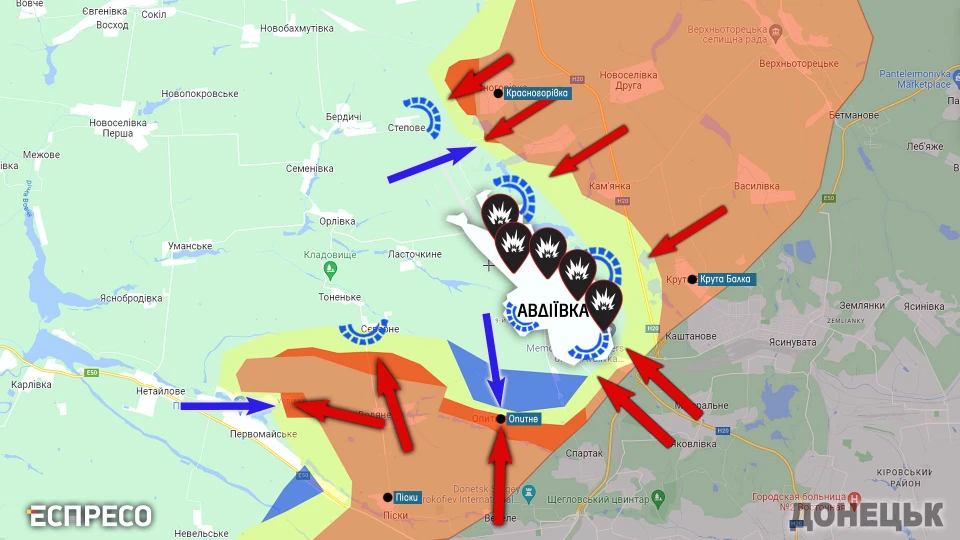 In addition to Russia's intensification of actions near Kupyansk, fighting continues near Avdiivka, and there are limited advances of Ukrainian troops in the south. In other words, virtually the entire 850-kilometer-long frontline has its own peculiarities, based on military realities and, eventually, political ones. Especially when Russia tries to intensify its activity in certain areas that seem to have no logical military continuation.
Speaking about the direction to the south, as of the morning of October 17,  the commander of the Tavria operational and strategic group of troops, Oleksandr Tarnavskyi, said that the number of fire missions performed by the Armed Forces is even greater than the Russian artillery is currently trying to perform. This suggests that Ukraine has a concentration of artillery in specific areas in the south that allows the Ukrainian army to destroy Russian forces in dense fortifications, where Ukraine's advance is now a priority. The movement towards the Azov coast and Tokmak remains a priority for the Ukrainian Armed Forces. However, other areas of the front are no less important.
Russia is restocking missiles
Let's move on to other topics that are important and interesting in terms of what Russia is planning. In particular, for a long time, we have been saying that Russia is actively using drones to maximize attacks on Ukraine's critical infrastructure. There were attempts to calculate the ratio of their use of both attack drones and cruise missiles. They have started using cruise missiles much less, so it seems that they are preparing to launch massive strikes in a certain period of time.
But what did the statistics show? Relatively speaking, over the past month, the Russian forces used 530 Shahed drones and a much smaller number of cruise missiles. After calculating Russia's expenditures on the use of cruise missiles of various types over the past five months at Defense Express, it turned out that they actually spent about 600 cruise missiles. And in terms of the pace of replenishment of Russian missile stockpiles, the aggressor is now producing 70 or 100 missiles per month.  De facto, it can be stated that Russia does not currently have a stockpile of missiles that can ensure the massive use of its cruise missiles in the winter. Now it is only restoring the losses it had previously incurred due to the depletion of its stockpile in the previous five months.
Of course, this seems to be an optimistic conclusion, but it is clear that the Russian forces will get about 100 missiles of various types every month, which they will continue to accumulate. They will combine the main attack with the use of a significant number of Shahed drones and then various ways to equip the stockpiles of missiles that they have accumulated. But for now, Russia is only compensating for the losses of about 600 missiles that have been used over the past five months. 
The question arises: how will Ukraine counter Russia's missile attacks? On the one hand, of course, Ukraine will increase the number of air defense systems renting or leasing certain models. On the other hand, there is the issue of having enough missiles for these systems. Most likely, if Russia uses more drones, then less powerful gun systems that can destroy Shahed drones will be of greater importance. These are the Slinger systems that Ukraine received from Australia, as well as Gepard gun tanks and other systems that will be primarily aimed at destroying Russian drones.
Both the Armed Forces and the energy sector are now preparing to repel the invasion of Shahed and cruise missiles to the maximum extent possible.
2023, Wednesday
29 November
Victorious news of 644th day of war: Russian general killed, invading forces destroyed in Kherson region
Russian occupation authorities try 25-year-old Ukrainian who came to Mariupol to visit grandmother
More news