Russia deploys 'white noise' tactics to conceal involvement in Hroza shelling, civilian genocide
Russian propaganda is trying to promote the claim that it was not involved in the attack on the village of Hroza, Kharkiv region, where 52 civilians were killed by an Iskander ballistic missile
The Center for Strategic Communications reported the information.
Russia has begun to actively use "white noise" tactics in all possible channels of information dissemination. This tactic involves throwing many contradictory "versions" into the information space at once. Regarding the genocide in the village of Hroza, propagandists claimed that:
the shelling was allegedly "staged" by the Ukrainian special services with actors "playing the dead";
the attack on Hroza was carried out by the Ukrainian Armed Forces in order to discredit Russia and obtain additional weapons from the West and/or to divert attention from "military failures";
Russian forces made an "accidental strike" on civilians, because the missile "homed in on a cluster of cell phones";
the village was attacked by Russians, killing many Ukrainian Armed Forces soldiers, "nationalists" and "foreign mercenaries."
On October 5, the day of the attack, Russian officials and Russian media ignored this information, and on October 6, Kremlin spokesman Dmitry Peskov said that "Russia does not attack civilian objects" and doubted that there were mass civilian deaths.
Telegram channels and propaganda websites aimed at the population of the temporarily occupied territories have emerged as the primary platforms for disseminating disinformation. For instance, outlets like Ukraine.ru and Sheikh Tamir claimed that the attack was supposedly "advantageous for Ukraine" because it would enable Ukrainian President Volodymyr Zelenskyy to more forcefully request weapons from Western partners amid the ongoing crisis. Subsequently, these channels circulated false information about Ukraine's use of HIMARS MLRS against the residents of Hroza.
Also, Russian opposition journalist Yulia Latynina and several anonymous resources published a version of the "accumulation of cell phones" in the store-cafe that was hit by Iskander.  The channels disseminated messages showing joy at the "successful strike on the Ukrainian Armed Forces" and accusing Ukraine. 
On the evening of October 5, about 20 pro-Kremlin Telegram channels and the ZOV website network spread information about the death of an employee of the Shevchenkove military administration, but the woman in question was not a government official but a local businessman, and her death was not confirmed.
"The massacre of civilians in the Kharkiv region is evidence of the genocidal nature of the war that Russia is waging against Ukraine. Officials of the UN, EU and the US have condemned Russia and expressed their condolences to Ukrainians. An effective response to this brutal crime should be to increase international isolation and sanctions pressure on Russia, as well as to intensify military assistance to Ukraine, including the provision of air and missile defense and long-range weapons. Only the destruction of Russia's military potential and the expulsion of the occupiers from Ukrainian territory will put an end to the systematic killings of Ukrainian citizens," the Center noted.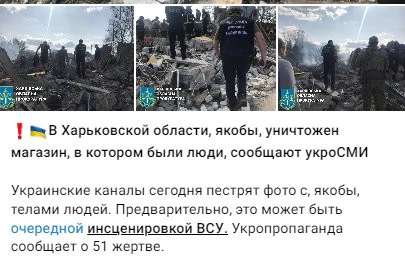 Photo: Center for Strategic Communications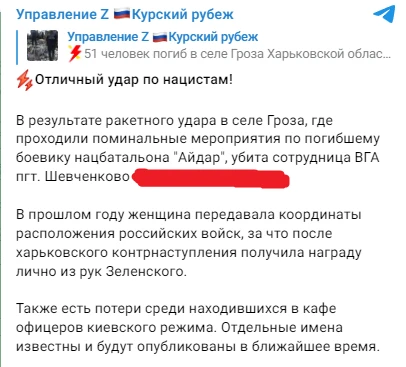 Photo: Center for Strategic Communications

Photo: Center for Strategic Communications
Victorious news of 646th day of war: Ukraine to produce air defense systems, intelligence conducts another sabotage in Buryatia
More news