Russia blocks registration of ships, flagrantly violating grain initiative
Russia has blocked the registration of incoming fleet to all Ukrainian ports, causing losses of more than a billion dollars
Ukraine's Ministry of Communities, Territories and Infrastructure Development reported this. 
"The Joint Coordination Center (JCC) in Istanbul announced the impossibility of drawing up an inspection plan for June 1 due to another unreasonable refusal of the Russian delegation to register the incoming fleet for participation in the Initiative. Thus, within two days, on May 30 and 31, Russia registered only 1 incoming vessel for inspection at the port of Chornomorsk without explanation," the press service writes, adding that other parties have confirmed 10 vessels for three ports for participation in the Black Sea Initiative.
50 ships are awaiting inspection in Turkish territorial waters to load 2.4 million tons of food for the world. This is almost twice as much as was exported in May. Some ships have been waiting for inspection for more than 3 months. This results in losses of more than USD 1 billion, which affects the final cost of food for the world.
"Thus, Russia has once again found a way to limit the world's food supply. Blocking the registration of a new incoming fleet, as well as blocking the largest port, Pivdennyi, is a gross violation of the terms of the grain initiative, to which the aggressor country has also signed up," the ministry emphasizes.
The Ukrainian delegation demands that the JCC Secretariat resume full-fledged work with 3 inspection teams and 9 inspections per day. Ukrainian inspectors are ready to start working as soon as the registration of ships is restored.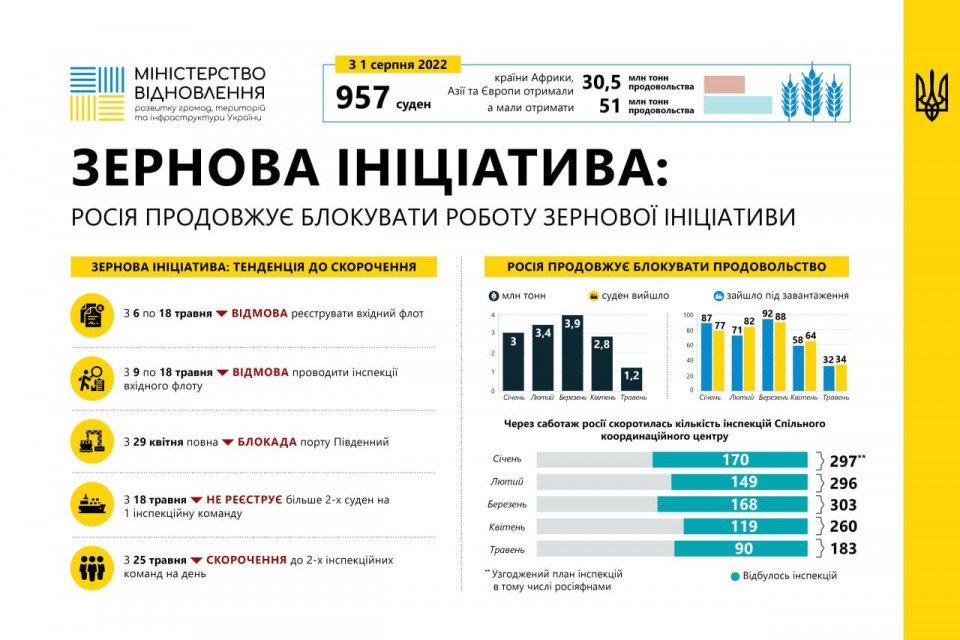 Over the 10 months of the grain initiative, more than 30.5 million tons of Ukrainian products have been exported. However, over the past 7 months, the Russian delegation to the JCC has been sabotaging and slowing down its work, which has resulted in the world not receiving at least 20 million tons of food.
What is known about the stalling of the grain initiative
On May 17, the grain deal was extended for two months. Turkish president Erdogan confirmed this, noting that from now on, ships would also call at the ports of Mykolaiv and Olvia.
Ukraine's Ambassador to Turkey Vasyl Bodnar explained that the grain deal did not include new demands from Russia, but that they would be considered separately.
Russia said that the next two months will be crucial for the fate of the grain initiative and named 5 conditions for the continuation of the deal after July 17.
Ukraine, on the other hand, named its own conditions for agreeing to Russia's new demands under the grain deal.
On May 24, the US State Department announced that Russia has clearly violated its obligations under the grain initiative.
On May 25, US Ambassador to Ukraine Bridget Brink announced that Russia is blocking the entry of 28 ships to the Pivdennyi port.
2023, Wednesday
27 September

Russia may provoke nuclear incident even after liberation of Zaporizhzhia nuclear plant – Ukraine's Minister of Energy

Russia will not achieve greater effect than last year – military expert on intensity of Russian missile attacks on Ukraine
More news