Resistance movement blows up train carrying ammunition, fuel from Crimea in Melitopol
Ukrainian defenders in the temporarily occupied Melitopol, Zaporizhzhia region, have blown up a railroad train that was transporting ammunition and fuel for the Russian troops to the front
This is reported by the press service.
On October 13, a unit of the Resistance Movement of the Special Operations Forces successfully completed a mission in the temporarily occupied Melitopol. Due to the subversive actions of Ukrainian fighters, a railway track was destroyed at 07:30 a.m.
The explosion damaged the railroad track and a train carrying ammunition and fuel for the Russian army. Details of the enemy's losses are currently being investigated.
Earlier, the Center for National Resistance wrote about this.
In particular, on October 13 at 07:40 a.m. in Melitopol, guerrillas carried out a sabotage action right in front of the eyes of the Russian military and FSB officers, blowing up a train that daily transported ammunition and fuel from Crimea to their city and Dniprorudne.
The train was reportedly carrying damaged equipment and stolen property, including iron ore and grain products, in the opposite direction. The controlled explosion damaged 150 meters of railroad track and a locomotive.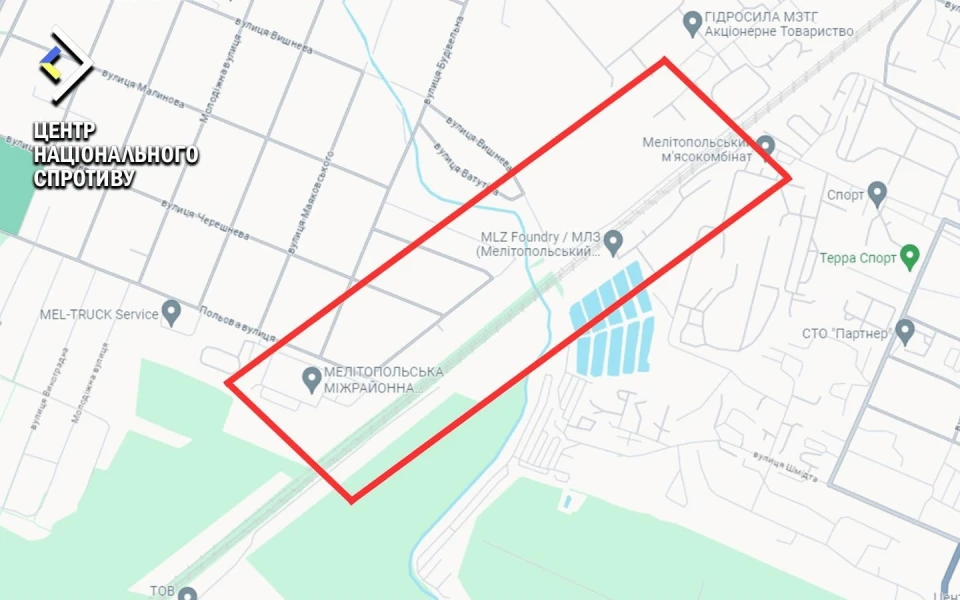 Photo: Center for National Resistance
The Resistance calls on residents of the temporarily occupied territories of Ukraine to report information about Russians so that partisans can carry out even more successful sabotage against the enemy. How to do it.
In the Melitopol sector, the invading Russian forces began actively removing property from schools. They are probably preparing for a "gesture of goodwill" in Tokmak, Melitopol Mayor Ivan Fedorov said this on Espreso TV.
Russia's goal in Avdiivka is to capture large number of Ukrainian military — military expert Stupak
Fire at factory in Moscow, drone attack, and explosion at oil depot in occupied Makiivka: This week's blasts in Russia
More news