PACE: both Russia and Belarus' leadership must be held accountable for aggression in Ukraine
The Parliamentary Assembly of the Council of Europe has stated that both the leadership of the Russian Federation and Belarus should be held responsible for what they did in Ukraine
The statement was published in the resolution entitled "Legal and human rights aspects of the aggression of the Russian Federation against", Ukrinform reports.
On January 26, PACE adopted the document. The decision was supported by 100 MPs, with one abstention.
The resolution states that the military and political leadership of Russia and Belarus involved in the war against Ukraine should be tried by a special international tribunal.
"The Russian Federation will be considered as continuing its aggression as long as the sovereignty, territorial integrity, unity and political independence of Ukraine within its internationally recognized borders will be fully re-established. The Assembly recalls that the ongoing aggression is a continuation of the aggression started on 20 February 2014, which included the invasion, occupation and illegal annexation of Crimea by the Russian Federation," the resolution reads.
The PACE reaffirmed that Russia's military attack on Ukraine on February 24, 2022, constitutes "aggression" in accordance with UN General Assembly Resolution 3314 and violates the United Nations Charter as well as the Charter of the Council of Europe. And the attempted annexation of Donetsk, Luhansk, Kherson, and Zaporizhzhia regions is an escalation. At the same time, Belarus supported Russia's aggression. 
"Belarus has participated in the Russian Federation's aggression against Ukraine, as it has allowed its territory to be used by the Russian Federation for perpetrating acts of aggression against Ukraine. Its role and complicity should be condemned by the international community and its leaders should be held to account," PACE members said.
PACE representatives called on member states and observer states to establish a special international criminal tribunal for the crime of aggression.
MP Oleksii Honcharenko, along with other representatives of Ukraine, including Maria Mezentseva, Larysa Bilozir, Lesia Vasylenko, Yulia Ovchynnykova, Yuriy Kamelchuk, Iryna Konstankevych, Pavlo Sushko, Yelyzaveta Yasko, and Pavlo Bakunets, attended the PACE meeting.
"The Ukrainian delegation to PACE. We have just voted for the tribunal for Putin. After our victory, Putin and Russian war criminals should be tried there. This is very important! I thank the entire Ukrainian delegation to PACE for their work!" the MP writes.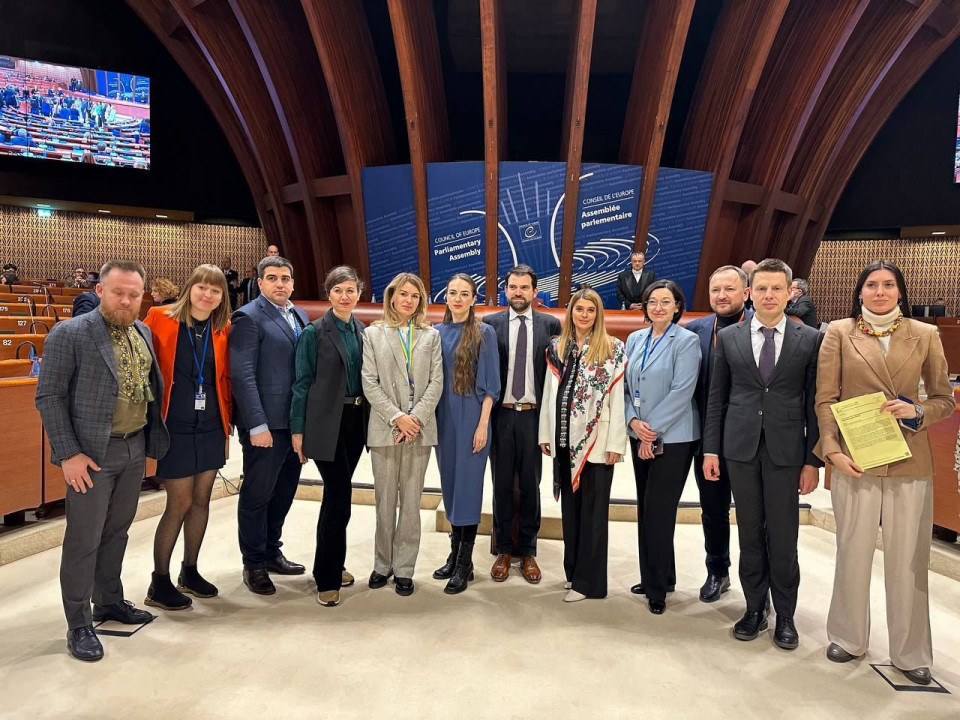 The PACE also declared a possible genocide in Ukraine. Russia's actions have signs of public incitement to the destruction of Ukrainians.
"The Assembly notes that there is growing evidence that Russia's official rhetoric employed to justify the full-scale invasion and aggression against Ukraine, the process of so-called 'de-Ukrainization', bears signs of public incitement to genocide or reveals a genocidal intent to exterminate the Ukrainian national group as such or at least in part," the resolution says.
The Convention on the Prevention and Punishment of the Crime of Genocide, to which Ukraine and the Russian Federation are parties, prohibits public incitement to commit this crime and attempts to commit genocide.

UN Commission to continue searching for evidence of genocide in Ukraine if its mandate is extended

Belarusian Foreign Ministry claims that nuclear weapon deployment on its territory complies with international law
More news