Ukraine's long-range kamikaze drone production and secret missile program – military expert Serhiy Zgurets
Ukraine teamed up with international partners to produce drones that can carry out strikes up to 1,000 kilometers away. These drones are now in use by the Ukrainian Defense Forces
Ukroboronprom's projects
Let's start with the latest news from Ukroboronprom about the production of new long-range kamikaze drones and FPV drones in Ukraine. The CEO of Ukroboronprom, now called JSC Ukrainian Defense Industry, Herman Smetanin, shared details about long-range unmanned systems. These drones can carry out missions up to 1,000 km away and are produced in collaboration with foreign partners. They have been ordered and are being used by the Ukrainian Defense Forces.
Currently, Ukroboronprom is more focused on creating complex and expensive projects with better features. This is good, of course, but it's also essential to scale up the production of affordable drones in larger quantities. The same approach applies to tactical FPV drones, where Ukroboronprom has signed license agreements with three foreign companies to produce these drones at Ukrainian state facilities, according to Herman Smetanin. "We have people, facilities, we import components and we produce them," he said. I hope that we are talking about significant amounts.
Ukroboronprom's general director also talked about the progress of the Sapsan operational-tactical complex. There's a state program in place to increase rocket production, and motivated individuals are working on this. However, specific details about the missile program's status during the ongoing conflict are considered classified and top-secret.
Last week, Brigadier General Serhiy Baranov mentioned that Ukraine has developed a missile that can hit targets up to 700 km away. Prototypes are being tested. It remains to be seen if these are the same as what Smetanin referred to. For now, artillery, including barrel and rocket artillery, remains crucial on the battlefield across all frontline areas.
Frontline situation update
Near Bakhmut, the enemy is attempting to improve their position, using aircraft, artillery, and armored vehicles. The Ukrainian General Staff reported recent offensives around Avdiivka, Klishchiivka, and Berkhivka.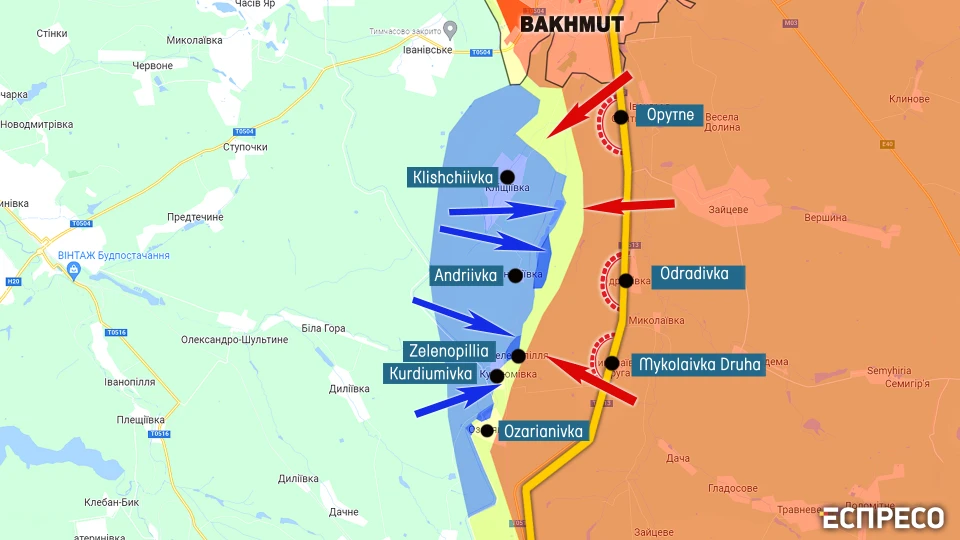 Photo: Espreso
Volodymyr Nazarenko, an artillery officer from Rubizh, 4th brigade of the National Guard, stated that the situation has remained consistently tense in recent months. The enemy employs various weapons, including artillery and aviation, and is constantly probing for weaknesses. The fighting is ongoing, with daily clashes and intense artillery fire.
According to Nazarenko, there's currently an imbalance in ammunition on the battlefield, with the enemy having more resources. Ukrainian soldiers are focused on using their ammunition efficiently, while the enemy doesn't hold back on their firepower.
Viktor Kevlyuk, a military expert from the Center for Defense Strategies and a reserve colonel of the Armed Forces of Ukraine, mentioned that in the Kupyansk direction, the enemy is attempting to reach the left bank of the Oskil River and break through near Synkivka. Meanwhile, activity in the Lyman direction has ceased due to the enemy's lack of reserves: two units were redeployed in other directions. 
Around Avdiivka, the enemy is trying to encircle Ukrainian defenders in the city, launching attacks from Krasnohorivka toward Berdychi and Lastochkyne, as well as from Vodyane toward Sievierne and Orlivka. The enemy has made slight advances in the north, nearing the outskirts of the Avdiivka Coke Plant.
In the Kherson direction, the enemy's command is uncertain about how to deal with Ukrainian bridgeheads established by marines on the left bank of the Dnipro. They appear to be shifting towards more positional warfare.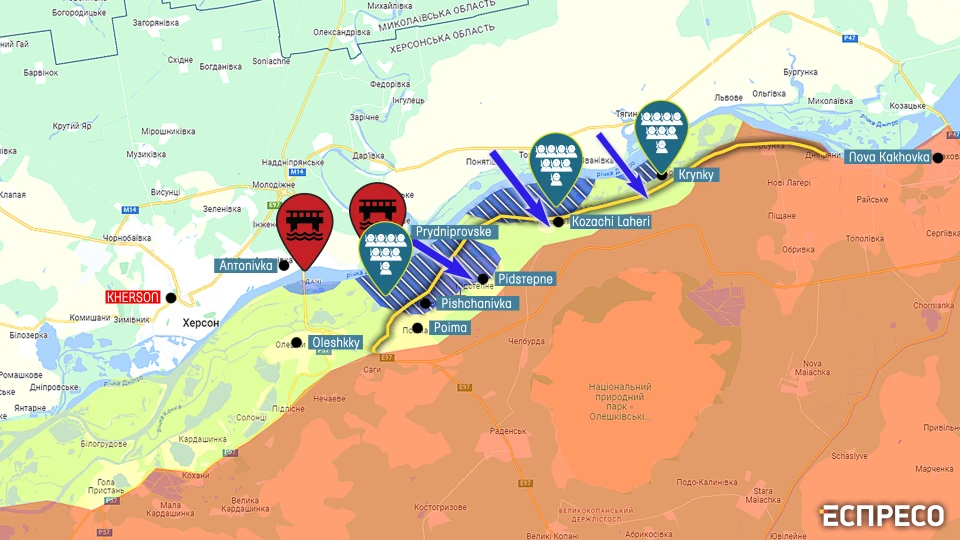 On victory strategy
Viktor Kevlyuk, a reserve colonel from the Ukrainian Armed Forces, pointed out that General Zaluzhnyi's five directions for technological changes aren't enough. Just having advanced technology isn't sufficient. We need trained people who can use this tech, and we need actual weapons that use these technologies. Without them, it's not accurate to say we have these technologies. For example, getting F-16 fighter jets is a step forward, but we also need support for these aircraft in the air. When it comes to dealing with minefields, that's a big challenge. But there are other explosive and engineering barriers that we must overcome as well.
In simple terms, to fight a flexible and strategic war, we need units that can quickly move and be effective. We also need units that can support and protect them. Regarding electronic warfare tools, the question is, who will train the people to use them? These individuals need a good engineering education to operate this technology. There's a lot more that needs to be addressed beyond what General Zaluzhnyi mentioned, but it may not all fit into an article.
A military expert from the Center for Defense Strategies talked about the different viewpoints on forming a strategy within the country's military and political leadership. They mentioned that the Commander-in-Chief's office has a department for strategic communications. This department was created to explain to the public what's happening in the war and what the Armed Forces are doing. It seems odd when someone who is not authorized to speak about military matters tries to comment on them. As for the Supreme Commander-in-Chief's statements, it's essential to remember that the war doesn't just reach a dead end on its own. The Supreme Commander-in-Chief plays a role in where and how the war goes. To prevent the war from reaching "a stalemate", there is the high command structure. All these people should work together to create a strategy for victory and share it with society.
Kevlyuk added that we need to build the capabilities necessary for victory. To determine what these capabilities are, we must have a strategy that outlines how to transition from "a stalemate of positional war" to a state of victory. Both politicians and the military need to put in a lot of effort here. In terms of our partners' defense capabilities and our own, next year, our abilities will be notably restricted, according to Kevlyuk. We still have many technological issues to resolve, which slow down our progress. The situation should improve by 2025. According to experts, the enemy's tank reserves should be depleted by the end of 2024, making things a bit easier.
 
Russia's goal in Avdiivka is to capture large number of Ukrainian military — military expert Stupak
Fire at factory in Moscow, drone attack, and explosion at oil depot in occupied Makiivka: This week's blasts in Russia
More news