Ukrainian MP Goncharenko urges US Response to Russian tycoon's acquisition of Forbes
Ukrainian MP Oleksiy Goncharenko has penned letters to top US officials, urging them to initiate efforts to uncover the full extent of the activities of Russian political and business figures in the US, emphasizing the case of oligarch Magomed Musaev, who has allegedly become the shadow owner of Forbes
These letters, which were submitted to the US Embassy, are directed towards key US officials, including Secretary of the Department of the Treasury.Janet Yellen, National Security Advisor Jake Sullivan, Secretary of State Antony Blinken, Attorney General Merrick Garland, Secretary of Homeland Security Alejandro Mayorkas, and FBI Director Christopher Wray.
"Musaev is aiming to get control of one of the oldest and most respected US media organizations. If this deal happens, Forbes may become a covert part of the Russian propaganda and misinformation machine threatening democracy and freedom throughout the world!" the letter to the US officials reads.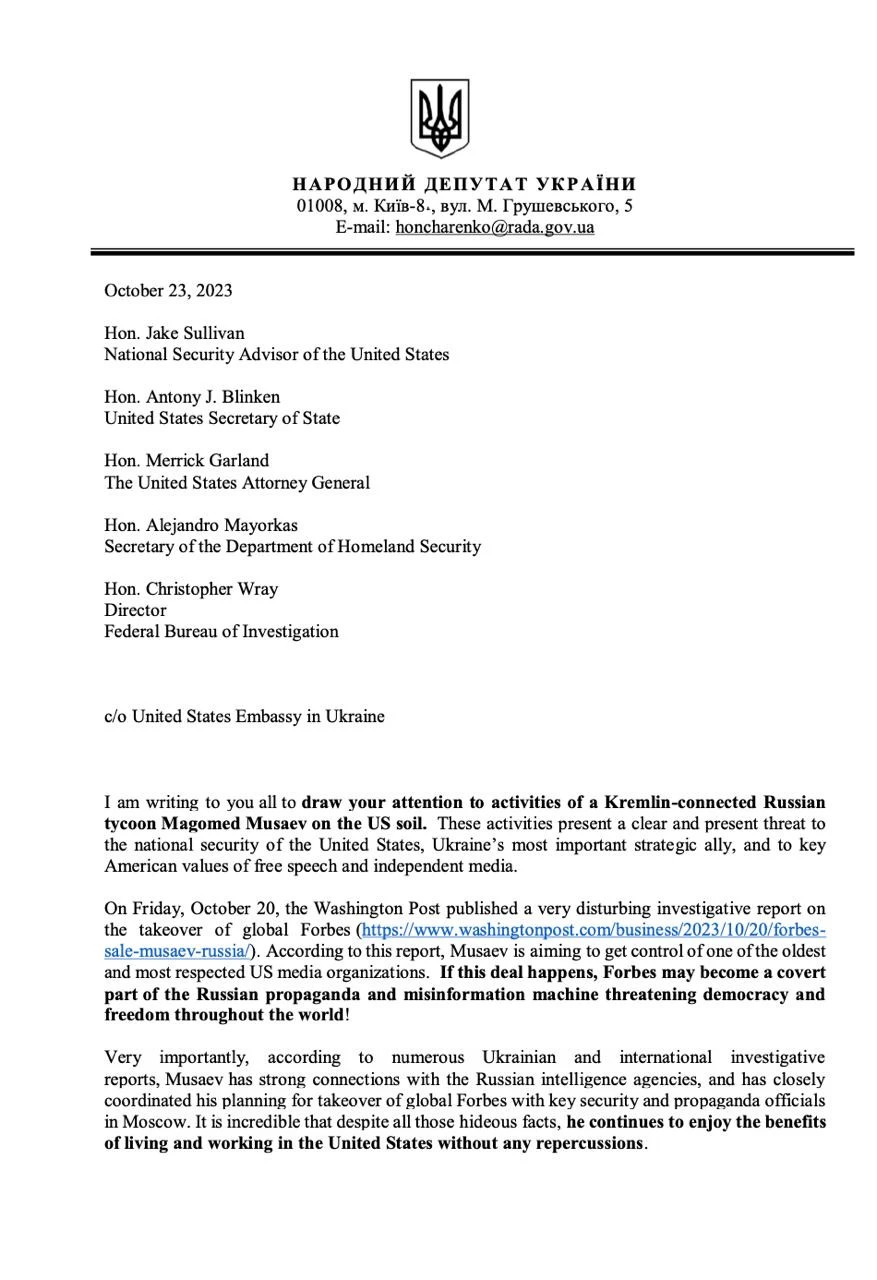 The Washington Post has recently published an investigation that notes that Magomed Musaev, who owns Forbes Russia, has become the shadow owner of global Forbes. The editorial board noted that it has five videos confirming this information, including a recording in which Musaev himself says this. "I just bought global Forbes. You understand when you have in your hands the key to the most authoritative global brand, this key will give me access to anyone," the recording says. 
Forbes Ukraine published a statement denying that the deal to acquire the entire Forbes media group by Russian oligarch Magomed Musaev had taken place. They note that the deal to acquire 82% of Forbes Global Media Holdings is being reviewed by the US authorities and is under scrutiny by US regulators, including the Committee on Foreign Investment in the United States (CFIUS) under the US Department of Treasury.
For reference:
Magomed Musaev is a Russian oligarch, son-in-law of the former head of Dagestan, former Moscow government official, Russian real estate developer and businessman of Dagestan origin who invests in the development of promising entrepreneurs and their projects. 
2023, Saturday
9 December
Defence of Avdiivka's heights prevents other parts of frontline from falling apart - military expert Svitan
More news