Prigozhin's plane returns to Belarus after two-month absence - monitoring group
On October 31, two months after the crash, one of the Wagner Group's aircraft related to Prigozhin arrived in Belarus from St. Petersburg. The Beech C90GTi King Air landed in Gomel, returning for the first time since August 3
This was reported by the monitoring group Belarusian Hajun.
On October 31, the plane of Yevgeny Prigozhin's Wagner private military company arrived in Belarus from St. Petersburg for the first time in two months after the crash. The Beech C90GTi King Air, registration number RA-07893, landed at the Gomel airport at 11:53 a.m. local time.
The aircraft was last in Belarus on August 3 and flew back to St. Petersburg 5 hours and 20 minutes later.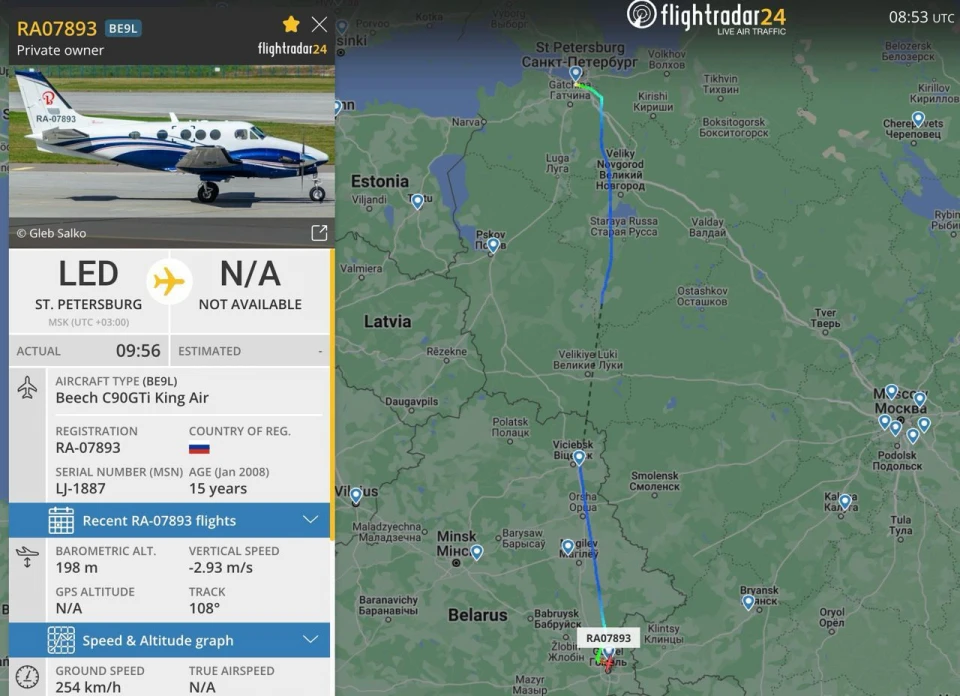 Photo: Belarusian Hajun
It is reported that two weeks ago, early in the morning of October 13, a cargo IL-76 (RA-76370) of the Russian airline AbakanAir took off for Mali from the Babruysk military airfield.
The plane crash with Prigozhin: what is known
On August 23, a business jet belonging to Yevgeny Prigozhin, an Embraer aircraft, crashed in Russia's Tver region, resulting in the confirmed deaths of 10 individuals. 
Subsequently, the Institute for the Study of War suggested that Russian President Vladimir Putin might have ordered the assassination of Wagner PMC leader Yevgeny Prigozhin to reassert dominance and seek revenge.
One version from Russian media indicated that an explosive device was planted in the landing gear of the plane carrying Wagner PMC leader Yevgeny Prigozhin. This device would have detonated at a specific moment, leading to wing and stabilizer detachment.
Ukrainian President Volodymyr Zelenskyy emphasized that Ukraine was not involved in the plane's downing and made light of the situation by joking that such "aircraft assistance" wasn't what Ukraine had asked for.
Polish Prime Minister Mateusz Morawiecki speculated that after Prigozhin's probable death, Wagner operatives might continue to destabilize Belarus' neighboring countries.
The US officials suggest that the aircraft, carrying passengers linked to Wagner PMC leadership, was likely shot down by a missile from Russian territory.
The Russian leader also reacted to Prigozhin's death, referring to the Wagner leader as a man with a difficult fate who achieved the necessary results but also made significant mistakes.
ISW analysts believe that Russian dictator Vladimir Putin's willingness to publicly kill Wagner's leadership is likely to prompt the PMC's Council of Commanders to refrain from publicly appointing successors to Yevgeny Prigozhin and Dmitry Utkin.
Experts in the investigation of the plane crash in the Tver region of Russia on August 27 have completed molecular genetic examinations. In particular, the study confirmed the death of the founder of the Wagner PMC, Yevgeny Prigozhin.
On September 6, the Defense Ministry's Main Intelligence Directorate confirmed the information about the death of Dmitry Utkin, an accomplice of Wagner PMC leader, in a plane crash in the Tver region of Russia on August 23, but they are not 100% sure that Yevgeny Prigozhin himself died.
The Main Intelligence Directorate suggests that confirmation of the death of Wagner PMC leader Yevgeny Prigozhin is still pending.
How many missiles can Russia use in one attack? Aviation expert names maximum number
More news