Of Men and Mice and Russian stiff. How Ukrainian servicemen are preparing for winter on the front line
600 meters from the Russian positions, the 24th separate mechanized brigade named after King Danylo is insulating dugouts. Donbas Frontliner witnessed the preparation for winter and talked to the military men
The report was created as part of the partnership between Espreso and Donbas Frontliner.
From the bombed-out brick buildings of New York village (Donetsk region) to the intertwining lines of trenches bordering the gray zone between the Ukrainian and Russian armies, a single landscape depression divided the space and seemed to stop time in this area since 2014. Soldiers from the 24th Separate Mechanized Brigade named after King Danylo are preparing for winter by clearing their trenches and making them wider so that they "don't drown in the mud when the first rain comes."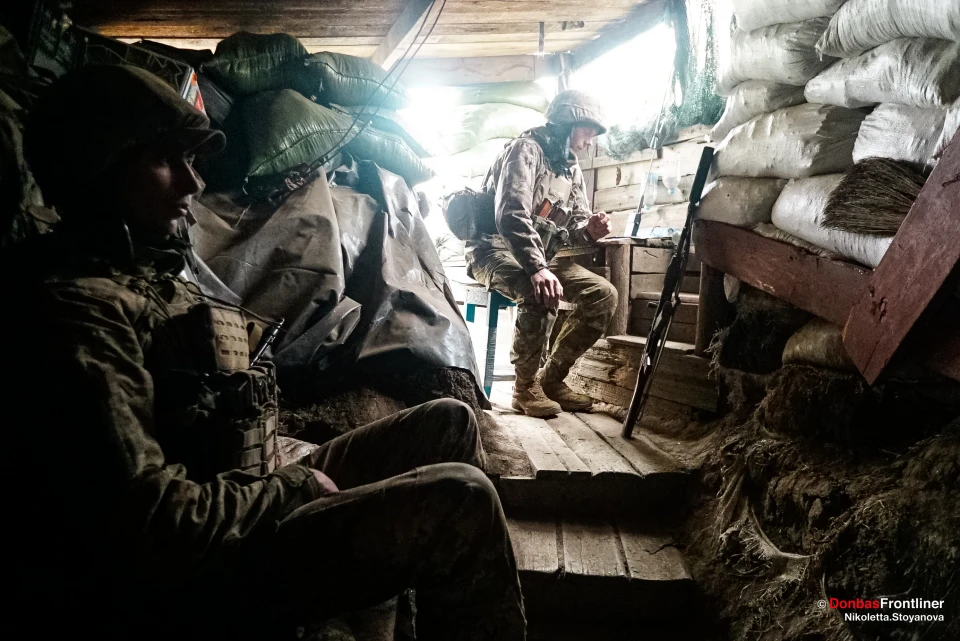 An observation post 600 meters from the Russians.
Photo: Donbas Frontliner
This system of trenches has been here since 2014. Only some of them are being updated to replace the old ones that collapsed or were washed away by rain and snow. Currently, the positions are being renewed and rebuilt, and the dugouts are being reinforced and insulated. Soldiers are using everything: carpets, sandbags, foil. In some places, they are installing doors and shutters to cover all possible holes and gaps.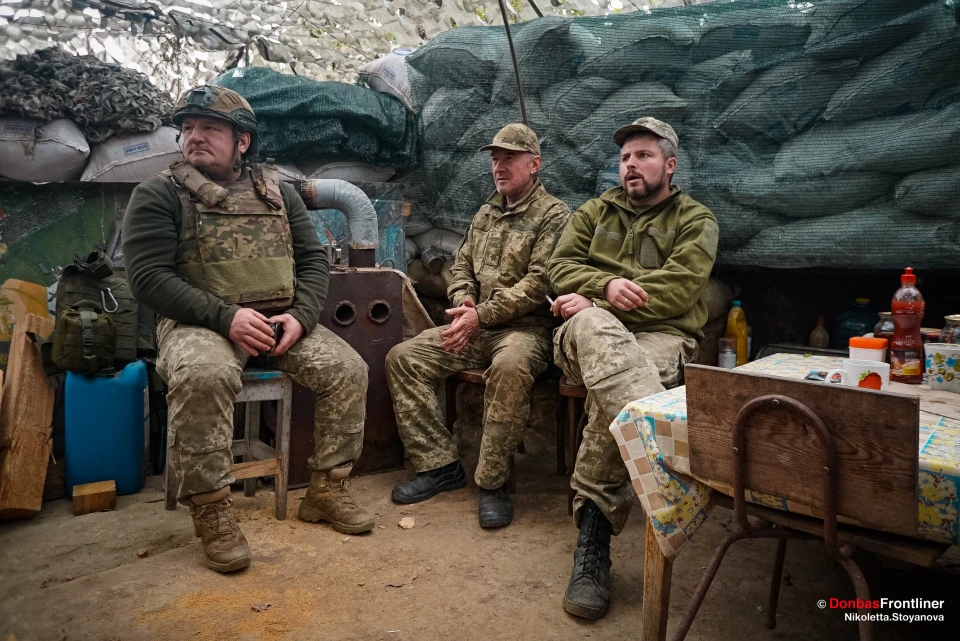 Sandbags are used to protect against both cold and bullets.
Photo: Donbas Frontliner
The soldiers recall what the last winter was like. During the battle for Bakhmut in January, Vasyl suffered from frostbite in his limbs after spending a day in the trenches. The temperature outside was -10 degrees Celsius and below. The guys did not have any means of heating, as active hostilities did not allow time to prepare them. When Vasyl was evacuated to Chasovyi Yar, he could not get out of the car on his own because he could not feel his body. Now fighters are trying to get as many warm clothes as possible in order not to expose their health to another danger and not to repeat last year's frostbite.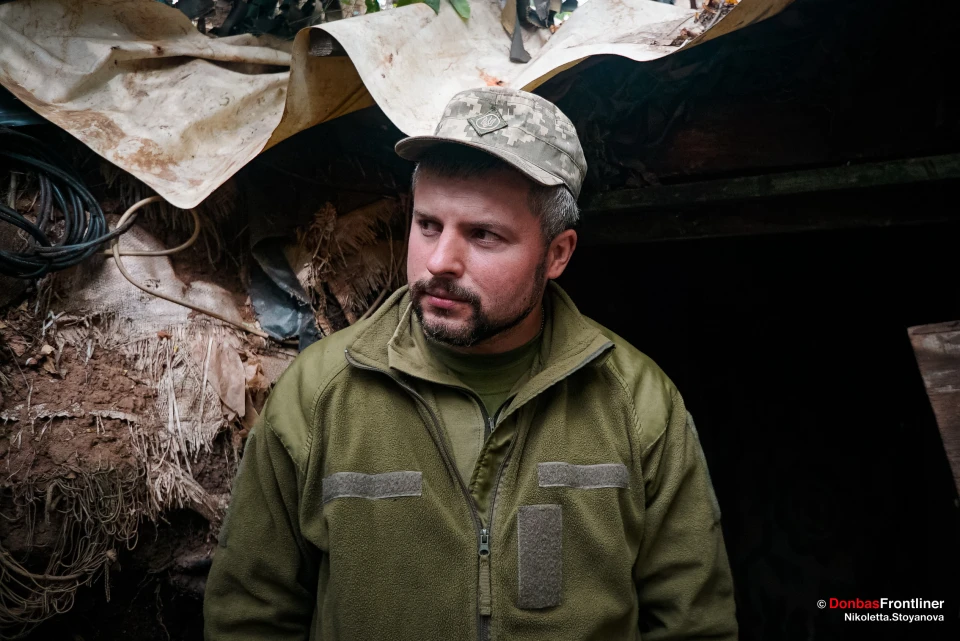 Military serviceman Vasyl near the dugout where he has been living for a month.
Photo: Donbas Frontliner
"I think we have only one mouse for two people here because we sleep 600 meters away from the Russians," says Viktor, who insulated his observation post with a carpet. "In addition to making our positions warmer, we also keep an eye on our 'neighbors'. So far, everything is stable, but they can change their minds at any moment and start escalating... In recent days, for example, they have started 'biting' again. The day before yesterday, they hit us with a drone, one was contused, and one was wounded. They shell at night. However, it is not clear what they are trying to achieve. There is a huge landscape abyss, they will not be able to go on the offensive. And if they do, they will all die. We are in the same position. That's why the front line here has remained unchanged for years…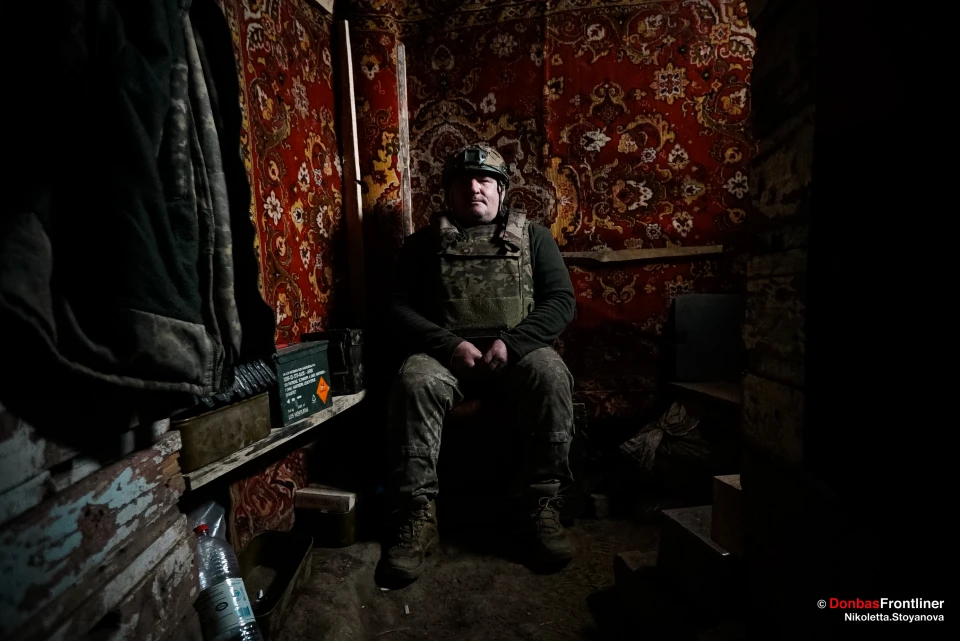 Military serviceman Viktor insulated his observation post with a carpet.
Photo: Donbas Frontliner
We're following the company commander Bohdan for a kilometer. He tells us about working in the trenches and laughs: "Here the guys found a Russian stiff... I don't know where he came from, but the stench from him after cleaning stood for a week. It's good that we found him now, otherwise, he would have been floating in the mud. Now we are building additional new shelters, so-called fox holes, making nets hundreds of meters long so that drones cannot see us when it gets snowy."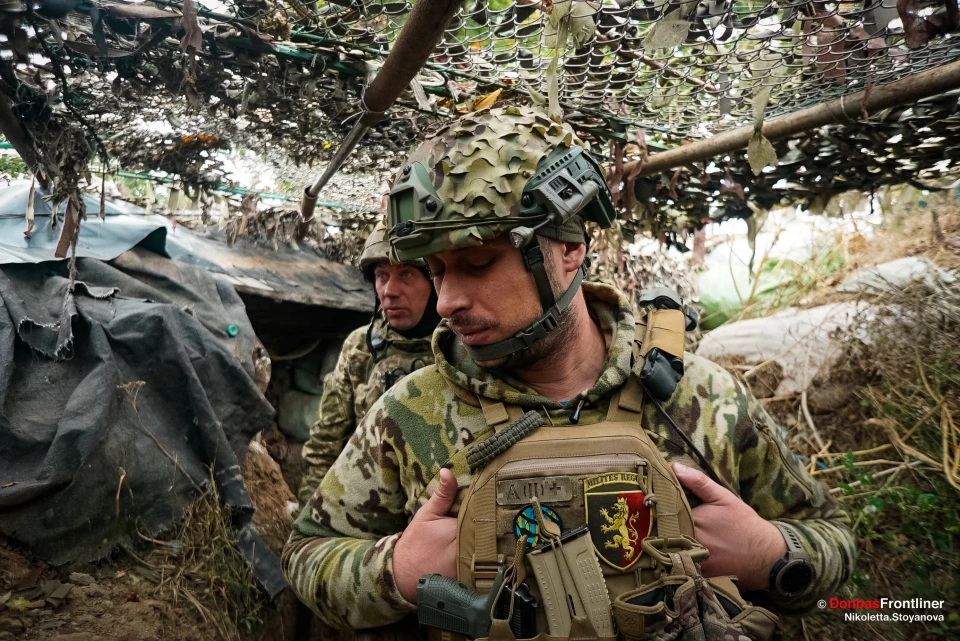 The commander of the motorized infantry company inspects the trenches prepared for winter.
Photo: Donbas Frontliner
The 24th Separate Mechanized Brigade named after King Danylo is one of the oldest in Ukraine, having been in service since 1992. During the Russian invasion of Ukraine in 2022, the brigade defended Popasna and Lysychansk, and after rotation took part in the liberation of the right bank of southern Ukraine, as well as in the battles for Bakhmut in Donetsk region.
Author: Nicoletta Stoyanova
Photo: Nicoletta Stoyanova
Donbas Frontliner is an independent reporting media covering the war waged by the Russian Federation against Ukraine. It focuses on events on the front line, recently liberated territories, and in the rear; documenting evidence and eyewitness accounts of Russia's war crimes. In 2022, the team won the Free Media Award 2022; the media's founder, Andriy Dubchak, is the winner of the Georgiy Gongadze Award in 2023.
Russia's goal in Avdiivka is to capture large number of Ukrainian military — military expert Stupak
Fire at factory in Moscow, drone attack, and explosion at oil depot in occupied Makiivka: This week's blasts in Russia
More news