Buk systems, Georgia and friends. What is wrong with Tbilisi's refusal to defeat Russia
A friend is never known till needed. After 10 months of full-scale war, Ukraine should clearly reconsider with whom to share bread, salt and tears of joy from victory. And here the behavior of Georgia, to put it mildly, is surprising
I will immediately make a disclaimer that this is not an attempt to sow enmity against Georgians. This regards the official position of the authorities, when the future of Georgia will depend on whether Ukraine wins or not. So, Georgia refused to transfer Buk and Javelin systems to Ukraine. The Georgian Ministry of Defense justified its refusal to return the anti-aircraft systems provided by Ukraine in 2008 by the fact that they "were bought with public funds, not donated". 
On the one hand, the excuse could have worked, if not for several interesting cases, when different countries that had no close relations with Ukraine started to provide equipment and weapons absolutely free of charge.
There is a country named North Macedonia. In August last year, it provided Ukraine with 4 Su-25 attack aircrafts. These aircraft were bought by North Macedonia from Ukraine in 2001 during the unrest of Albanian separatists in the country, but have been in storage since 2004. For the record: the aircraft were also bought with public funds, but the Macedonians decided to help close the sky over Ukraine. 
Story number 2. Recently it became known that in addition to 90 tanks from Poland, 30 T-72 tanks from Morocco are being repaired in Czech workshops. And the Militarnyi portal published that the French CAESARs, which were transferred to us, were previously intended for Morocco. But they agreed to pinch off 36 units from the order for themselves.
Greece said it was ready to give up German Marder infantry fighting vehicles in favor of Ukraine. In general, it has already given us more Soviet-type infantry fighting vehicles than it was supposed to under the contract. Although, in fact, it is not our close friend. And it has its own worries in the form of Turkey, which from time to time makes claims that there are "too many military on the Greek islands of the Aegean Sea." 
Small Slovenia in the first week of the war sent us aid planes with helmets, bulletproof vests, rifles. By June, they were scavenging everything they had from the warehouses. And their then Prime Minister Janez Janša, together with the Prime Minister of Poland Mateusz Morawiecki, Deputy Prime Minister of Poland Jaroslaw Kaczynski, came to Kyiv on March 15 to personally support Zelenskyy despite threats to their own safety. Our president and the state really needed this support. 
What is my point? The US and our strategic partners are already directly warning all those who cannot choose a side, hesitate to "offend Putin" or simply unwilling to give us something from their stockpiles: Ukraine must win. If you do not help Ukrainians, you risk being behind the Iron Curtain. And, unfortunately, Georgia, which is politically very weakly supporting us in our war for survival, risks to remain under the corpse of Russia further. And given the number of Russians, moreover, Russians with money, who have arrived in Batumi and Tbilisi and are already dictating the rules for the locals, it may well happen that soon these Russian refugees will claim the right to their "Russian language" in kindergarten, school and university - and in fact will become an enclave within a sovereign state.
When the Georgian Ministry of Defense released a statement about the Buk systems, there were many defenders of Ivanishvili's government, saying that "their capital is 40 kilometers from the Russian border - they need it more." And please tell me, when Russia deliberately destroys our second most important and richest city Kharkiv, which is close to the border, is it okay? And when by the afternoon of February 24 Russian occupation troops were already in the suburbs of Kyiv - and they came from the territory of Belarus - was it safe? And when Kyiv is forced to be covered by NASAMS, IRIS-T, Crotale and Gepard anti-aircraft systems from Russian missiles and Iranian Shahed drones - is it easy? And when Russian troops fire artillery on the residential quarters of Kherson and a fire department on the same day - so that there is no one to extinguish the fires - isn't it also not easy?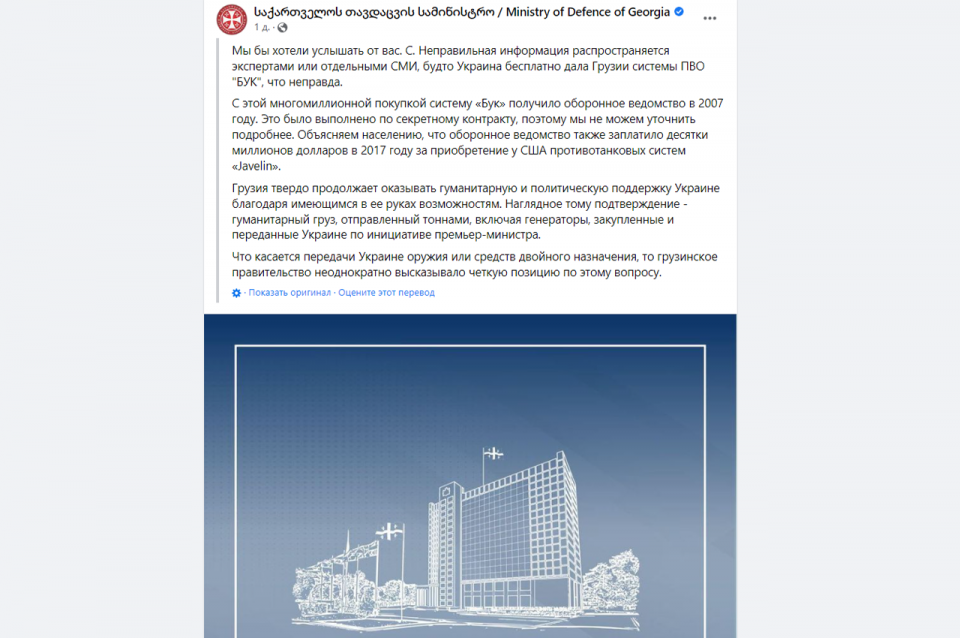 Screenshot of the statement of the Ministry of Defense of Georgia
Ministry of Defense of Georgia said in a statement:
"Incorrect information is being spread by experts or individual media outlets that Ukraine has given BUK air defense systems to Georgia free of charge, which is not true.
With this multi-million dollar purchase, the Buk system was received by the defense department in 2000.  This was done under a secret contract, so we can't be more specific.  We explain to the public that the Defense Department also paid tens of millions of dollars in 2017 for the acquisition of Javelin anti-tank systems from the United States.  
Georgia firmly continues to provide humanitarian and political support to Ukraine according to the opportunities at its disposal.  A clear confirmation of this is the humanitarian cargo sent in tons, including generators purchased and transferred to Ukraine at the initiative of the Prime Minister.
With regard to the transfer of weapons or dual-use assets to Ukraine, the Georgian  government has repeatedly expressed a clear position on this issue."
Screenshot of the statement by the Georgian Defense Ministry
But let's go back to 2008 and the Buk systems to explain why the official position of Tbilisi is simply poison. 
On August 8, 2008, after a series of provocations in South Ossetia, Russia launched a full-scale invasion of Georgia, as a result of which the country lost control over 2 of its regions, South Ossetia and Abkhazia. Russia struck at the Georgian cities of Senaki, Poti, Gori and others. At that time, Ukrainian President Viktor Yushchenko was thinking how to help Georgia and Mikheil Saakashvili. The aid came in the form of anti-aircraft guns, a group of Ukrainian professionals and special forces of the Defence Intelligence of Ukraine. It was they who saved Georgia from capitulation.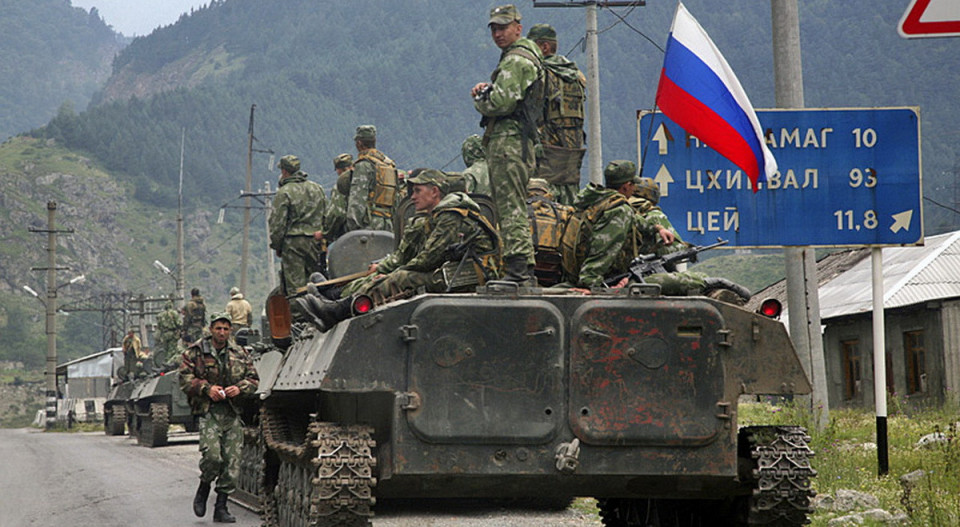 Photos from publicly available sources
Here is Mikheil Saakashvili's speech from an interview in 2016 about the course of the war:
"We trained our military specialists in Ukraine, Ukraine provided us with air defense, which was critical in the first days of the invasion. They (Russian aviation - ed.) could not gain an advantage in the first days, Ukraine gave us the Buk and Osa systems, ammunition for each system, and thanks to them we shot down 12 Russian bombers, including the Tu-22 strategic bomber, which no one had shot down before."
The former president said that "the assistance of Ukrainians helped Georgia to preserve its independence."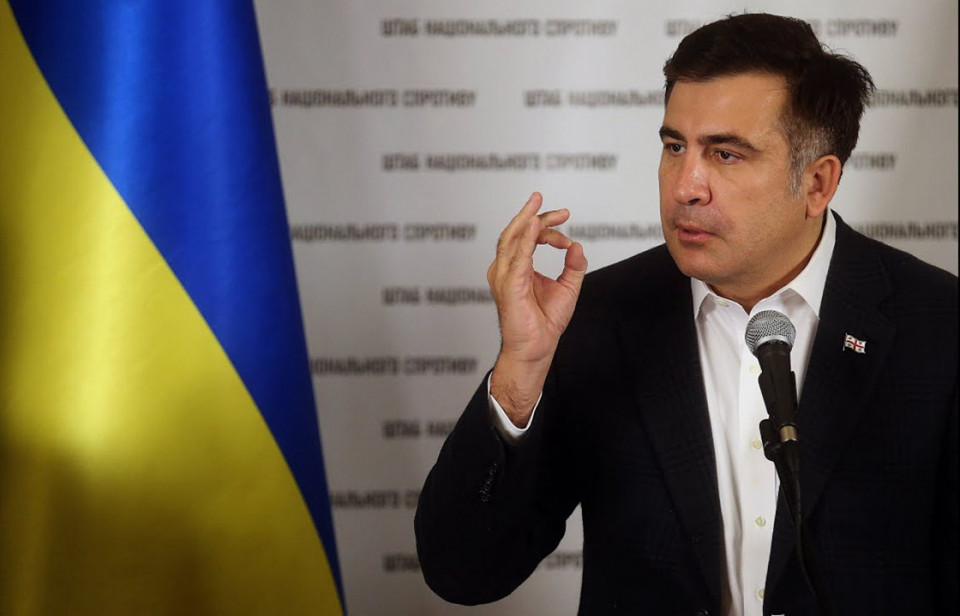 Mikheil Saakashvili. Photo from publicly available sources
In addition to the transfer of weapons to Georgia, Viktor Yushchenko went to support the country personally on August 12. On August 12, 2008, he addressed a rally in Tbilisi saying "We came here today to tell you the following words: Georgia is our friend. Georgians are our friends. Today, here, in the most difficult times for Georgia, we say that you have the right to freedom, the right to independence." And what happened to Georgian officials? I remember how in April to May everyone who could come visited the war-torn Bucha and Irpin. And at the invitation to the Georgian authorities, Shalva Papuashvili, the Speaker of the Georgian Parliament explained that they are not going to Bucha, because "we are already helping enough, but in response we hear accusations that we are hosting Russians".
Such behavior of the Georgian government can be explained by cunning geopolitics. They say that Georgians are maneuvering so that Russia does not attack them. But Georgia, which has already suffered territorial encroachments, needs Ukraine's victory. Otherwise, there will not even be a war there - it will simply be absorbed. And it is worth noting that Ukrainian Buk specialists will no longer come to save the sky over Tbilisi. 
In 2008, I was a parliamentary correspondent and covered how the parliament, government and society responded to the need to help Georgia. Viktor Yushchenko's unilateral decision to support the Georgian people cost him ratings, unity in the coalition, and the final collapse of relations with Yulia Tymoshenko. And discord in the society. This background was then very skillfully used by pro-Russian forces and Viktor Yanukovych to win the 2010 elections. Already during the time of this fugitive, a criminal case was initiated against Yushchenko on the instructions of the Russian Federation for the transfer of Buks to Georgia. By the way, when Saakashvili commented on the government's refusal to return the weapons to Ukraine, he noted that "the Buks were bought at a minimal cost." Therefore, believe me, in theory - even in the conditions of war we could buy the Buks back with the same receipts.
It is worth recalling that in the following years the Russian FSB organized a real hunt for Ukrainian military and instructors who saved Tbilisi in 2008. "We were taken home by the American Special Forces," Ukrainian anti-aircraft gunner, who now defends the sky over northern Ukraine, said about those days. But not everyone was so lucky. Putin was especially angry about the downed Tu-22 bomber. The group that shot down this expensive toy was led by a former officer of a military special forces unit Ivan Mamchur. In the autumn of 2016, the anti-terrorist operation veteran in eastern Ukraine worked as a security officer in the Rivne pre-trial detention center. In September 2016, he was demonstratively killed. A hired killer shot Mamchur 8 times and hit him several times on the head with a pistol. The court found that previously twice convicted Smorodinov in January-February 2016 was recruited by the FSB officers in Moscow and shot Mamchur under the relevant order. The New York Times reported that he was on the death list for saving Georgia's independence. 
There will be no moral of the story. Our war will last for a long time. With the efforts of all friends in the world, we are forming a fist and will knock the occupiers out of our land. It is a pity that instead of at least symbolic arms delivery, we hear from Georgia refusals and insults that they were not granted EU candidate status. But every government is the choice of its own people. And let Georgians think about who is their face and why these symbols favor Moscow.
Author: Maryna Danyliuk-Yarmolayeva, journalist, political observer, presenter

UN Commission to continue searching for evidence of genocide in Ukraine if its mandate is extended

Belarusian Foreign Ministry claims that nuclear weapon deployment on its territory complies with international law

Russia uses aircraft more than naval launchers during missile attacks - South Operational Command
More news