Avdiivka situation, Bakhmut offensive, ban on private military companies in Ukraine – military expert Zgurets
In certain areas of the frontline, the Russian forces are actively seeking an advantage without worrying much about casualties. This is particularly noticeable in the Kupyansk and Avdiivka sectors, where Russia has escalated combat operations since the start of the month
Strengthening Ukrainian air defense: FrankenSAM project
This hybrid Buk system should be very effective, as it's one of three collaborative projects between Ukraine and the United States within the FrankenSAM project. These systems blend elements from NATO and the Soviet era.
The plan is to outfit Buk with RIM-7 Sea Sparrow missiles, with an effective surface-to-air range of up to 20 kilometers. These missiles, originally designed for aviation, will now be used with Ukrainian Buks. Already, five launchers have been modified, and there are plans to adapt 17 more by the end of the year, out of a total of 60 systems.
This initiative signifies joint efforts by the Americans and Ukrainians to enhance their air defense capabilities using a variety of available missile systems.
The Avdiivka situation
Since October 10, the Russian forces have suffered significant losses near Avdiivka, losing nearly 6,500 personnel, hundreds of armored vehicles, and dozens of artillery pieces. This is remarkable considering the enemy had amassed a force of up to 40,000 personnel in the Avdiivka area. After enduring substantial setbacks from previous attacks, the enemy is currently regrouping, reinforcing their equipment and special forces. We anticipate a new wave of enemy assaults in the days to come.
It's worth noting that the Russian troops are attempting to encircle the Ukrainian forces in Avdiivka, thereby cutting off our garrison and city's supply routes. They are launching attacks from the north (Krasnohorivka towards Stepove, along with assaults on the Avdiivka Coke Plant) and from the south (towards Sievierne). Critical logistical routes, such as the one passing through Orlivka, are situated at a roughly equal distance from Sievierne and Stepove, approximately 4 kilometers away.
For the enemy, controlling Avdiivka serves not only as a political favor to Putin but also holds significant military importance. Avdiivka acts as the gateway to occupied Donetsk, a vital logistical and military hub for the enemy. Additionally, it provides access to Slovyansk and Kramatorsk. Consequently, the enemy is rushing and disregarding losses, convinced that the political and military benefits of capturing Avdiivka outweigh any cost.
However, these Russian plans must contend with our defensive capabilities and the strategic expertise of our General Staff, enabling us to optimize the use of reserves and destructive means in this region. The enemy appears more vulnerable in their offensive operations than in their defense, as evidenced by their loss statistics.
Currently, the Armed Forces are continuing their offensive actions, adapting to the unique characteristics of different front areas. The situation around Avdiivka is somewhat reminiscent of Bakhmut, which effectively halts the enemy's advance towards Slovyansk and Kramatorsk. The defense of Bakhmut resulted in the destruction of the Wagner Group and thousands of other regular Russian troops.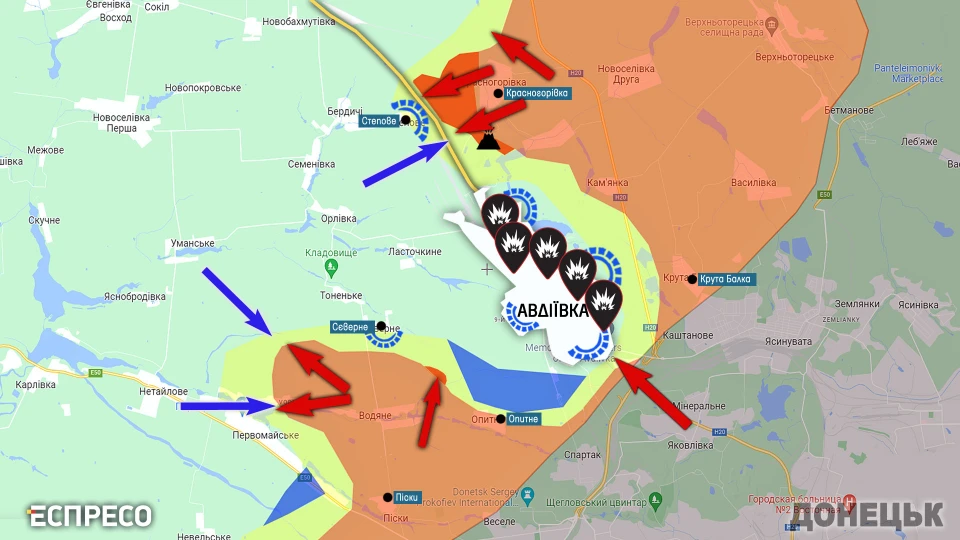 The Bakhmut situation 
Today, the Ground Forces Commander, Syrskyi, reported that the enemy in the Bakhmut area has significantly strengthened their forces and changed from a defensive stance to more active actions. Dmytro Kuharchuk, the commander of the 2nd Assault Battalion in the 3rd Separate Assault Brigade of the Ukrainian Armed Forces, mentioned that the enemy is now launching counterattacks in the Bakhmut area and has gathered a large number of landing forces.
He specifically pointed out that this area is currently one of the most challenging. While the Ukrainian Armed Forces are not losing ground, they face an increasing number of enemy forces here. Ukrainian soldiers are working on various tactical strategies because it's extremely tough to win without being adaptable.
Kuharchuk stressed the importance of every human life and highlighted that it's crucial to ensure proper training and coordination among units. Fighting without these aspects doesn't make sense. Continual skill improvement is essential because the war last year and the ongoing war are different, and we must adapt to the changing circumstances.
Ban on private military companies in Ukraine
Andriy Kebkalo, the head of Omega Consulting Group, mentioned that his company currently collaborates with the Ukrainian Armed Forces exclusively for military training purposes, with no other forms of cooperation.
He pointed out that when his company had around 20,000 trained foreign volunteers in July-August, they offered these volunteers to assist Ukrainian security forces, but the offer was declined. The security forces cited Article 111 of the Criminal Code (treason).
Kebkalo also highlighted that those claiming the prohibition of private military companies fail to explain the legal basis for this. However, there is a separate law allowing civilians to participate in Ukraine's defense.
Furthermore, Kebkalo emphasized that utilizing private military companies could enhance Ukraine's military capabilities, especially in specific areas. He stressed the importance of taking action now rather than waiting for new laws to be enacted.
Fire at factory in Moscow, drone attack, and explosion at oil depot in occupied Makiivka: This week's blasts in Russia
More news