Which countries are doing most to help Ukraine during war?
Norway, the Baltic States, and Denmark became Ukraine's largest donors in terms of their own GDP, while the United States provided the largest amount of aid to Kyiv
This was reported by CNN.
"Russia's invasion has pitted Ukraine against a country with a massive military and one of the world's biggest economies. Ukraine has been able to keep the fight going in large part due to nearly $350 billion in aid that's been committed by mostly Western nations since January 2022," CNN pointed out.
The media outlet also underscores that many European countries donate a larger share of their GDP than, for example, the United States. In general, America has provided the largest aid totaling about $113 billion, while the EU has transferred about $85.1 billion (it should be noted that this amount does not include separate aid from EU member states).
Some of the highest-cost military donations include anti-aircraft and anti-ship missiles, weapon-locating radar systems, mine-clearing ships and patrol boats, helicopters, and multiple launch rocket systems, according to the Kiel Institute.
However, the US contribution to Ukraine's aid is about 0.3% of GDP, while Norway, Lithuania, Estonia, and Latvia provide more than 1% of GDP.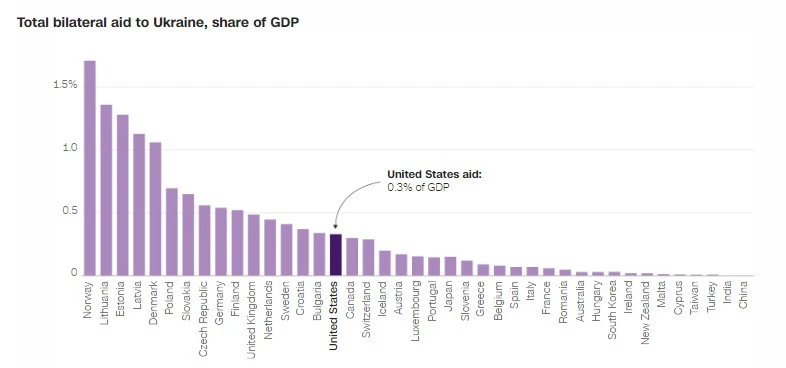 According to Nobel Prize-winning economist Paul Krugman, this completely refutes the claims of some right-wing Republicans that aid to Ukraine is allegedly "undermining the US economy."
On October 5, the chief of European diplomacy, Josep Borrell, called on the United States to change its decision to support Ukraine, as EU aid cannot replace American aid.
Ukraine successfully counterattacks, leading to Russia losing control over Stepove: British intelligence assesses situation near Avdiivka
More news