US returns Ukraine's cultural property stolen by Russia from occupied territories
In Washington, D.C., President of Ukraine Volodymyr Zelenskyy received back the artifacts stolen by Russian troops from the temporarily occupied territories
The President's website reports.
The certificate of transfer of these Ukrainian artifacts, which were confiscated by U.S. law enforcement agencies, was signed by U.S. Secretary of Homeland Security Alejandro Mayorkas and Ambassador of Ukraine to the United States Oksana Markarova in the presence of the Head of State.
The President thanked everyone involved for their work, which is also aimed at supporting Ukraine: "After all, every time something returns to Ukraine, something stolen by Russians, means the return of life and justice, which is very important."
Markarova said that the Russians are constantly trying to steal Ukrainian history, its national identity, and cultural artifacts: "We will not allow them to do this."
She also mentioned an incident that occurred in June 2022, when the US Customs and Border Protection detained an antique. After investigation, it turned out to be a 17th-century European iron axe with a hammer on the back, which was illegally exported from Ukraine to the United States.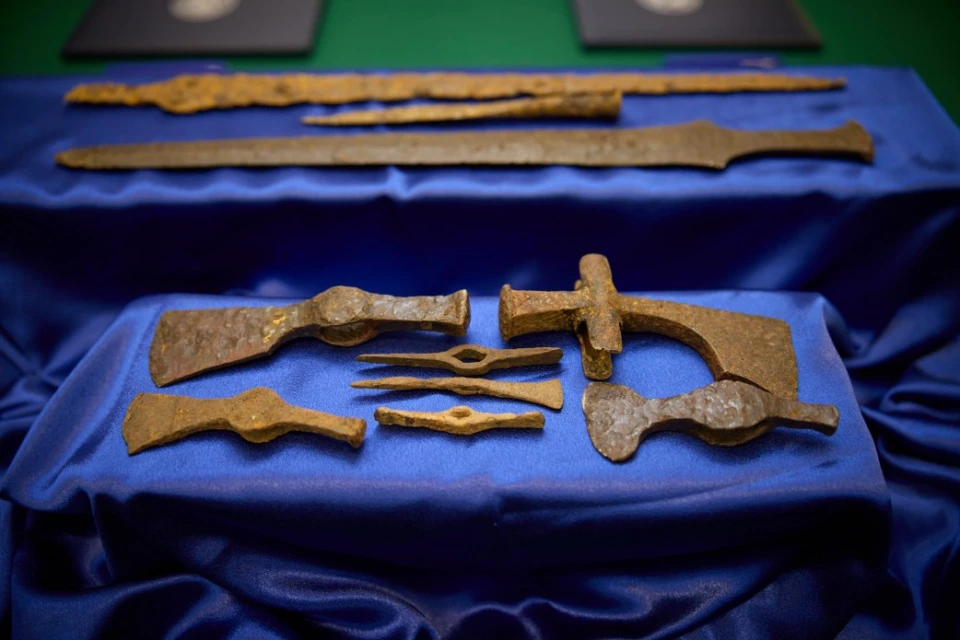 Also last June, artifacts smuggled into the United States from Russia were seized. In particular, three 17th-century iron axes, three 17th-century mattocks, two 6th-century BC Scythian iron acinaces, and one iron spearhead dating from approximately 500-1200 BC.
On September 18, Volodymyr Zelenskyy began a visit to the United States. He attended the 78th session of the UN General Assembly, addressed the Security Council, and held talks in New York with German Chancellor Olaf Scholz, European Commission President Ursula von der Leyen, and Romanian President Klaus Iohannis. Zelenskyy also met with the President of Brazil.

In addition, in New York, Zelenskyy received the Atlantic Council Global Citizen Awards, which recognizes outstanding people who contribute to the betterment of the world.

On September 21, during a meeting with U.S. congressmen in the Capitol, Volodymyr Zelenskyy urged them to approve additional funding for Ukraine.

In addition, on Thursday, Volodymyr Zelenskyy met with Pentagon Chief Lloyd Austin in Washington, DC.
2023, Wednesday
29 November
Victorious news of 644th day of war: Russian general killed, invading forces destroyed in Kherson region
Russian occupation authorities try 25-year-old Ukrainian who came to Mariupol to visit grandmother
More news