Ukraine's air defense shoot down 12 Shahed drones over Kyiv 
In the evening of March 27, Russia attacked Kyiv with Shahed drones, explosions were heard in two city districts. The air defense forces managed to shoot down all the UAVs, but the debris caused a fire
This was reported by local authorities.
The sounds of explosions in the capital were heard around 11:30 pm. Prior to that, the Kyiv Regional Military Administration warned of a Russian attack by drones, reported the work of air defense, and urged citizens to stay in shelters.
At 11:49 pm, Kyiv Mayor Vitali Klitschko tweeted that explosions had occurred in the Obolon and Sviatoshynskyi districts of the capital.
"Explosions in the capital, first in Obolon and Sviatoshynskyi districts. All services are being sent to the site. More details later," Klitschko wrote.
At midnight, Klitschko reported a fire in a store in the Sviatoshynskyi district.
"A store is on fire in Sviatoshynskyi district. Information about the victims is being clarified," Klitschko wrote.
As of 12:20 am, no one was injured as a result of the explosion and fire in the Sviatoshynskyi district.
"Fire and rescue services are working on the fire scene after an explosion in the Sviatoshynskyi district of the capital. Preliminary, there are no casualties," Klitschko wrote.
No victims were found after the fire was localized.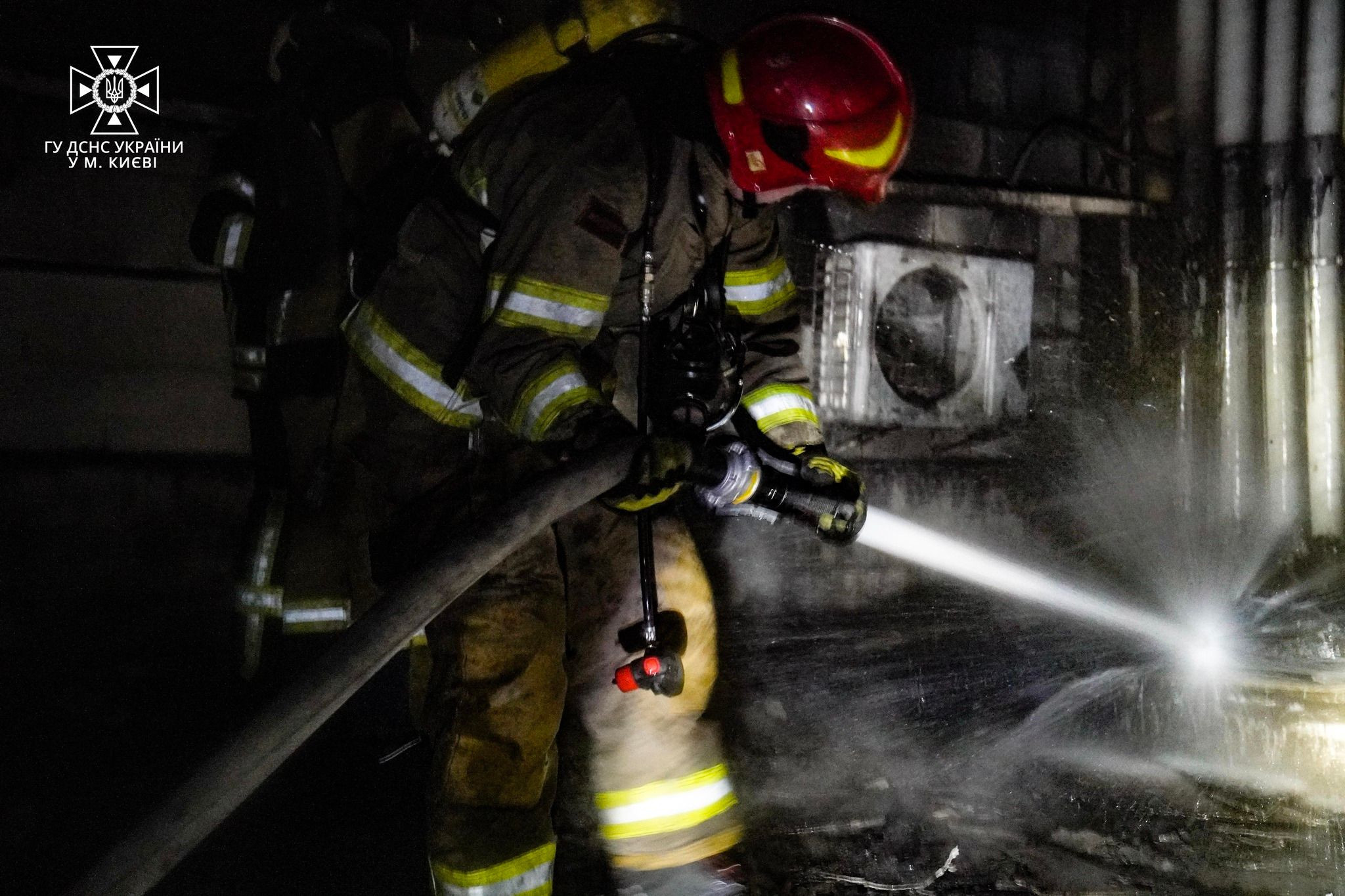 The head of the Kyiv City Military Administration, Serhiy Popko, said that air defense had shot down all targets, and that the fire in the Sviatoshynskyi district was caused by falling debris.
"The terrorist country has again launched its Shahed drones in the direction of the capital. According to preliminary information, Ukrainian air defense forces detected and destroyed all the targets in the airspace around Kyiv. The debris of the drone fell in the Sviatoshynskyi district of Kyiv, causing a fire in a non-residential building," Popko said.
The State Emergency Service clarified that as a result of the Russian attack, the 3-story administrative building was destroyed over an area of 200 square meters. A fire also broke out in two locations with a total area of 70 square meters, which firefighters quickly extinguished.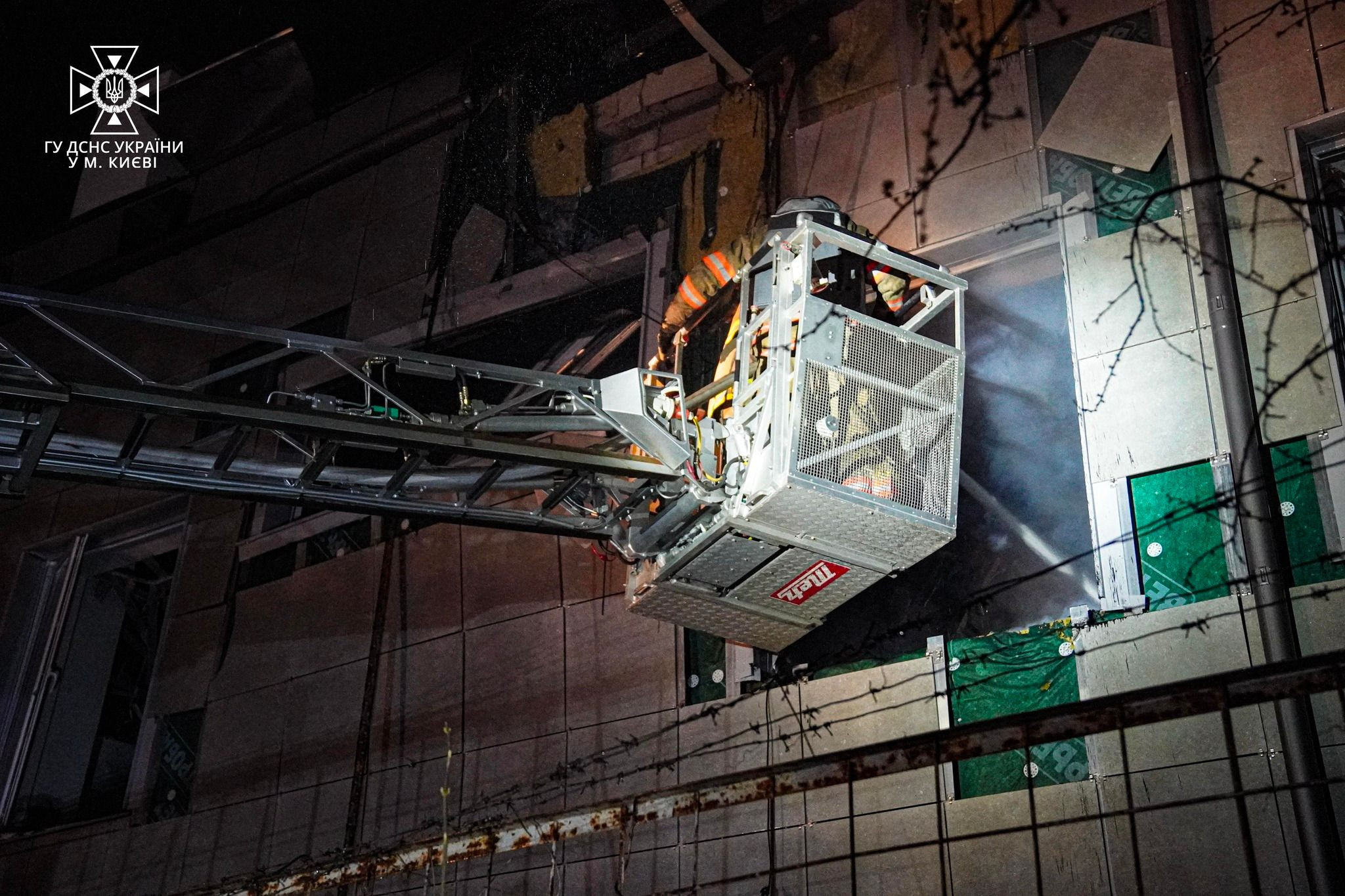 There were no casualties or injuries.
A total of 9 units of basic and special fire and rescue equipment, as well as 50 personnel, were working at the scene.
As of 7:00 am, the Kyiv Military Administration stated that Ukraine's air defense had shot down 12 Shahed drones. 
"Update on the Shahed ammunition attack on the capital. In total, 12 enemy UAVs of this type were detected and destroyed by air defense forces in the Kyiv airspace!" said Serhiy Popko, head of the Kyiv Military Administration.

Russian troops nearly destroyed ZNPP's emergency systems, safety situation is worsening every day 
More news