Russia has suffered a crushing defeat on the artistic frontline
We have an important reason to celebrate Ukraine's powerful victory on the global artistic frontline. This victory over our enemy, Russia, will have far-reaching consequences. In fact, we are beginning to convince the whole world that the lion's share of the so-called "great Russian culture" is appropriated, stolen from Ukrainians. And this is just the beginning
One of the world's leading art museums, the Metropolitan Museum of Art, has recognized artists Arkhip Kuindzhi, Ilya Repin, and Ivan Aivazovsky as Ukrainian artists. Also, the Museum's website officially mentioned that Kuindzhi's museum in Mariupol was destroyed by Russians. In addition, a painting by Edgar Degas was renamed, also in favor of Ukraine. Why is this important? 
For centuries, the authority of Russian culture has been built by appropriating Ukrainian culture. Russia has been hiding from political bad weather and global condemnation by using our culture, passing it off as part of its own. They say they have "great Russian culture," so they are a superpower. But right now, the reverse process is underway, when the whole world is realizing that the king is naked, and the lion's share of the so-called Russian culture was created by Ukrainians.
In order to prevent anyone from asking where the culture of a huge nation of millions had gone, Russians adopted and massively exported to the world the concept of sharovarshchyna - ersatz reworking, a terrible simplification of Ukrainian folk culture. All of this was based on showcase samples of our folk culture that were not contradictory to Russia. By the way, an alternative to this approach was shown by the Ukrainian Republican Chapel of the Directory, which became a phenomenon of world choral art, performing "Shchedryk" and other hits around the world. 
Having primitivized folk culture and imposed this vision of Ukraine on the world, the Muscovites appropriated all professional artists. Starting with Ukrainian composers Dmytro Bortniansky, Maksym Berezovsky, and Artem Vedel and ending with a whole galaxy of artists of different centuries and generations-from the 18th century in the works of Dmytro Levytsky and Volodymyr Borovykovsky to the 21st century in the works of Ilya Kabakov. 
However, let's go back to Arkhip Kuindzhi. He was the most popular artist in the empire, but he devoted his work almost exclusively to Ukrainian nature and Ukrainians. And because of a series of conflicts with the Russian artistic environment and authorities, he went into voluntary self-isolation and painted without intending to ever present those works while actively supporting other artists. Arkhip was born in Mariupol and lived most of his life in Crimea. His closest social circle included his fellow Ukrainian artists: Ilya Repin, Ivan Kramskoi, Kostiantyn Kryzhytskyi, and many others. This is the perfect portrait of a "Russian artist."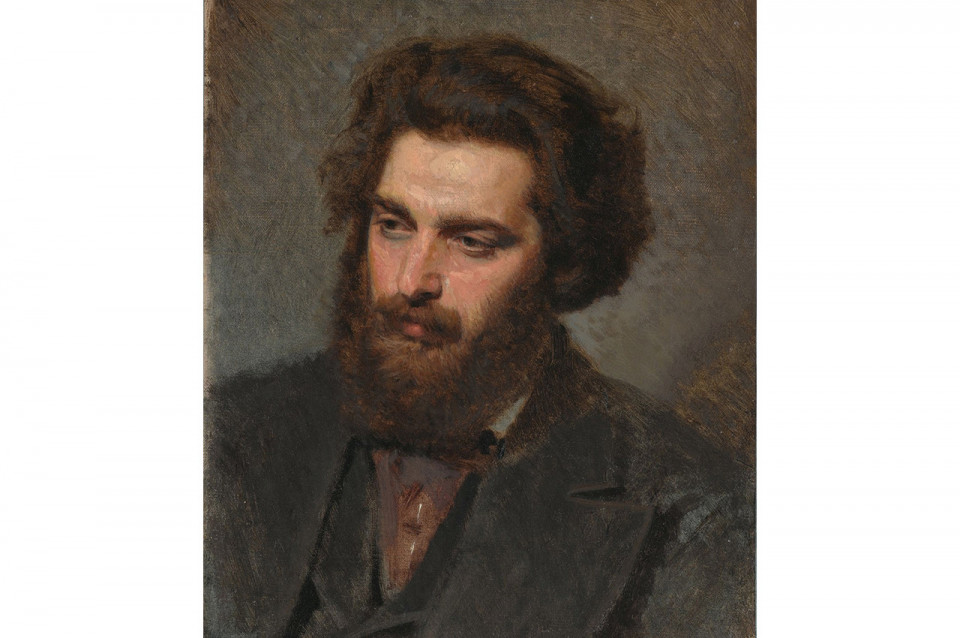 Portrait of Archip Kuindzhi, by Ivan Kramskoy, 1872
Russians have always imposed on the world the stance that Kuindzhi should not be called anything other than a Russian artist. They turned a blind eye to his Greek origin and his distinctly Ukrainian themes. And unfortunately, as in the case of Kramskoi, Repin, Aivazovsky, and dozens, if not hundreds, of other artists, they managed to convince the world of this. That is, the works of these artists in museums in different countries, exhibition catalogs, all advertising, and all references to them revolved around their "Russianness." 
But recently there was a real breakthrough: The Metropolitan Museum of Art explicitly called Kuindzhi a Ukrainian, setting an important precedent for other cultural institutions around the world. A few days later, the museum made the same re-attribution for paintings by Ilya Repin and Ivan Aivazovsky from its own collection. This gave an unambiguous hint: now Ukrainian artists who were forced to create in the prison of nations, the Russian Empire, can and should be called Ukrainians.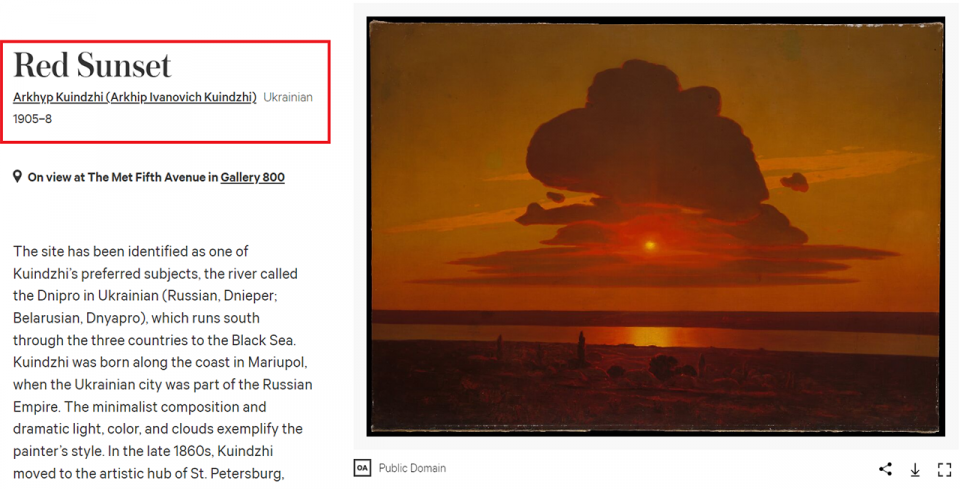 Of course, the Metropolitan's experts did not change their mind about these artists out of the blue. This was preceded by a lot of hard work. Ukrainian journalist and art historian Oksana Semenyk writes about this change in her post, "I don't know what exactly they paid attention to: Twitter posts, tags, or letters with biographies and explanations, or constant discussions among colleagues and articulation of the problem…" That is, without the purposeful work of Ukrainians, nothing would have happened. 
And this applies not only to artists but also to individual works. The same museum renamed the painting "Russian Dancers" by the French artist Edgar Degas. The work was renamed to "Dancers in Ukrainian Dress." And also after long reminders. Oksana Semenyk also sent the museum information about research that showed that it was a Ukrainian troupe. And after considering the arguments, the museum responded.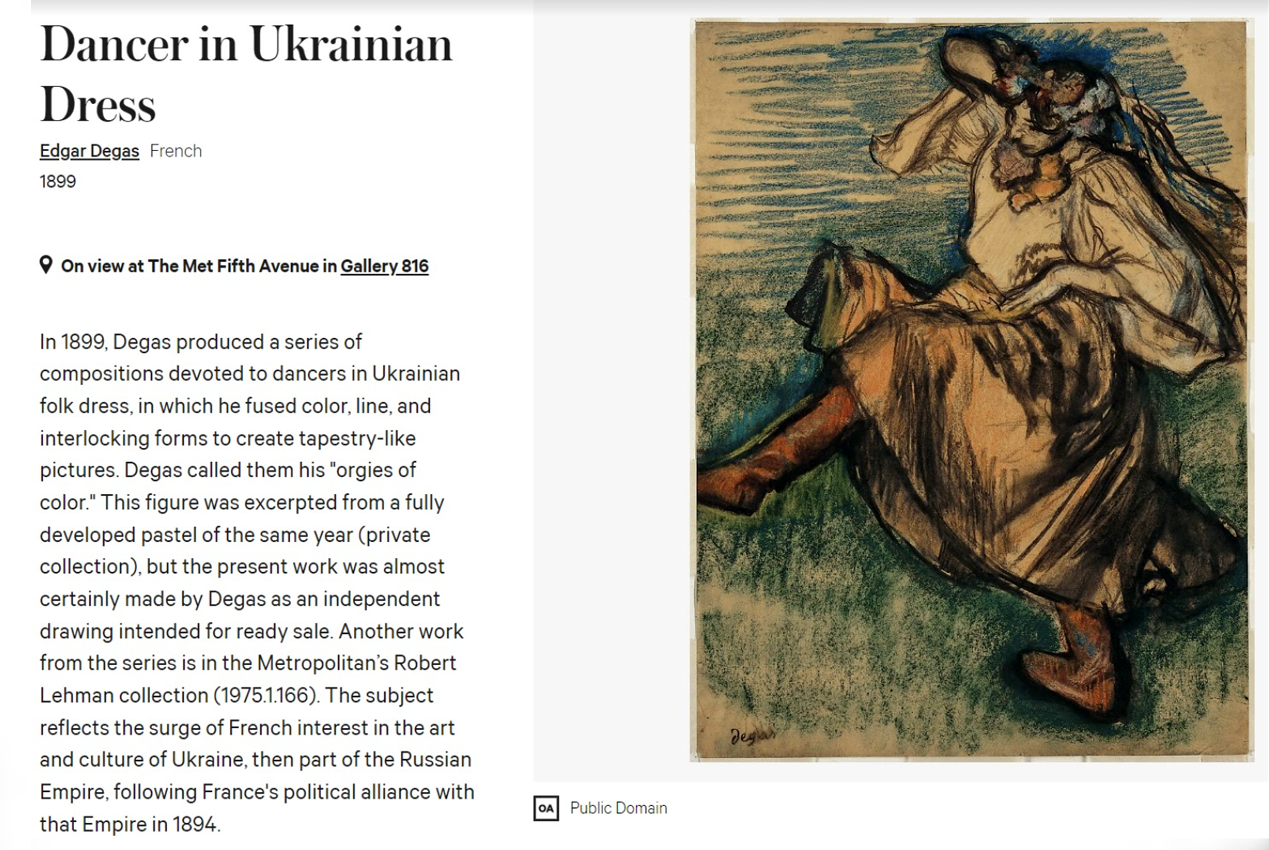 Let me remind you that a similar story took place in March 2022, when the National Gallery in London renamed Degas' painting "Russian Dancers" to "Ukrainian Dancers." At the time, Ukrainian artist Mariam Nayyem said that she had sent letters to the London gallery, as well as to the Getty Museum in Los Angeles and the Metropolitan Museum of Art in New York, where Degas' paintings of dancers in Ukrainian national costumes were named "Russian Dancers." As you can see, constant dropping wears away at a stone. 
And this gives us all a real recipe for fighting on the artistic frontline to establish justice and recognition of Ukrainian culture in the world, as well as to counter Russian cultural disinformation. Identify works by Ukrainian artists on the websites of foreign museums that are labeled as Russian, tag these institutions on social media, and explain why they are Ukrainian. After all, as this story proves, such work really makes sense for the reconstruction of Ukrainian culture.
Victorious news of 646th day of war: Ukraine to produce air defense systems, intelligence conducts another sabotage in Buryatia
More news