EU has confiscated Toyota vehicles that can be given to Ukrainian army
The Ukrainian military will definitely need such vehicles, especially since there is already a precedent
This is reported by Defense Express. 
In 2022, the European Union's IRINI naval mission, which was aimed at supporting the UN arms embargo on Libya, seized and confiscated almost 150 pieces of military equipment during two episodes.
A group of MEPs is calling for this military equipment to be transferred to the Ukrainian Armed Forces. This group of parliamentarians plans to send a corresponding proposal on Friday 27 October, in particular to the Security Council's Political and Security Committee (PSC) and the Peace Fund to support Ukraine. This is stated in the publication of Politico.
This story refers in particular to a consignment of 41 BATT UMG armoured vehicles manufactured in the UAE, which the Dutch vessel MV Meerdijk attempted to deliver to Libya in October 2022. These armoured vehicles were to be delivered to Field Marshal Haftar's troops, although there were no accompanying documents for the equipment.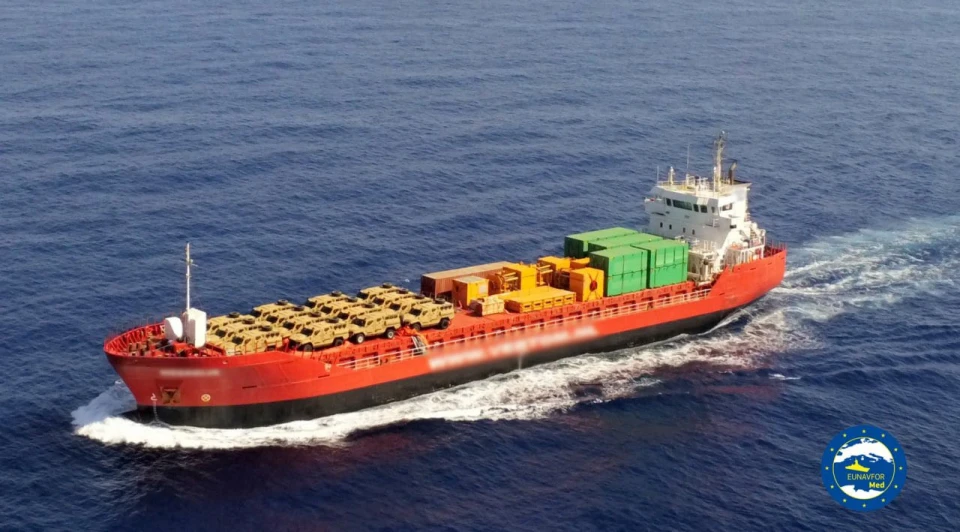 The MV Meerdijk carrying BATT UMG armored vehicles to Libya, which were confiscated by the EU naval mission. Photo: IRINI
"Interestingly, the supplier of these BATTs, UMG, claims that these vehicles were to be delivered to Libya only to "maintain public order", which seems to be in line with the UN embargo. But in this story, the UN sanctions committee decided otherwise, and all 41 armoured vehicles were confiscated after the vessel was inspected, after which the Dutch MV Meerdijk continued to sail," Defense Express writes. 
A few months earlier, in the summer of 2022, the EU naval mission on another ship bound for Libya confiscated more than 100 Toyota SUVs converted into "vehicles" to accommodate various types of weapons.
"These vehicles are being stored in a warehouse near Marseille in France, and are essentially in a "suspended" legal state. That's why some MEPs are suggesting that instead of just keeping these vehicles in storage, it would be better to give them to where they are needed, i.e. the Ukrainian Defence Forces."
Moreover, here they refer to the example set by the United States, when earlier this month it decided to give Ukraine confiscated Iranian weapons, although they literally contain assault rifles and anti-tank guns. 
Victorious news of 646th day of war: Ukraine to produce air defense systems, intelligence conducts another sabotage in Buryatia
More news