Best option: Swedish Gripen's potential impact on Ukraine's war and advantages over Su aircraft
Ukrainian pilots have strayed training on Swedish JAS 39 Gripen fighter aircraft. President of Ukraine, Volodymyr Zelenskyy, disclosed this following discussions with Swedish Prime Minister Ulf Kristersson. Zelenskyy further confirmed his intent to request these aircraft to bolster Ukraine's Air Force
Espreso explains why the Gripen are so important for Ukraine, what makes the Swedish fighter jets special, and what are their technical characteristics
Development history 
The term "Gripen" originates from the Swedish word for "griffin." This aircraft succeeded the older Saab 35 Draken and Saab 37 Viggen fighters. The acronym "JAS" denotes "Jakt" (fighter), "Attack" (attack aircraft), and "Spaning" (reconnaissance aircraft).
Developers of the Gripen outlined specific criteria. The new fighter jet was required to achieve Mach 2 speed, manage takeoff from runways as short as 800 meters, possess a lighter weight than the Saab 37 while enhancing payload-to-range ratio. The company, developed specifically to create the aircraft, included Saab, Volvo, and Ericsson, with government funding supporting the project.
The inaugural flight of the JAS 39 Gripen took place in late 1988, and it officially entered service in 1996.
Features of the JAS 39 Gripen
Swedish 4th generation fighter jets are crafted around the "duck" aerodynamic configuration, granting the "Griffins" exceptional balance at supersonic speeds and impressive takeoff and landing capabilities. The aircraft's composition encompasses 60% aluminum, representing the bulk of its weight, composed of 60,000 parts. Additionally, nearly 30% is comprised of carbon fiber, with an additional 6% being titanium. The extensive integration of carbon fiber reinforced plastics has extended the aircraft's service life to 50 years.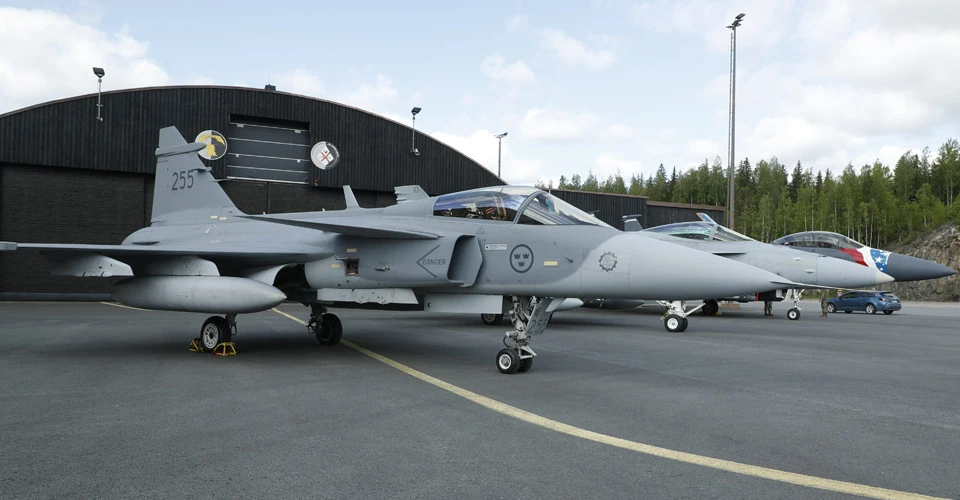 To enhance landing safety, the Gripen incorporates potent air brakes and rigid landing gear, effectively reducing stall speeds. Carbon brakes and a glide control system facilitate landings even on icy runways.
Pilots benefit from tri-sourced information: onboard sensors, communication systems, and data transmission channels. The CDL 39 information transmission system, deployed on Swedish fighters, boasts a range of 500 km, expandable through the use of relay aircraft. This system, the CDL 39, grants the aircraft remarkable tactical versatility. For instance, during a strike mission, the JAS 39 can execute an attack, concurrently engage in radar surveillance of the target area, and relay crucial data to other aircraft.
 The onboard radar system is capable of detecting air targets at a distance of up to 120 km. The radar can detect a ship at a dock or a convoy of military equipment in motion from 70 km away. The "Griffins" can detect targets even in difficult weather conditions. At the same time, Swedish fighter jets can track 10 air targets and attack 4 of them at once.
What weapons does the Gripen use?
The first Gripen had a rather limited arsenal of air-to-air weapons, using only short-range missiles. In 1999, medium-range missiles were integrated into the Gripen, enabling the JAS 39 to destroy airborne targets beyond visual range. For close combat, Swedish fighter jets use a built-in 27mm Mauser BK-27 cannon that can fire 1,700 rounds per minute. 
The Gripen's ammunition is smaller than that of Western European or American fighter jets - 120 rounds. This is compensated for by a unique targeting system combined with the aircraft's radar and autopilot.
Beyond standard bombs and unguided missile pods, the Gripen is equipped to carry precision-guided armaments for engaging ground and surface objectives. The AGM-65 Maverick short-range air-to-surface missile effectively neutralizes tactical targets like armored vehicles, vehicles, air defense installations, fuel depots, and smaller vessels. For engagements against sizable surface targets, a long-range anti-ship missile is available. Notably, Gripen aircraft gained the capacity to deploy cluster bombs from 1997 onwards. Furthermore, the aircraft's more recent iterations possess the capability to employ laser-guided precision bombs.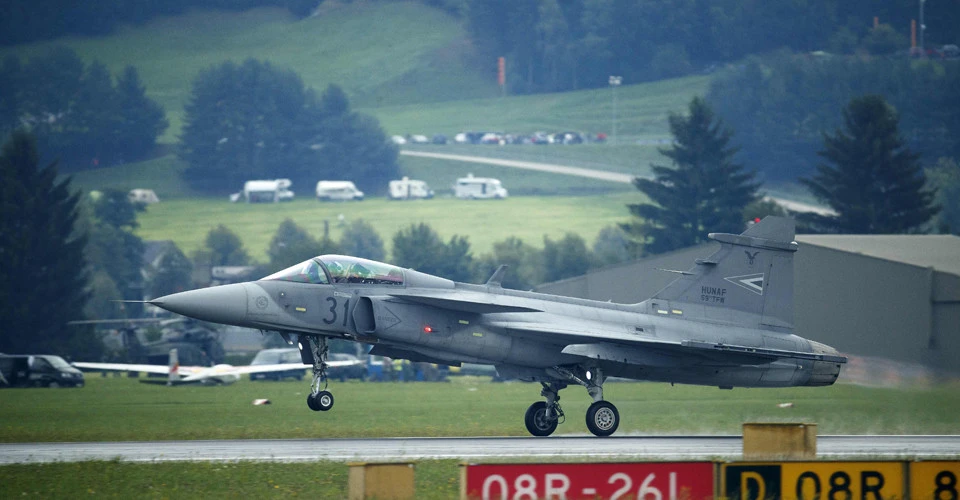 In addition, the JAS 39 can destroy important targets deep behind enemy lines thanks to cruise missiles with a range of over 500 km. This fighter jet can achieve this without entering the enemy's air defense zone.
Tactical and technical characteristics of the JAS 39 Gripen
Crew: 1 person (JAS 39D - 2)

Length: 14.1 m (JAS 39D - 14.8 m)

Wingspan: 8.4 m

Height: 4.5 m

Wing area: 30.3 square meters

Empty weight: 6,800 kg

Normal takeoff weight: 8,500 kg

Maximum takeoff weight: 14,000 kg

Fuel weight: 3,360 kg (internal tanks)

Maximum speed: 2,130 km/h at high altitude, 1,225 km/h at sea level

Flight range: 3,200 km

Combat range: 700 km (with a 2,000 kg load)

Practical ceiling: 15,240 m

Combat payload: 5,300 kg
Which fighters are better - Gripen or Su?
The best way to compare Swedish fighter jets with Soviet ones is not by parameters, but by practical confrontation. A significant opportunity for such assessment arose during military exercises in Asia back in 2015, as reported by Defense Express.
The joint Falcon Strike maneuvers, involving China and Thailand over four days, saw JAS-39s representing Thailand and Su-27s representing China.
During the "out of visual range" training battles, Thai Air Force pilots demonstrated 41 "effective enemy engagements," while Chinese Su-27SK pilots made only 9. During training battles at a distance of more than 30 kilometers, the Thai Griffins had 88% of "effective hits," while the Chinese Su-27s had only 14%. And during simulated battles at a distance of more than 50 km, the JAS 39 Gripen showed 10 victories, while the Chinese Su-27s showed none.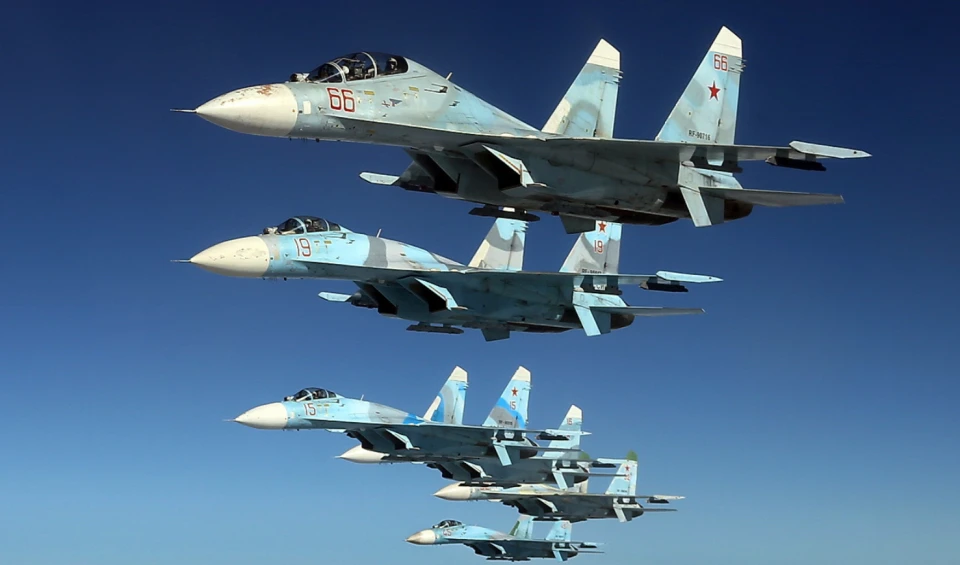 "The difference in the characteristics of the onboard radars was also important: the Chinese Su-27s use the H001 "Sword" (RLPK-27) with a target detection range of up to 120 km, while the JAS 39 Gripen uses the Ericsson PS-05/A with a target detection range of up to 160 km. The "effective scattering area" indicator also played a role, which for the JAS 39 Gripen was only 1.5 square meters, while for the Su-27 it was as much as 15 square meters (and for the F-16 - only 1.2 square meters)," the article says.
The only combat format where the Chinese Su-27s were able to show superiority over the Thai Gripen was literally within visual range in dogfight style. But even the Chinese themselves admitted that they were able to show such a result only because the Thai Air Force used old short-range air-to-air missiles instead of IRIS-T for such clashes. 
How much do Gripen cost?
Price stands out as a key advantage of the JAS 39 Gripen. Among 4+ generation fighter jets, it claims the position of the most economical option, even to the extent of being offered for lease by Sweden. Back in 2003, the Czech Republic secured a 10-year lease of 14 Gripens for $800 million, while Hungary purchased the same number for around $700 million for the same tenure. Notably, these transactions occurred during Sweden's decision to halve its fighter jet fleet, as it didn't require 200 units.
Both the Czech and Hungarian purchases occurred prior to modernization efforts. In 2014, Brazil joined the ranks as a buyer, obtaining 36 aircraft, with the option to locally manufacture an additional 15, at a cost of $5.4 billion. Subsequently, in 2016, Indonesia was presented with the option to procure 16 aircraft for $1.5 billion, translating to approximately $94 million per unit.
"While not reaching the $50-60 million range that the Czech Republic or Hungary brought them for, the cost of the JAS 39 Gripen remains notably lower than the actual market price for the F-16, which ranges between $130-150 million on the international stage," writes Defense Express. The Swedes are also ready to transfer technology and localize production on the territory of the client state. 
The operational cost per flight hour for a Gripen is also economical, ranging from $4,000 to $7,000 for certain variants.
<iframe width="560" height="315" src="https://www.youtube.com/embed/n50suTPXXSo" title="Gripen E - The Game Changer" frameborder="0" allow="accelerometer; autoplay; clipboard-write; encrypted-media; gyroscope; picture-in-picture; web-share" allowfullscreen></iframe>
Why does Ukraine need Gripen, and when will it get them?
So far, Sweden has not committed to supplying JAS 39 Gripen to Ukraine. This was stated by Prime Minister Ulf Kristersson on August 21. However, not only the Swedes can be donors of the Gripen.
"There are vehicles in South Africa where they are not in operation and may be bought and transferred to Ukraine. The Czech Republic also uses Gripen, but there are a few aircraft there. Hungary, Brazil and Thailand are also among the operators, but they are not likely to become donors," military expert Oleh Katkov told Espreso.
The pilot training marked a precursor to the formal announcement of F-16 fighter jets being transferred to Ukraine. Notably, seasoned pilots embarked on a journey to Sweden for Gripen training, as revealed by Lieutenant General Mykola Oleshchuk, the Commander of the Air Force of Ukraine.
"I have decided that the pilots of the class of 2023 will go to the UK for training. As for Sweden, the pilots of the 2016 class, who already have sufficient combat experience, went there," Oleshchuk said.
He also emphasized that the Gripen is second in priority for Ukraine after the F-16 and is in no way inferior to American aircraft in terms of its characteristics. For example, the Gripen can be used for a long time from highways or operational sites away from the main base. 
The advantages of the Swedish aircraft are its low price, unpretentiousness, wide range of weapons and combat capabilities, according to the Defense Express article.
"Another "plus" in favor of the Gripen is its unpretentiousness to landing strips, because it was created in Sweden, which, according to the doctrine, in the event of war, must disperse its aviation throughout the country. Therefore, it has to take off and land from low-quality strips, including field airfields on highways," the article says.
In addition, observers emphasize that the JAS 39's wide arsenal of weapons includes missiles from various manufacturers. They emphasize that the domestic defense industry can produce air-to-air missiles and should also create an airborne version of the Neptune for the Gripen, which would eliminate the need to purchase foreign weapons for the aircraft (one Meteor missile from MBDA costs 2 million euros). 
The Ukrainian Air Force has hailed the Gripen as the prime contender for replacing aging Soviet combat aircraft. This determination emerged from a methodological assessment devised to select an apt tactical aviation fighter. The approach compared potential multirole contenders, namely F-16E, F-35A, EF-2000, Rafale, and JAS-39, considering aspects like price, operational expenses, and combat effectiveness. The analysis found the JAS-39 to be the most financially viable choice, requiring 96 units with a projected cost of $6.8568 billion.
<iframe width="560" height="315" src="https://www.youtube.com/embed/yGd-Yc6Qy24" title="Amazing Gripen Air Display with Pilot Peter Fällén - Farnborough International Airshow 2016" frameborder="0" allow="accelerometer; autoplay; clipboard-write; encrypted-media; gyroscope; picture-in-picture; web-share" allowfullscreen></iframe>
2023, Saturday
9 December
Victorious news on 653rd day of war: aid package from Germany, Ukraine and Sweden discuss supplying Gripen fighter jets
Ukrainian forces repel 32 Russian attacks in Avdiivka sector, 20 in Marinka sector - General Staff
First time leading Polish politician admits Ukrainian-Polish border blockade is national security issue
More news