Russian Defense Ministry recognizes air strike on Zaliv shipyard in Crimea
The Russian Defense Ministry has not denied there was a missile attack on the Zaliv shipyard in temporarily occupied Crimea. Radio Liberty has shared satellite images showing damage to the ship.
This was reported by the Russian state news agency RIA-Novosti.
According to Russian reports, the missile strike, allegedly launched by the Armed Forces of Ukraine, targeted the shipbuilding plant in Kerch. The Russian military claimed to have shot down 13 out of the 15 missiles, but no evidence was provided to support these claims.
Terrorists confirmed that "one of the ships at the plant was damaged by a cruise missile."
Schemes share satellite images of the shipyard in Kerch after the Ukrainian Armed Forces' strikes
The Planet Labs footage from November 5 shows damage to the shipyard and a warship, probably the Askold missile carrier.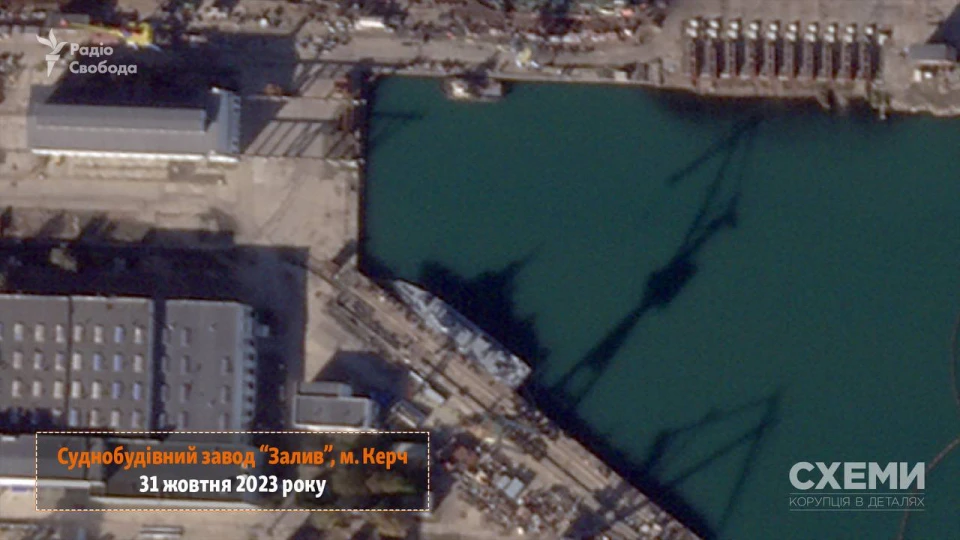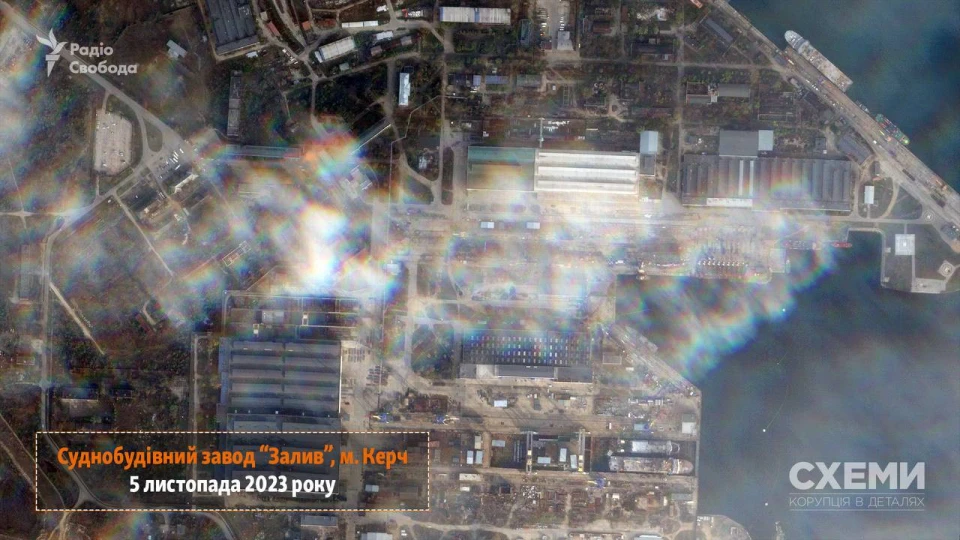 Captain Andriy Ryzhenko, a reserve naval officer, said in a comment to Schemes that, according to his information, on November 4, there was only one ship capable of carrying Kalibr class missiles in Kerch at the time of the explosions, namely the Askold.
"I believe this ship, as we can observe, had already reached the dock and was in the final stages of preparation, as it was scheduled to be completed in December. You can see that it is still afloat, but the upper part of the ship is noticeably damaged," Ryzhenko analyzed the satellite images.
He added that the Askold is a 22800 Karakurt-type small missile ship that can carry up to 8 Kalibrs. According to Ryzhenko, neutralizing such a vessel is very important for Ukraine's security.
On the afternoon of Saturday, November 4, explosions were heard in the occupied city of Kerch, Crimea. The Department of Strategic Communications of the Ukrainian Armed Forces confirmed the successful strikes on the Zaliv Shipyard.
2023, Wednesday
29 November
Unblocking border benefits both Ukraine and Poland: Mykola Knyazhytskyi on blockade's impact on state relations and Ukrainian defense capabilities
Zaporizhzhia locals refuse collaboration as Russians lack administrative staff, says Regional Council member Ashurbekov
Ukraine's troops attack building with Russian militants in Kherson region: 5 invaders eliminated
Weather isn't primary factor influencing pace of hostilities – military expert Serhiy Zgurets
Russian troops suffer up to 95% of losses in assaults - National Guard Major Nahornyi
25 Ukrainian truckers blocked at border agree to evacuate from Poland — Ministry of Infrastructure
Ukrainian troops eliminate 1140 invaders, 15 tanks and 32 artillery systems in 24 hours - General Staff
ISW: Ukraine continues attacks south of Bakhmut, Russia advances along Kupyansk-Svatove-Kreminna line
2023, Tuesday
28 November
Victorious news of 643rd day of war: Russian soldiers neutralized in Mariupol, explosions heard in occupied Tokmak
More news