Ukraine receives limited number of US-supplied ATACMS missiles
One of the requirements for the supply of ATACMS missiles to Ukraine is that they not be deployed against Russian territory
This is reported by Defense Express. 
The US allegedly provided only about 20 ATACMS tactical missiles to Ukraine, according to two unidentified senior Western officials. At the same time, the MGM-140s were sent in tight secrecy because of fears that Russia would target transport with these missiles on the way.
According to reports, the real delivery of ATACMS to Ukraine occurred only in the last few days when US President Joseph Biden overcame his reservations and granted the Pentagon authority to transfer such weapons to the Armed Forces.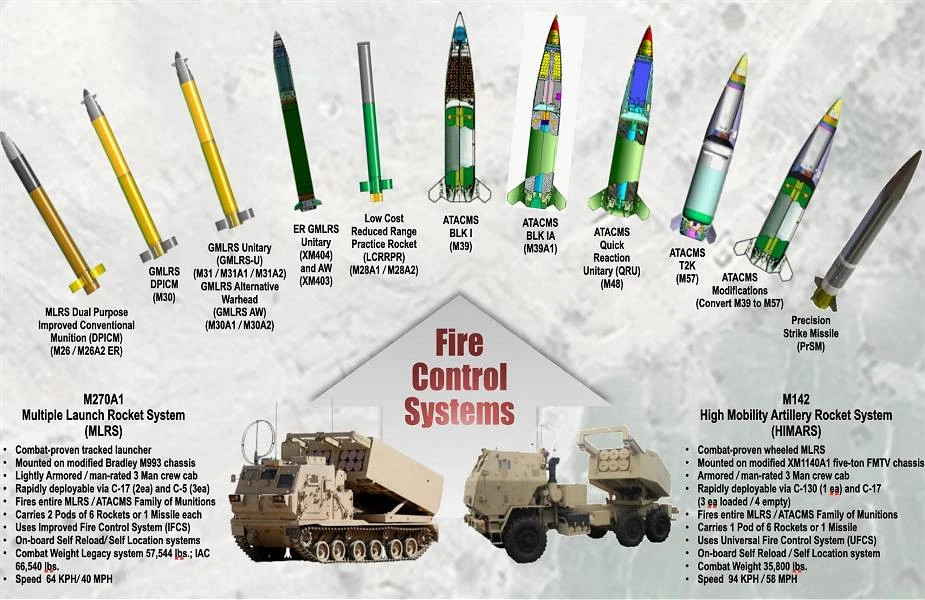 Infographic showing the entire arsenal of up to M270A1 and M142 HIMARS, image from open sources
"One of the conditions of use of the ATACMS missiles was not to use them on Russian territory," Defense Express notes. 
While Ukraine was given missiles with a limited range, this launch range should be sufficient to target all Russian airfields located on the temporarily occupied territory, the experts note.
"Interesting is the statement that the Pentagon did not dare to transfer M57 missiles with a unitary warhead weighing 227 kilograms and a range of up to 300 kilometers to Ukrainian army, because the stocks of such weapons are allegedly extremely limited," Defense Express writes. 
The M39 ATACMS missiles are the second type of cluster weapon that the United States has provided to Ukraine, the first being 155-mm DPICM cluster munitions.
2023, Wednesday
6 December
'Special military operation' aims to demilitarize US: Russian propaganda launches new narrative
More news