Ukraine expands air defense systems range — military expert Serhiy Zgurets
Partners provide Ukraine with substantial support to enable the Ukrainian Armed Forces to have more opportunities to destroy Russian missiles used for terrorist attacks in winter
Russia's losses
When assessing the situation on the frontline, it's important to consider the statistics provided by the General Staff of the Ukrainian Armed Forces, which clearly indicate a notable escalation in hostilities over the past few days. On October 11, there were 95 combat clashes, resulting in a substantial increase in Russia's losses. Specifically, 990 Russian soldiers and 42 tanks were destroyed. The preceding day saw 820 Russian casualties and 34 tanks destroyed. These elevated figures signal an overall intensification of conflicts along the entire frontline. Despite Russia's efforts to mobilize reserves with the aim of breaking through Ukrainian defenses in certain areas, Ukrainian military personnel continue to perform their duties effectively.
Air defense in Ukraine
In addition to destroying a significant number of Russian tanks, Ukraine's Air Force has shown how they destroy Shaheds. There is confirmation that a new air defense system is being used - a hybrid development that was supplied by Britain. This system is mounted on a SUPACAT truck and features radar systems equipped with air-to-air missiles, adapted to fulfill the role of destroying Shahed drones in a surface-to-air capacity. This system is effective enough to destroy these drones at a range of up to 10 km. This suggests that the range of air defense capabilities is expanding. It is worth mentioning that as a result of Ramstein, it was announced that more new models would be delivered to Ukraine, which our army does not yet have. Mentioned among these are the Patriot, IRIS-T, and NASAMS systems that will be supplied to enhance Ukraine's capabilities. Partners are offering significant support to ensure that, during the winter, we will have increased capabilities to neutralize the Russian missiles used for their terrorist attacks.
Situation on the frontline in certain areas
The Lyman direction covers Makiivka, Luhansk region, as well as Torske and Serebryanka forestry, Donetsk region. There were constant combat clashes. At one point, Russian troops tried to push through. They suffered significant losses, but are still accumulating forces and trying to somehow influence Ukraine's defense.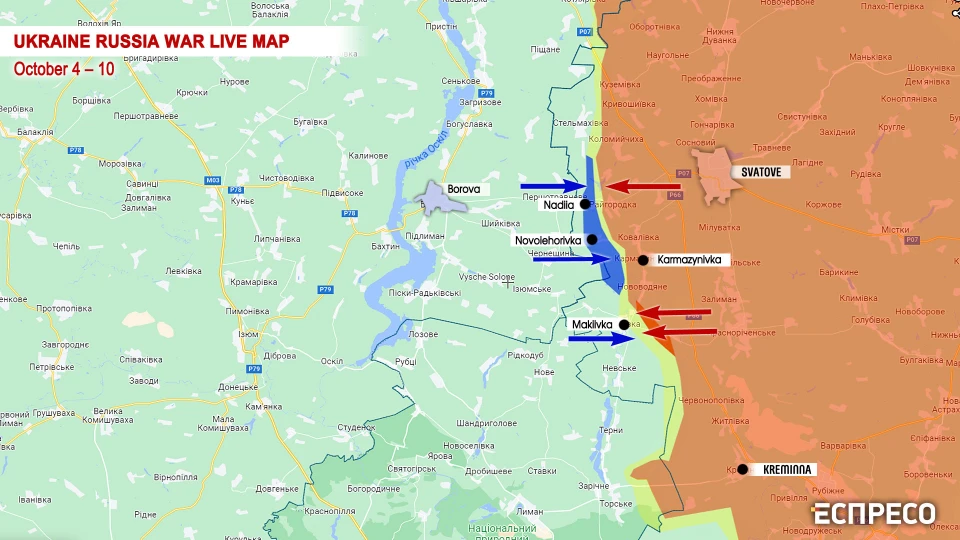 Serhiy Dibrov, senior lieutenant, head of public relations of the 21st separate mechanized brigade from the Kupyansk-Lyman direction, said that Russia has been intensifying its activities since the beginning of October. Then there was a weather pause due to conditions unsuitable for launching unmanned aerial vehicles. The activity of all types of Russian troops decreased. Russian troops used less artillery and UAVs, and there were even fewer small arms attacks. Now the weather has improved and the situation has become more difficult. Small arms fighting is starting, artillery is being used, and UAVs are starting to operate.
The senior lieutenant provided insights based on Ukrainian intelligence, indicating that the 25th Army of the Russian Federation was positioned opposite their location. Ukrainian forces were successful in capturing Russian soldiers from this army. This army was newly created in the summer and is currently not fully formed or adequately trained. They exhibit a lack of professionalism and military training, resembling the way Russian forces operated previously, often incurring losses while attempting actions. While they may not be considered elite troops, it's inaccurate to describe them as entirely unprepared. They consist of mobilized personnel with experienced officers and are a significant component of the Russian army's fighting force.
According to him, Russian troops are actively using armored vehicles, but are trying to protect them, so the intensity has decreased. The equipment of the Ukrainian Armed Forces is not idle either. Tankers say they have a dream of finally seeing a Russian tank in the sights of their Leopard tank. Because our tankers know that a shot from a Leopard tank at a distance of one and a half kilometers is likely to pierce the turret of a T-72 tank with an armor-piercing shell. And our guys want to test this on the battlefield. The situation is such that the tanks are working against Russian firing points on the battlefield, but they do not see Russian tanks in their sights. Russian tanks either do not get to the contact line and shoot back at the distant approaches, or look for opportunities to avoid crossing paths with Ukrainian tanks. They are afraid, and rightly so.
Training equipment and simulators for the Ukrainian military
Effective combat operations require a comprehensive understanding of the available equipment and the proficient use of various striking tools, ranging from diverse anti-tank missile systems (ATGMs) to man-portable air defense systems (MANPADS). Companies specializing in simulator technology play a pivotal role in enhancing the training and proficiency of Ukrainian military personnel in handling these specific models, enabling them to use these systems effectively in real battlefield scenarios.
I would say that there are several companies in Ukraine that manufacture sophisticated simulators for armored vehicles. There are companies that develop powerful systems for training entire air defense systems, such as the Buh S-300. Such systems significantly enhance the capabilities of our calculations so that before actual use on the battlefield, we have not only individual trained calculation members but also trained entire crews. There is a Ukrainian company called PSS by Logics7 that has developed a number of solutions aimed at improving the use of foreign weapons systems in combat operations.
Ihor Bielov, co-owner of PSS by Logics7, said that they have developed firearms training simulators with elements of tactical training. These simulators are fully consistent in their layouts with the characteristics of certain weapons in service in Ukraine. The software part is fully consistent with the mathematics and ballistics of a particular type of weapon, and wind and weather errors are also taken into account. With the help of such simulators, it is possible to train quickly and effectively without using ammunition.
The co-owner of PSS by Logics7 noted that today there are approximately over 30 simulators of various weapons, ranging from small arms, and grenade launchers of all kinds, to the most modern weapons provided by Ukraine's Western partners. The company's pride is the Javelin simulator, which is a sophisticated weapon, so you need to know how to use it. Simulator training is ongoing at Ukraine's training centers. In addition, there are company sites where soldiers can come and train for free.
Bielov added that there is a methodology to prove that simulators match certain characteristics of real weapons and the benefits of training that matches real shots. The company is working quite hard with the military and combat instructors. To date, it has been proven that such simulators do indeed meet all the necessary characteristics.
2023, Saturday
9 December
Defence of Avdiivka's heights prevents other parts of frontline from falling apart - military expert Svitan
More news