Russia fails to encircle Ukrainian Armed Forces around Avdiivka and Opytne — General Romanenko
Russian troops might be aiming to encircle Ukrainian defenders in the Donetsk region, particularly around Avdiivka
The founder of the Safe Skies over Ukraine Charitable Foundation and former Deputy Chief of the General Staff of the Ukrainian Armed Forces (2006-2010), Lieutenant General Ihor Romanenko, expressed this concern in an interview on Espreso TV.
"Fighting continues in Avdiivka. In the north, the fighting started near Stepove, meaning they (Russian forces - ed.) crossed the railroad section from Krasnohorivka and are trying to move further west, and in the south they are trying to move to the industrial zone of the plant, realizing that this object is important for the stability of our defense in the north and around Avdiivka in general," the military said.
At the same time, in the south, the Ukrainian Armed Forces stopped the advance of Russian troops towards Pervomaisk, where logistics routes are located. Russia is also trying to attack in the northern direction - Opytne and Vodyane.
"In other words, the objective appears to be the convergence of forces from the north and south, essentially creating a vice-like grip. Since they have not been able to complete this operation for a long time, they are intensifying the actions in Marinka and Vuhledar to try to unite somewhere in the Avdiivka area from the south in a large 'vise.' However, they suffer heavy losses in terms of manpower, weapons and equipment," emphasized Romanenko.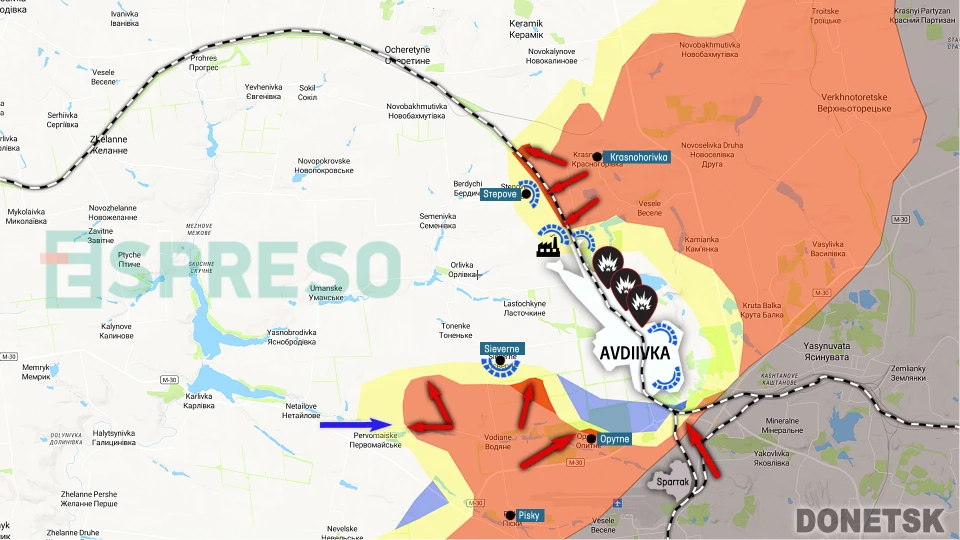 Photo: Espreso
Currently, there is no significant advance of Russian troops there.
The Russian army persists in its attempts to encircle Avdiivka, engaging in over 60 clashes along the frontline, as reported by the Ukrainian General Staff in its morning statement.
Vitaliy Barabash, head of the Avdiivka city military administration, said that after it became cold, residents started heating their homes, with smoke coming from the chimneys. Russian invaders use the smoke as a mark to fire with weapons after reconnaissance by drones.
Russian occupiers are systematically shelling civilian areas of Avdiivka. The city is becoming reminiscent of the severely damaged Marinka, which has been nearly obliterated.
2023, Wednesday
29 November
Unblocking border benefits both Ukraine and Poland: Mykola Knyazhytskyi on blockade's impact on state relations and Ukrainian defense capabilities
Zaporizhzhia locals refuse collaboration as Russians lack administrative staff, says Regional Council member Ashurbekov
Ukraine's troops attack building with Russian militants in Kherson region: 5 invaders eliminated
Weather isn't primary factor influencing pace of hostilities – military expert Serhiy Zgurets
25 Ukrainian truckers blocked at border agree to evacuate from Poland — Ministry of Infrastructure
Ukrainian troops eliminate 1140 invaders, 15 tanks and 32 artillery systems in 24 hours - General Staff
ISW: Ukraine continues attacks south of Bakhmut, Russia advances along Kupyansk-Svatove-Kreminna line
2023, Tuesday
28 November
Victorious news of 643rd day of war: Russian soldiers neutralized in Mariupol, explosions heard in occupied Tokmak
More news