What did Ukraine use to target Russian air defenses in Luhansk, Crimea?
On October 25, Ukrainian troops hit the Russian S-400 air defense system near the temporarily occupied Luhansk. And on the night of October 30, they hit a strategic air defense facility in the temporarily occupied Crimea
Defense Express reported this with reference to the Strategic Committee of the Ukrainian Armed Forces. 
There are no publicly available satellite photographs that indicate the scope of the devastation caused by these strikes. The AFU Strategic Committee also did not clarify on what munitions could have been utilized in these operations. However, based on open data, we can at least speculate on what types of missiles the Ukrainian Armed Forces would have shot at these locations.
If we talk about the October 25 attack on the Russian S-400 in the area of temporarily occupied Luhansk, we can assume that M39 ATACMS with a cluster warhead were used.
During this time, invading Russian troops in the Luhansk region first displayed new photos of spent M39 missile stages, then claimed that these missiles were allegedly "shot down" by S-400 systems near Luhansk, and then some Russian "war correspondents" began to complain that while the enemy S-400s were "shot down" by ATACMS, the missile attack was not repelled.
"If our assumption about the M39 ATACMS cluster missile is correct, then the selection of this type of missile could be quite reasonable. The US army also used such missiles not only to destroy enemy control points, but also to destroy enemy air defense positions. And the likely strike area could be much further away from the possible range of AGM-88 HARM missiles when launched from Soviet fighters," Defense Express notes. 
As for a possible strike on a "strategic air defense facility on the western coast of Crimea," we can also assume the use of a modernized version of the Neptune missile.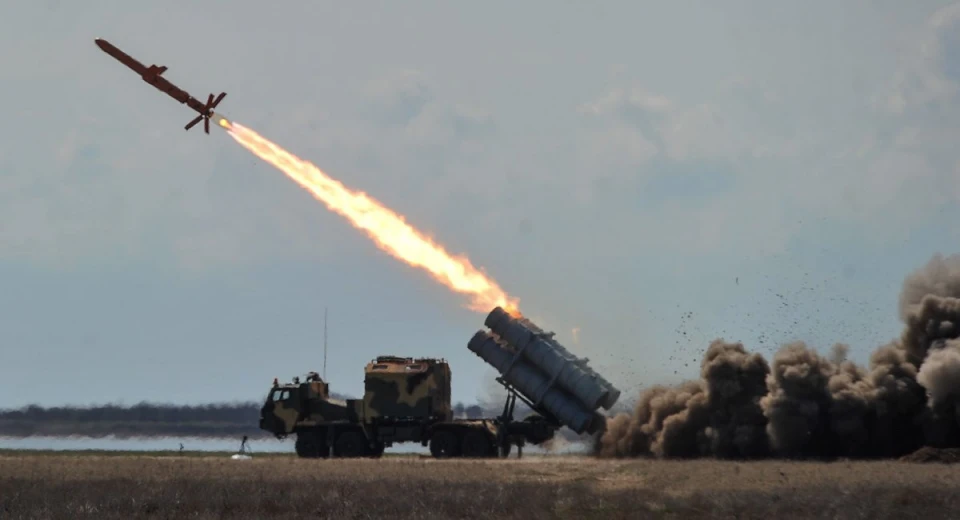 Launch of the anti-ship version of R-360 Neptune missiles, illustrative photo
Such cruise missiles have previously been used to destroy Russian air defense, which served as a "prelude" to a missile strike on the waters of temporarily occupied Sevastopol on September 13, 2023, followed by a strike on the main headquarters of the Russian Black Sea Fleet in the same Sevastopol on September 22.
Russia's goal in Avdiivka is to capture large number of Ukrainian military — military expert Stupak
Fire at factory in Moscow, drone attack, and explosion at oil depot in occupied Makiivka: This week's blasts in Russia
More news