Russian morning attack on Kherson region results in woman's death
In the early morning of November 2, Russia's army striked the village of Stanislav in Kherson region. A woman died as a result of the attack
The Kherson Regional Prosecutor's Office reports.
"According to the investigation, on November 2, at about 04:00 am, the Russian military opened fire on the village of Stanislav, Kherson region," the statement reads.
It is noted that an 81-year-old woman died in the yard of her house.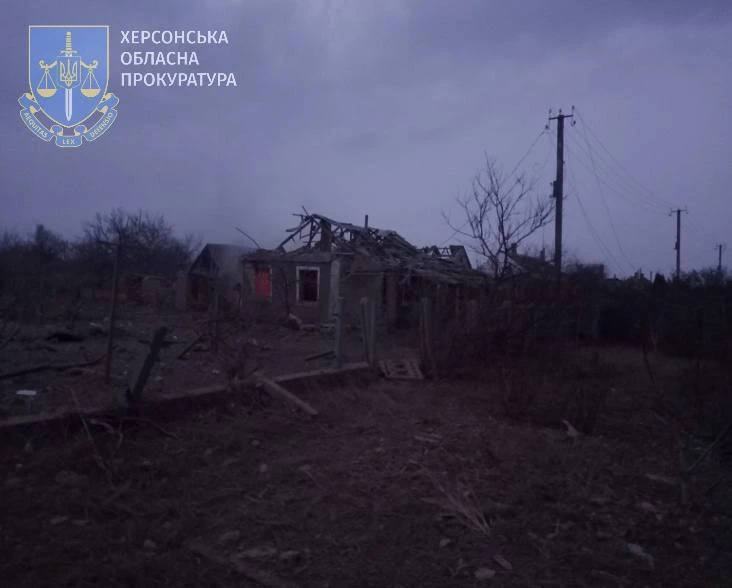 Later, the head of the Kherson Regional Military Administration, Oleksandr Prokudin, clarified that there were over 40 hits in the village. 
The buildings of the lyceum and local clinic, as well as private houses, were also damaged as a result of Russian attacks. 
Russia has dropped 20 guided glide bombs on settlements in Kherson region
Moreover, Natalia Humeniuk, the head of the Joint Press Center of the Southern Defense Forces, reported on November 1 that Russia's Air Force dropped 20 guided glide bombs on the Ukrainian settlements in the Kherson region within just one day.
According to her, the Russian troops dropped guided aerial bombs on the western bank of the Dnipro River in the Ukrainian-controlled part of the Kherson region.
"This is terrorism. Terrorism with different epithets. Food terrorism. You name it. They (Russians – ed.) are trying to destroy the potential of the country (Ukraine – ed.), which continues to maintain a high economic level despite the war," she said.
Natalia Humeniuk added that on the morning of November 1, the Russian army hit a grain storage facility with an unidentified type of missile.
Oleksandr Prokudin, the head of the Kherson Oblast Military Administration, reported that the Russian Air Force dropped two glide bombs on a kindergarten in one of the settlements of Beryslav district, Kherson region.
On the evening of November 1, Russia attacked Kherson once again. A 70-year-old woman was injured in the attack, she is in hospital.
Victorious news of 646th day of war: Ukraine to produce air defense systems, intelligence conducts another sabotage in Buryatia
More news