September 2023 records of Russian equipment destruction
September brought significant achievements in the destruction of Russian military assets. Two out of three anticipated records have been surpassed, with one of them exceeding expectations by a substantial margin
Military expert Oleksandr Kovalenko explains the records of the destruction of Russian equipment set by Ukraine in September 2023.
Artillery
In September, a remarkable 947 Russian artillery pieces were destroyed. This surge can be attributed to the Russians' deteriorating counter-battery capabilities, their reliance on outdated and less sophisticated artillery systems, an increase in immobile towed artillery units with reduced range and accuracy, and worn-out guns.
Mortar systems are also included in these statistics, as they are considered a type of artillery, as exemplified by the 2S4 Tulpan and the 2S9 Nona-S.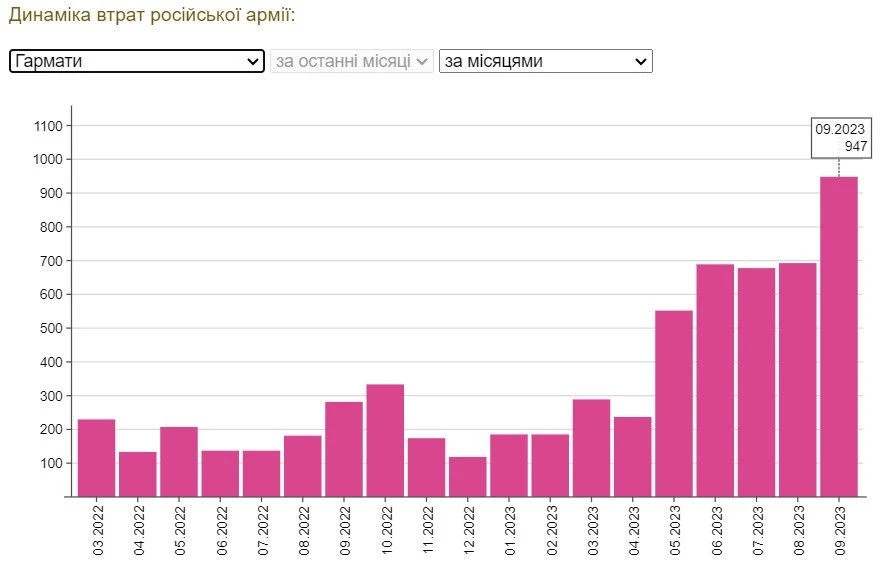 Dynamics of the Russian Army losses: artillery
Source: Ukrainian Finance Ministry
Motor Vehicles
Surprisingly, September saw a record-breaking 874 Russian vehicles destroyed, surpassing the previous record set in March 2022 when Russian logistics convoys were consistently targeted. The Zaporizhzhia region topped the list for the most Russian vehicle losses.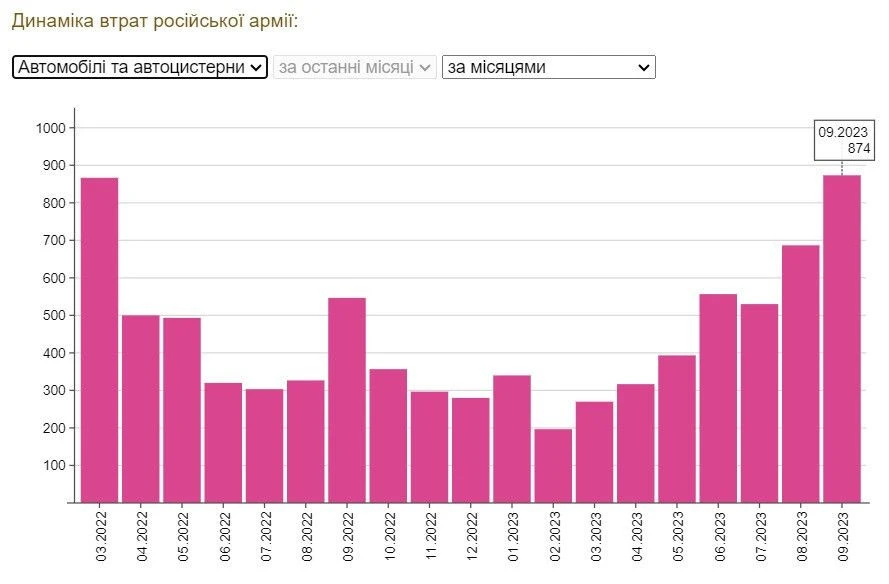 Dynamics of the Russian Army losses: vehicles and fuel tanks
Source: Ukrainian Finance Ministry
This is primarily because most supply routes, including critical bridges, are under Ukraine's control. Furthermore, Russian troops have adopted tactics such as mobile warehouses for ammunition and fuel because of regular and high-precision strikes on their rear area. Additionally, a decrease in armored vehicles and the use of non-specialized, easier-to-destroy vehicles contributed to the high destruction rate among Russian equipment.
MLRS
One prediction that did not materialize in September was the destruction of MLRS. Nevertheless, 63 MLRS units were destroyed, marking the second-highest number in the full-scale war period. This surge can be attributed to the absence of long-range artillery in the Russian army and the necessity to move systems closer to the Line of Contact (LOC) to reach Ukraine's forward rear. Consequently, Russian MLRS units were forced into a more vulnerable position, making them susceptible to Ukrainian artillery strikes.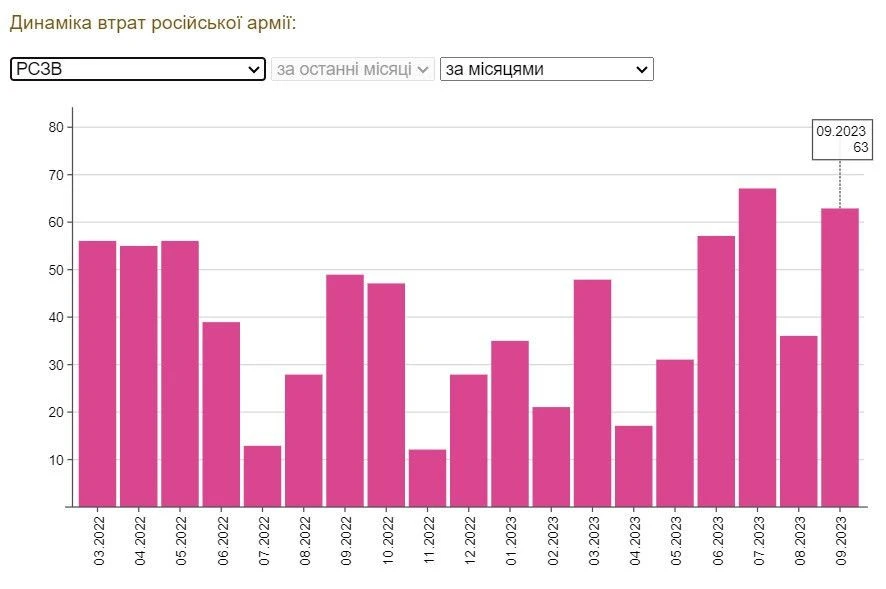 Dynamics of the Russian Army losses: MLRS
Source: Ukrainian Finance Ministry
"Thus, September comes to an end with very encouraging indicators. The relentless destruction of Russian artillery not only prevents their military-industrial complex from fully offsetting losses but also pushes them into a substantial deficit. This deficit can only be alleviated through external support, not just in terms of sourcing shells but also acquiring the artillery pieces required to use them," the expert concluded.
2023, Wednesday
29 November
Ukraine's troops attack building with Russian militants in Kherson region: 5 invaders eliminated
Weather isn't primary factor influencing pace of hostilities – military expert Serhiy Zgurets
Russian troops suffer up to 95% of losses in assaults - National Guard Major Nahornyi
25 Ukrainian truckers blocked at border agree to evacuate from Poland — Ministry of Infrastructure
Ukrainian troops eliminate 1140 invaders, 15 tanks and 32 artillery systems in 24 hours - General Staff
ISW: Ukraine continues attacks south of Bakhmut, Russia advances along Kupyansk-Svatove-Kreminna line
2023, Tuesday
28 November
Victorious news of 643rd day of war: Russian soldiers neutralized in Mariupol, explosions heard in occupied Tokmak
More news