Russia is expanding its military infrastructure: journalists analyze satellite images
Journalists of the Schemes project studied satellite images and found noticeable changes in the territories of Russian enterprises that manufacture and repair airplanes, helicopters, assemble military drones and guided munitions
Radio Liberty's Schemes project conducted an investigation into changes that have been observed at several Russian military and dual-use facilities.
Kazan Aviation Plant
Located near the Borisoglebskoye civilian airport in Kazan, this state-owned aircraft plant is involved in the production and maintenance of both civilian and military aircraft, including strategic bombers used in missile launches against Ukraine.
The plant, previously known as the Gorbunov Aviation Plant, played a crucial role in the production and maintenance of strategic aircraft during the Soviet era.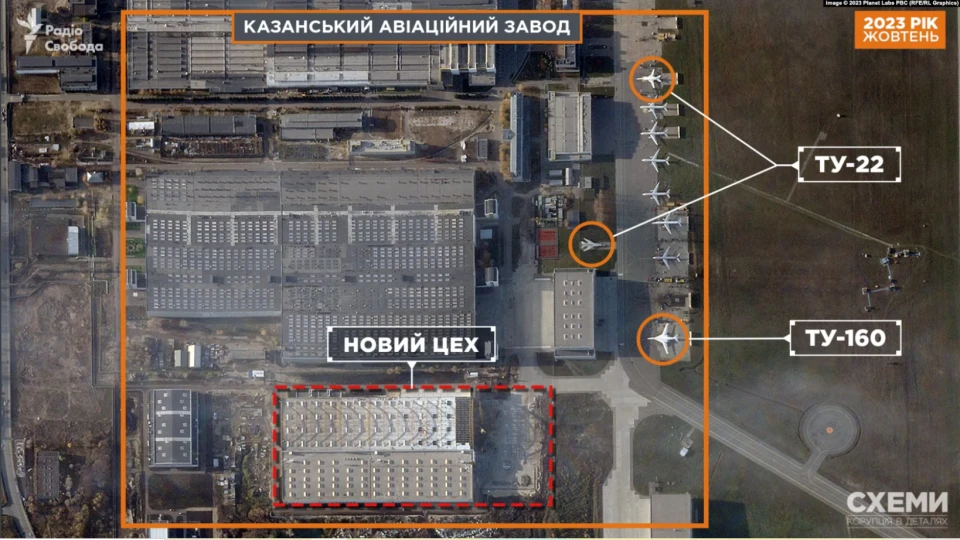 A new hanger was constructed at the Kazan plant. Image: Schemes, Radio Liberty
"In Soviet times, the Gorbunov Aviation Plant in Kazan was one of the most important strategic facilities, as it was engaged in the production and maintenance of strategic aircraft of the nuclear triad: Tu-16, Tu-22 (all modifications - ed.) and Tu-160. That is, the plant's capacities now allow for deep modernization and repair of the remaining Tu-22M3 and Tu-160," aviation expert Anatolii Khrapchynskyi told Schemes.
In 2023, a large hangar was constructed on the plant's premises, comprising two interconnected buildings.
Satellite images indicate that construction began in 2018 but accelerated in 2022, and by 2023, it was nearly completed.
The hangar is exceptionally spacious, with dimensions of 300 meters in length and over 180 meters in width.
While it was mentioned that the hangar would be used for constructing civilian Tu-214 aircraft, its size suggests it could also accommodate the repair and modernization of strategic bombers.
"As we can see, the hangar consists of two parts. One of them is a room for large-scale assembly or maintenance and repair; taking into account the size and available taxiway, three Tu-160 aircraft can be serviced there at the same time. The second is a building with workshops for the repair, manufacturing, or maintenance of aircraft components. So it is quite logical to assume that parts can be brought into the premises and the finished aircraft can be delivered," explains Anatolii Khrapchynskyi.
Russia launched a program to modernize its strategic aviation in 2016, with a significant portion allocated to expanding the capacity of the Kazan Aviation Plant.
Irkutsk Aviation Plant
This state-owned plant in Irkutsk specializes in the production and repair of Su-30 fighter jets, which are widely used in the Russian Air Force.
Satellite imagery analysis shows that between 2019 and 2021, an extension with access to the runway was added to the plant's facilities, and a similar construction project near the runway is nearing completion in 2023.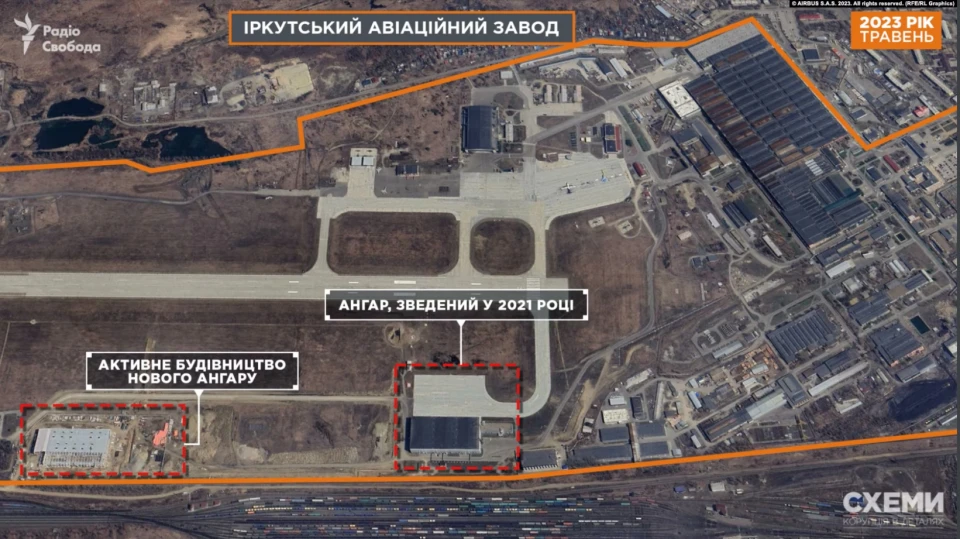 Image: Schemes, Radio Liberty
These extensions are likely to be used for the maintenance and minor repairs of both Su-30 fighter jets and small civilian aircraft, including the Sukhoi Superjet.
The additions resemble hangars for routine maintenance and repairs, accommodating various aircraft, and making them versatile facilities for servicing both military and civilian planes.
These developments raise questions about Russia's intentions, as increased production capacity can support military modernization efforts and potentially impact regional security dynamics. The expansion of these facilities suggests Russia's commitment to bolstering its military capabilities and may have implications for neighboring regions and international security.
Ural Civil Aviation Plant 
The Ural Civil Aviation Plant, situated in Yekaterinburg, is another state-owned facility with a misleading name, as it primarily focuses on repairing engines and gearboxes that can be utilized in military helicopters. Notably, these helicopters, such as the Mi-2, Mi-8, Mi-24, and Ka-52, are actively employed by the Russian army in the ongoing conflict with Ukraine.
In September of this year, local publications in the Urals region reported on labor shortages at the plant, specifically the civil aviation plant, which was actively recruiting employees due to increased production demands.
Starting in late 2021, a new, substantial workshop was constructed on the plant's premises. Completion of this workshop occurred this year, and it measures 145 meters in length and 75 meters in width. This new building is believed to be used for manufacturing core products like aircraft engines or auxiliary power units that provide additional energy to airplanes or helicopters.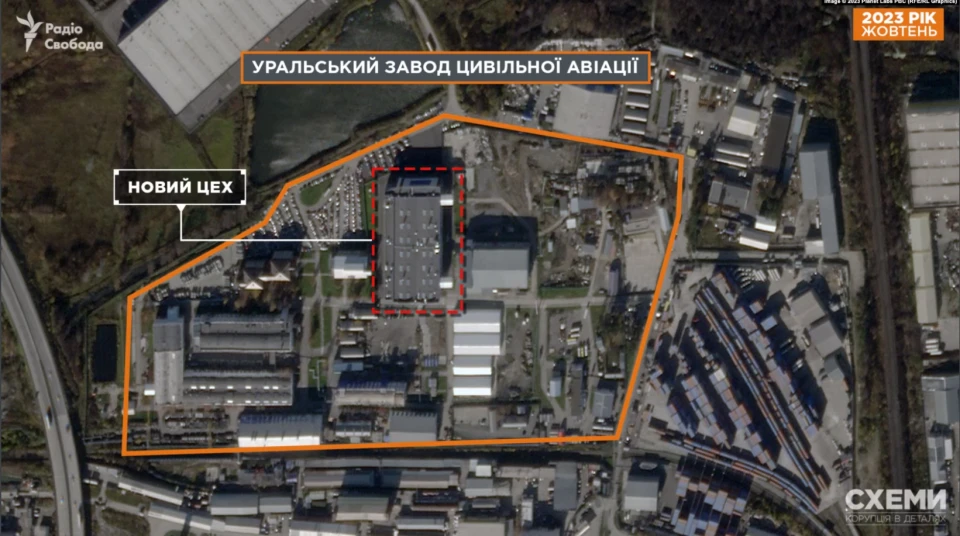 Image: Schemes, Radio Liberty
"The new building at the Ural Civil Aviation Plant, formerly Plant 404, is a workshop where specialized products, such as aircraft engines, are most likely manufactured. Or auxiliary power unit are unit that provides additional energy to an airplane or helicopter. Such buildings do not require direct access to the taxiway," explains aviation expert Khrapchynskyi, who was shown satellite images by Schemes.
Dubna Machine-Building Plant and Kronstadt 
The plant, located in the city of Dubna in the northern part of the Moscow region, houses the Raduga Machine-Building Design Bureau, which operates under the Tactical Missile Arms State Corporation. Raduga is responsible for producing missiles, including the Kh-22, Kh-55, and Kh-101, which Russia has employed to target residential buildings, shopping centers, and energy infrastructure in Ukrainian cities, as exemplified by the attacks on the Amstor shopping center in Kremenchuk in June of the previous year.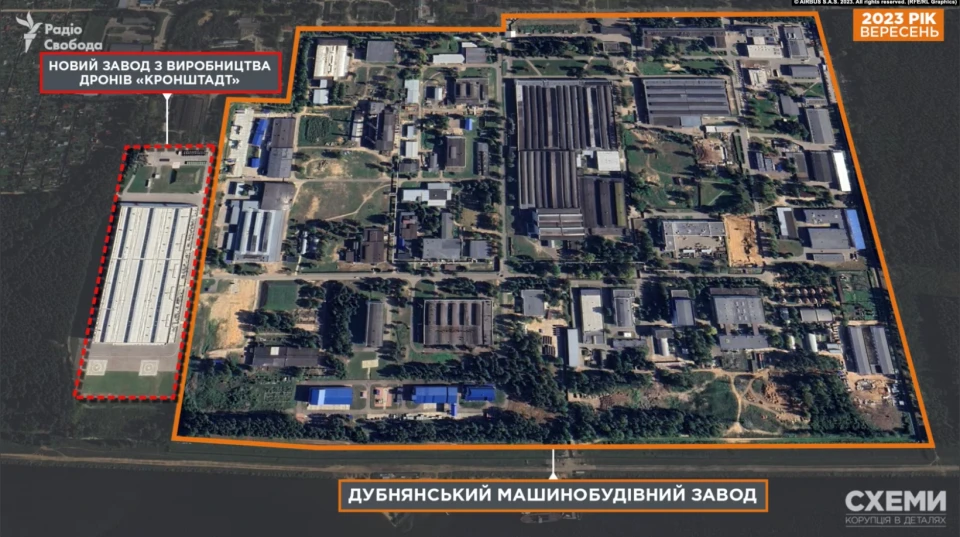 Image: Schemes, Radio Liberty
Satellite image analysis conducted by Schemes journalists from 2021 to 2023 revealed the emergence of a significant structure adjacent to the plant during this period. Construction on this building commenced in 2021 and was completed in the current year. Additionally, two helipads have been established in proximity to this building, which shares a common entrance with the Dubna Machine-Building Plant's territory. These developments raise concerns about the production and deployment of missile systems used in the conflict in Ukraine and may have implications for regional security.
The building in question is a new private facility for the production of Russian UAVs owned by the Kronstadt company. Kronstadt specializes in manufacturing military drones under various brands, such as Orion and Helios, with different configurations, from reconnaissance to attack drones.
It's worth noting that Kronstadt is associated with the AFC-System holding, led by Russian oligarch Vladimir Yevtushenkov, who has close ties to Vladimir Putin. In May 2022, AFK-Systems management announced their withdrawal from Kronstadt. However, the Russian register of legal entities still shows that  KT-Unmanned Systems, AFK-Systems' subsidiary which officially collaborates with the Russian Defense Ministry and the FSB, holds a 49.6% stake in Kronstadt's subsidiary.
In June 2022, during the full-scale war, a Kronstadt manager mentioned that the new plant in Dubna was actively hiring staff to "ramp up production" to meet orders. This expansion of drone production is a direct response to the intensification of the conflict, as before 2022, Russia mainly produced UAVs for export. The ongoing war has driven Russia to significantly expand production to meet its military requirements.
Russia is preparing for a prolonged war
There are also instances where the Russian government openly reports on the establishment of new military-industrial plants. For example, in October of the same year, Russian Defense Minister Sergei Shoigu participated in a ceremony marking the handover of a building for the future Almaz-Antey missile plant, which would manufacture air defense systems.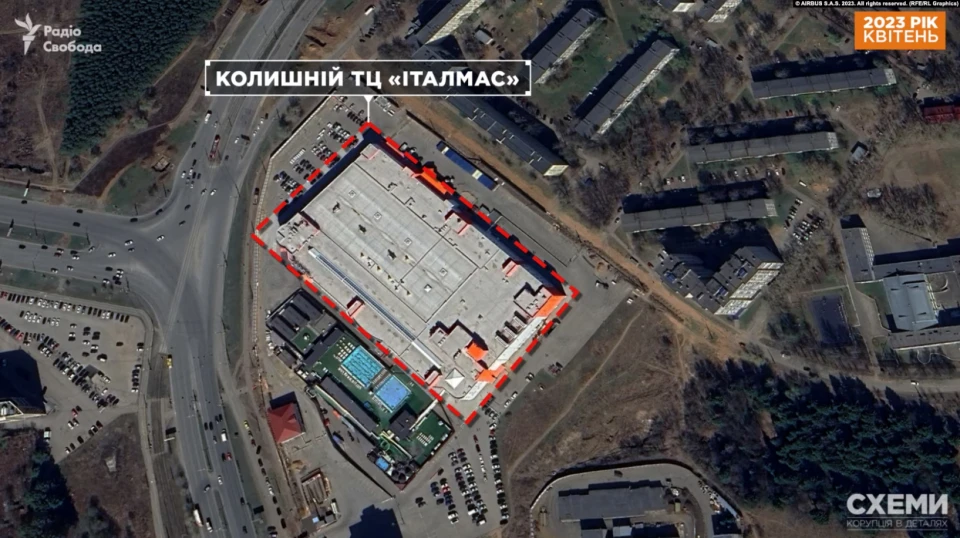 Former Italmas shopping center. Image: Schemes, Radio Liberty
Additionally, Zala Aero, a subsidiary of the Kalashnikov Concern, repurposed the Italmas shopping center in Izhevsk to produce Lancet barrage munitions in January 2023. Vladimir Putin visited this facility in September 2023. Notably, the American Institute for the Study of War reported that Russia has begun using new attack drones referred to as "Italmas" in conjunction with Iranian Shahed-136/139 drones.
Military experts believe that the active development of military plants throughout Russia is a reflection of the Russian leadership's commitment to continuing the war for the foreseeable future. The country is investing significant resources in the development of its military-industrial complex, signaling its preparedness for a prolonged conflict.
It's worth highlighting that British intelligence reports indicate a substantial increase in planned defense spending for 2024, with a 68% rise compared to the 2023 budget. This suggests Russia's determination to strengthen its military capabilities in the face of an enduring conflict scenario.
Russia loses 10 armored vehicles, 4 tanks, and 700 soldiers in one day of war in Ukraine – General Staff 
2023, Saturday
9 December
Defence of Avdiivka's heights prevents other parts of frontline from falling apart - military expert Svitan
More news