Russian instructors, 100 leaders, 10,000 USD each – coup-d'etat headquarters exposed in Moldova
On Sunday, March 12, 2023, the head of the Moldovan General Police Inspectorate, Viorel Cernauteanu, said that a special operation had exposed an underground coordination center involving Russian citizens, athletes, and criminals, that was created to destabilize the country
Teleradio Moldova published the recording of his briefing.
Cernauteanu highlighted that two Russians, who worked directly from Moldova, formed 10 groups of 10 people each. Their purpose was to orchestrate mass riots in Chisinau and provoke clashes with the police. In exchange, they were promised a reward of $10,000 each.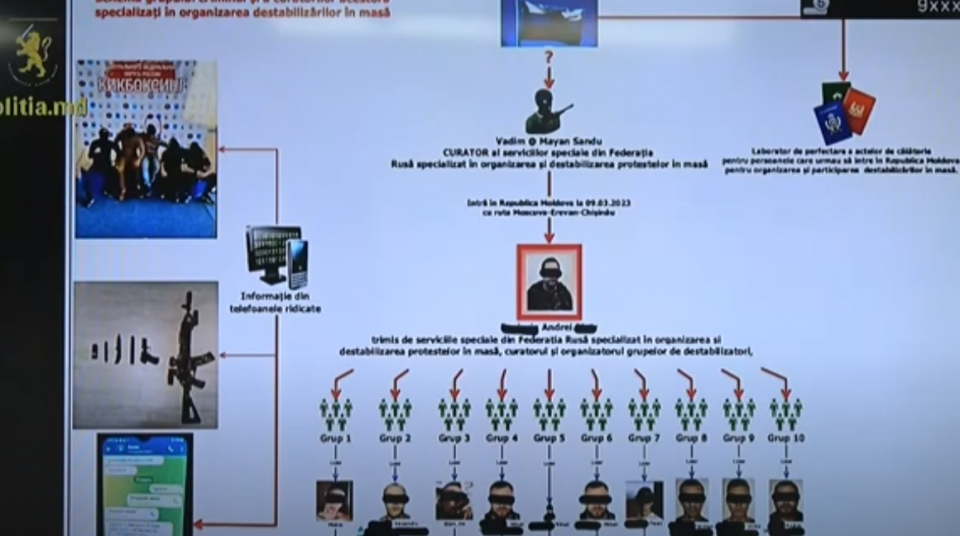 The leaders were occupied with arranging accommodations for the hired recruits, covering their expenses, and providing them with instructions.
During a briefing, screenshots of the mercenaries' communication with their supervisors were disclosed. The screenshots reveal that some of the mercenaries were from the self-proclaimed "Pridnestrovian Moldavian Republic" (PMR).
Furthermore, a video was shown featuring a supervisor addressing the protesters, instructing them to "push the *** (referring to the police) with your shoulders" and to capture successful actions on video using "girls'' prepared in advance.
He explained that the demonstration of their initial success in this manner was crucial to receiving further instructions and tasks.
Two leaders were identified, one of whom held only Russian citizenship while the other held both Russian and Moldovan citizenship. These individuals frequently changed their documents and surnames, making it difficult to track them down.
Law enforcement officers managed to obtain a video recording of the meeting and other relevant information by infiltrating the group of suspects using their own undercover agents.
As for the 100 Moldovan citizens hired by the Russians, a quarter of them are currently detained.
"The operation was carried out yesterday (March 11). 25 people were detained and taken to the Inspectorate. The vast majority cooperate with law enforcement agencies and give evidence. Seven were detained as gang leaders,"  Cernauteanu said.
Attention! The video contains explicit language (18+).
Today, March 12, representatives of pro-Russian forces gathered in Chisinau. The rally is being held with the demand that the government of Moldova pay the cost of heating for individuals, which has increased dramatically this winter.
Instead, the country's leadership calls this demand only a formal pretext for an attempt to destabilize the situation and return a pro-Russian socialist Igor Dodon to power.
According to the representatives of Ukraine, the European Union and the USA, if Dodon returns, Moscow might establish a political regime in Moldova similar to the one currently in Belarus, and draw the country into a war against Ukraine.
Fire at factory in Moscow, drone attack, and explosion at oil depot in occupied Makiivka: This week's blasts in Russia
More news