Russia decommissions rare M-55 Geofizika aircraft equipped with Su-34 container
The M-55 Geofizika is an aircraft created in the USSR. It was initially developed as a high-altitude reconnaissance aircraft
Defense Express explains its history and characteristics.
The M-55 Geofizika is a unique aircraft with an interesting history. Originally developed in the Soviet Union, it was initially designed as a high-altitude reconnaissance aircraft with the purpose of intercepting American U-2 reconnaissance aircraft or high-altitude balloons. 
However, by the time the M-55 was deployed in 1982, the need to intercept high-altitude balloons had diminished, leading to the decision to repurpose the aircraft.
The M-55 Geofizika was transformed into a high-altitude reconnaissance aircraft for missile guidance, specifically for the Soviet Oka missile, which was a predecessor to the Iskander missile system. It played a role in strategic reconnaissance, especially for missile strikes.
Beneath the wings of this aircraft, Defense Express observers have noted the presence of a special container, likely a UKR-RT equipped with radio reconnaissance technology. Notably, a similar container was first observed under a Su-34 during the Russian army's West-2021 maneuvers two years ago.
The aircraft's key characteristics include:
Fuselage length: 22.67 meters

Wingspan: 37.4 meters

Maximum takeoff weight: 23.4 tons, including a payload of up to 2,000 kg

Crew: 1 person

Maximum flight speed: 743 km/h at an altitude of 20 km

Maximum flight altitude: 21.5 km

Practical flight range: 1,220 km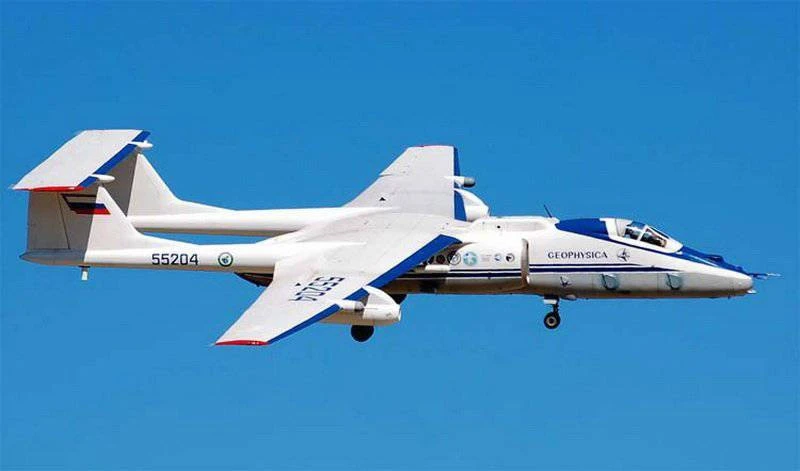 Russian M-55 Geofizika, illustrative photo (from open sources)
The M-55 Geofizika was used for civilian scientific experiments, particularly for the study of the stratosphere between Russia and European countries. Up to five such aircraft were manufactured and repurposed for these scientific research missions, beginning in 1996.
In 2017, there were reports that the M-55 Geofizika was put on standby due to a lack of orders for scientific research, which led to its decreased usage. The aircraft largely disappeared from public discussion and media attention until the recent resumption of flights, as reported. 
However, the recent resumption of flights with the M-55 Geofizika suggests that Russia may be exploring new applications for this unique aircraft, potentially related to onboard equipment for the Russian Aerospace Forces or the original reconnaissance purpose for missile strikes.
2023, Saturday
9 December
Defence of Avdiivka's heights prevents other parts of frontline from falling apart - military expert Svitan
More news